Volcanosaurus returns, witness the Three Stooges Slaptastic Special, and Underdog continues his fight for justice. Plus, a Land That Time Forgot collection. These are available in this April courtesy of American Mythology. Solicit details below.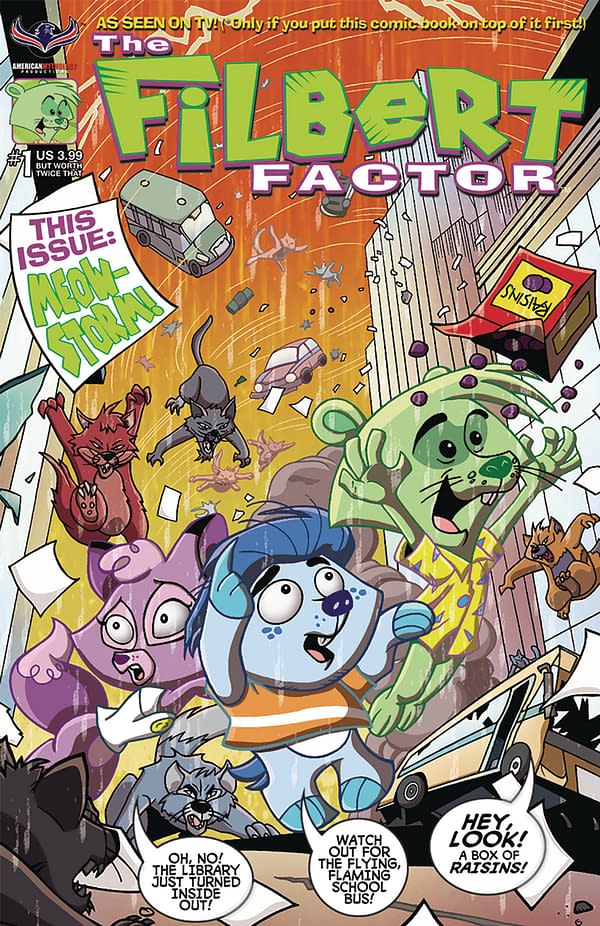 FEB181050
FILBERT FACTOR #1 REJECTED BY FREE COMIC BOOK DAY BLUEPRINT
(W) Mike Wolfer (A) Adrian Ropp, Horacio Domingues (CA) Horacio Domingues, Ruben Gonzalez
Holy crap – a super limited 250 copy Blueprint Edition of Mike Wolfer's The Filbert Factor! You can be one of the goobers grabbing up this hard to find issue and sending it right to your friendly neighborhood slabbing company. Raisins not included. (STL077073)
32pgs, FC SRP: $9.99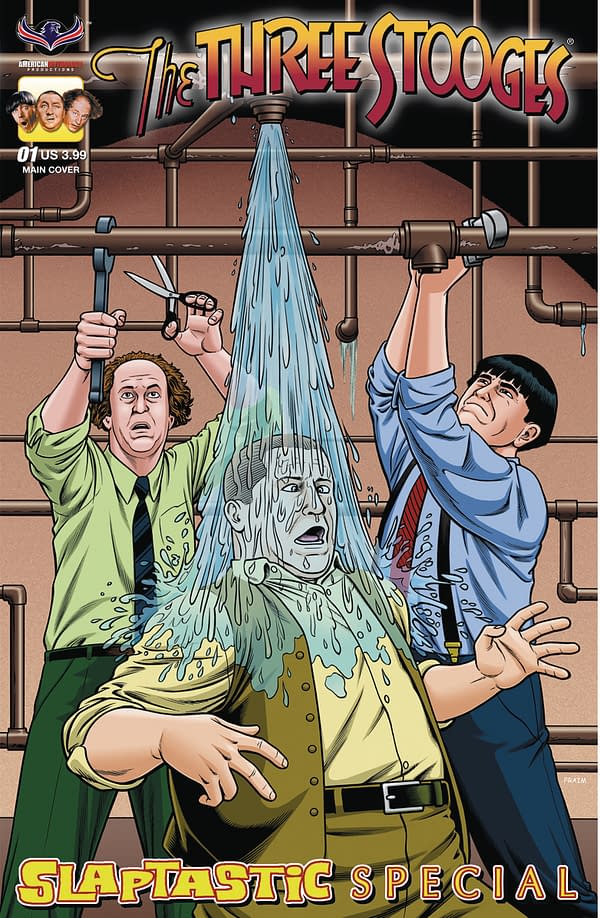 FEB181061
THREE STOOGES SLAPTASTIC SPECIAL #1
(W) S.A. Check (A/CA) Brendon Fraim, Brian Fraim
The original funnymen of Vaudeville are back and this time they are trapped in virtual reality! Enjoy a wonderful mix of classic and modern Three Stooges storytelling in the Slaptastic Special! The Three Stooges Slaptastic Special comes with three covers – Main by Brendon & Brian Fraim, Color Photo, and a special Limited Edition B&W Photo cover! (STL077084)
32pgs, FC SRP: $3.99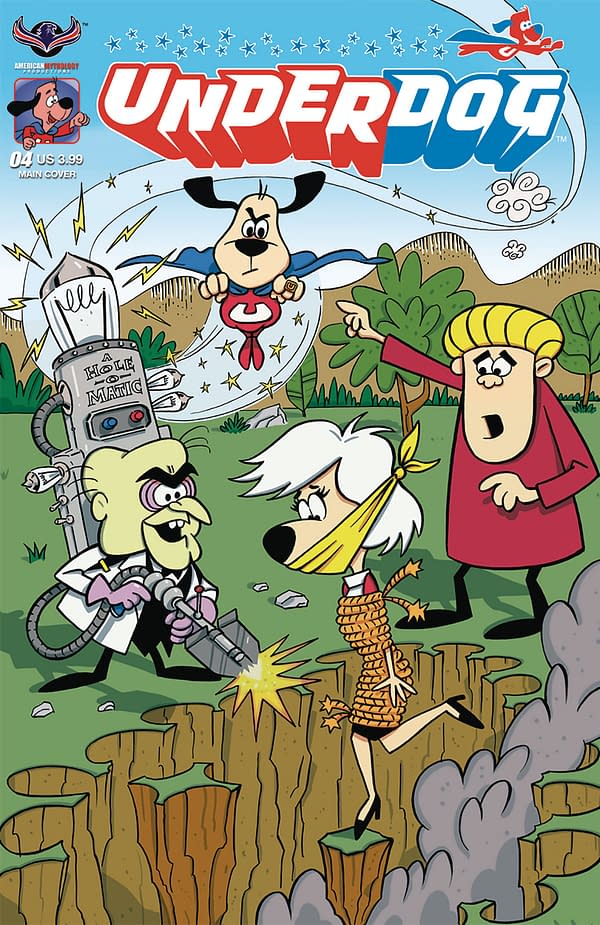 FEB181064
UNDERDOG #4 MAIN GALLANT CVR
(W) Patrick Shand (A) Bill Galvan (CA) S. L. Gallant
In this rhyme filled issue, Underdog confronts his greatest nemesis yet, when "The Bombay Strikes!" It's a feline fury versus the rhyming, canine crusader in a battle royale, but is The Bombay all that he seems, or is there some dark secret lurking beneath his surface that will shock even the mighty Underdog? Underdog #4 comes with three covers, Main by S.L. Gallant, Moon Shot by Jenni Gregory, and a Retro Animation Retailer Incentive Edition. (STL077075)
32pgs, FC SRP: $3.99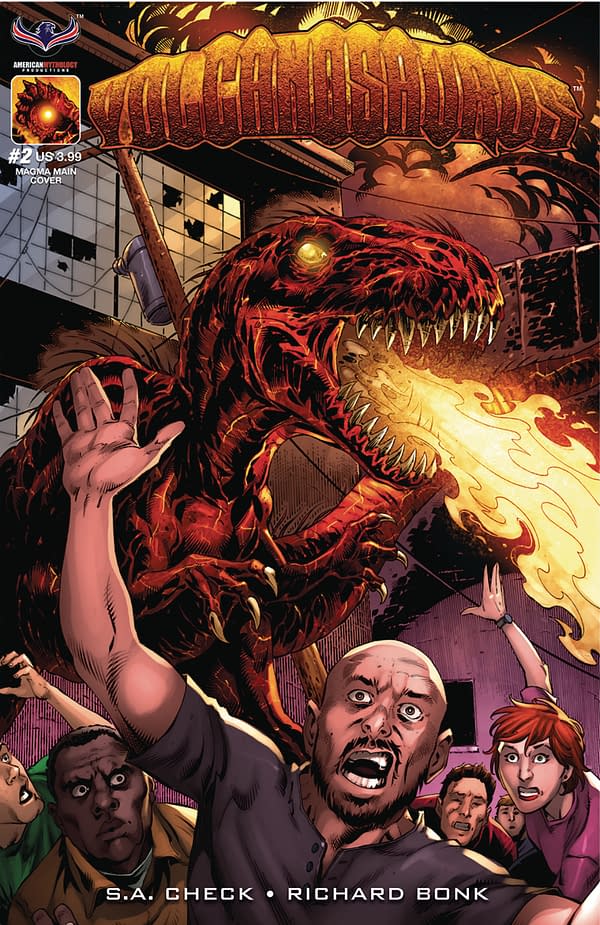 FEB181067
VOLCANOSAURUS #2 V-REX MAIN MAGMA BONK CVR
(W) S.A. Check (A/CA) Rich Bonk
How do you top last year's over-the-top fun fest that was Volcanosaurus? You go BIG! Richard Bonk delivers stunning vicious interior art in this incredible installment – from the fiery depths of the volcano comes the mighty unstoppable V-Rex! An ancient Jurassic beast dripping magma, spewing lava, and hungry for random dumbass victims! Come with us into American Mythology's Drive In line for Volcanosaurus #2 – V-Rex! Volcanosaurus #2 comes with three covers – Main Magma Cover, Homage Cover, and Fiery Retailer Incentive editions (STL077090)
32pgs, FC SRP: $3.99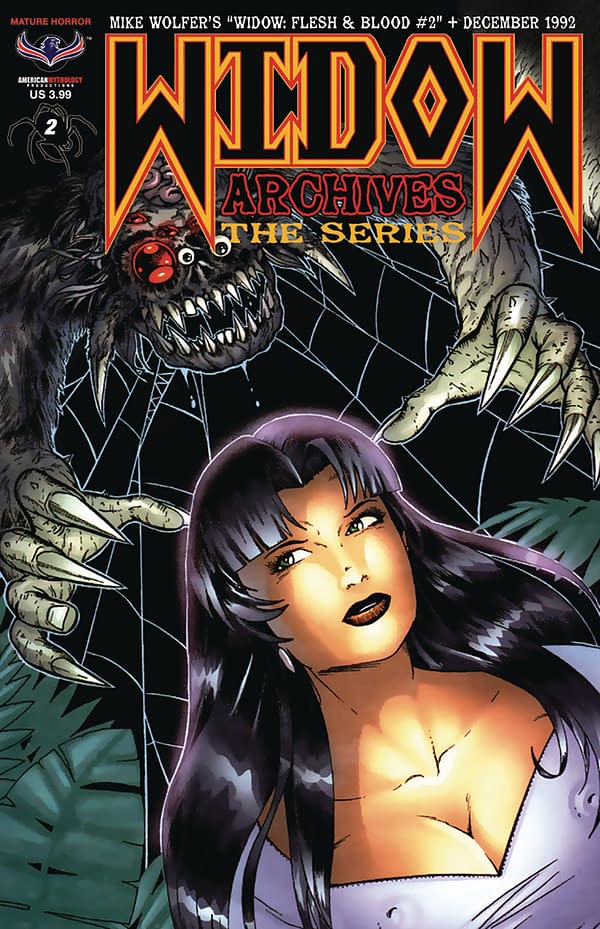 FEB181070
WIDOW ARCHIVES THE SERIES #2 (MR)
(W/A/CA) Mike Wolfer
Mike Wolfer's cult classic homage to the erotic horror films of the '70s returns, exactly as it was presented back in 1992 in the second issue of the original, groundbreaking, indie comics series, Widow: Flesh & Blood! Travel once again to the secluded Caribbean island home of Dr. Harrow, where strange, genetic experiments have produced a savage, spider-like monstrosity with a taste for human flesh. As they fight for survival in the jungle hell, two shipwrecked U.S. agents have only one ally, the mysterious and exotic Emma, daughter of Harrow… And possibly a greater threat to their lives than the spider creature that thirsts for their blood! Contains violence, nudity, gore, and adult situations- For mature readers only. (STL077080)
MATURE THEMES
32pgs, B&W SRP: $3.99
FEB181073
STARGATE UNIVERSE #5 MAIN HILINSKI CVR
(W) Mark L. Haynes, J. C. Vaughn (A/CA) Clint Hilsinki
The incredible Stargate Universe story continues only in comics! Rush and company desperately attempt to solve Destiny's fuel crisis while trying to save the Ancients trapped on board. This is classic Stargate Universe action at its very best! Come with us, back to Destiny! Stargate Universe #5 comes with three covers – Main Cover by Clint Hilinski, Photo Cover, and a special Premium Limited Edition Flashback Photo Cover. (STL077083)
32pgs, FC SRP: $3.99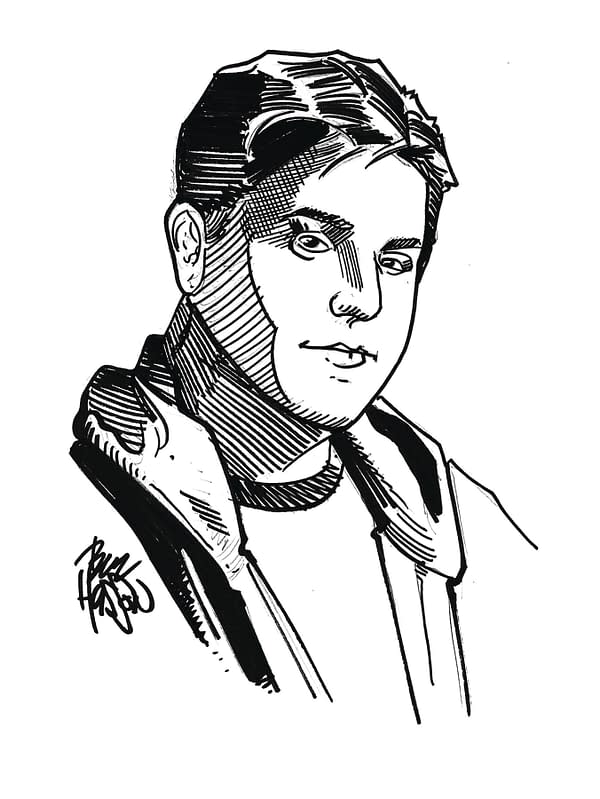 FEB181076
STARGATE UNIVERSE #1 HAND DRAWN SKETCH CVR
Can't make it to a convention? You don't have to! Artist Buz Hasson delivers a hand drawn Stargate Universe sketch on this special edition! Get one of three characters – Dr Rush, T.J., or Eli! (STL077489
32pgs, FC SRP: $29.99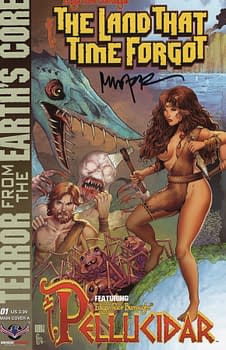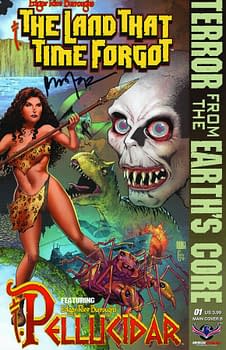 FEB181077
THE LAND THAT TIME FORGOT PELLUCIDAR WOLFER SIGNED SET
Did you miss the cool connecting covers to the Edgar Rice Burroughs crossover event of 2017? We have a super limited set of 50 Mike Wolfer signed sets of Connecting Covers A&B! This rare find is limited to 50 sets and comes bagged with a certificate of authenticity. (STL077490
32pgs, FC SRP: $24.99
Enjoyed this article? Share it!