Posted in: Comics, DC Comics, Review | Tagged: Amancay Nahuelpan, Batman, Benjamin Percy, carlos m. mangual, dc comics, dick grayson, fantasy, Nick Filardi, nightwing, Professor Pyg, sci-fi, silencer, superheroes, teen titans, Titans, vicki vale
---
Nightwing #48 Review: The Motor Cycle Race of the Cosmos
Nightwing has gone to the Isle of Harm in Ireland. Once a year, an intergalactic motorcycle race takes place on the Isle of Harm, and the winner can go to the Pathway Altar. Here, someone can peer into all of time, space, and people. Nightwing aims to win this race to seek out where the Dark Web is keeping Vicki Vale and Willem Cloke. However, the race has no rules, and the likes of Professor Pyg and Silencer are also trying to win the race.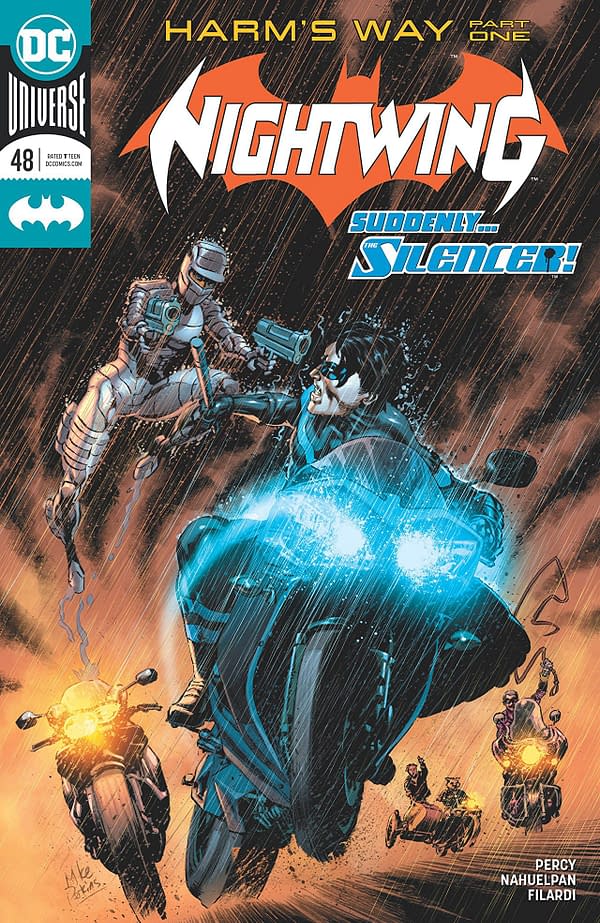 I love the idea of Nightwing partaking in a zany intergalactic motorcycle race with supervillains and assassins. It's possibly one of the most Nightwing story concepts there could be.
In that, you already have a great premise for a comic. Silencer is one of the better New Age of Heroes characters, so it's cool to see her in the story. The main problem that lies in the story is its setup.
The setup is remarkable convoluted, trying to clothe itself in Irish mythology and high concept science fiction. Worse yet, it's still connected to the Dark Web story, which has gone for far too long and somehow keeps getting worse.
Also, Dick Grayson is a detective, and forcing him to patronize some sort of once-a-year cosmic knowledge-bestowing hotspot to discern the location of Vicki Vale is a weak foundation for a PG-13 Wacky Races send-up with one of the most charming DC heroes.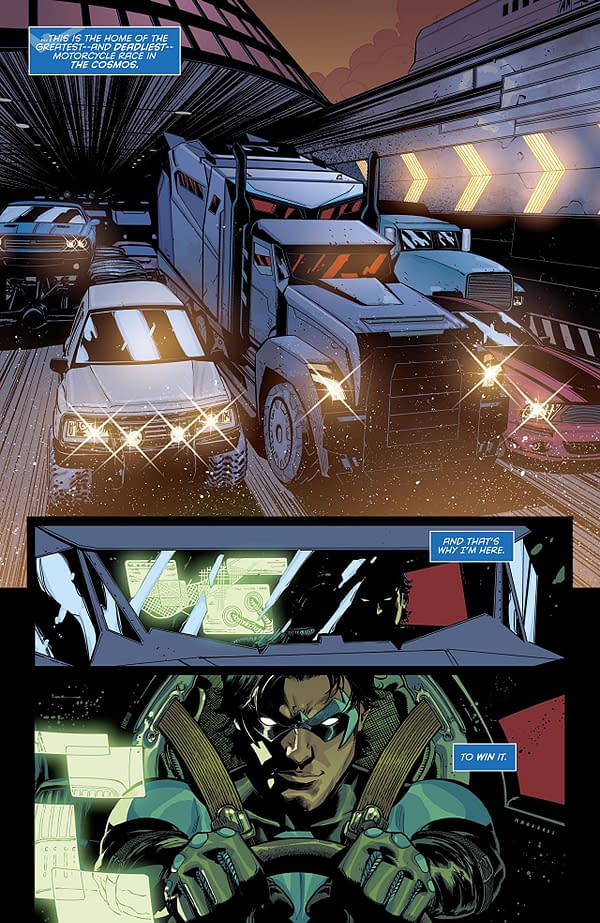 On the bright side, Amancay Nahuelpan's artwork is downright inspired. The book looks fantastic, and the interdimensional motorcycle super-race is given a lot of personality and charm by its insane aesthetic. The aliens range from bizarre to disturbing, and that adds some fun to the book too. Nick Filardi gives the book an almost-neon color palette that suits this premise.
Nightwing #48 has a nice hook but builds it on convolution and a badly decaying story arc about the dangers of the internet. The art is great, and the book manages to keep its own head above water for the most part. I can tentatively recommend it to someone who just wants an insane and over-the-top story with Dick Grayson.
---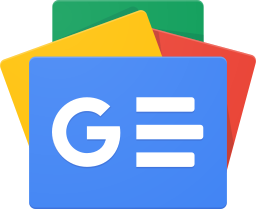 Stay up-to-date and support the site by following Bleeding Cool on Google News today!