Li'l Jinx, created by Joe Edwards for Archie Comics in 1947 was depicted as a lovable but mischievous little girl, engaged in a comical battle of wills with her long-suffering father.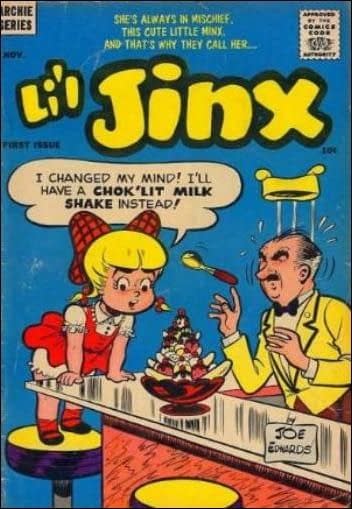 In 2012, Archie Comics decided to publish stories with a teenage version of the character. The first graphic novel, named simply Jinx, was released in April 2012 by J. Torres, Terry Austin, and Rick Burchett. A follow up, Jinx: Little Miss Steps, was released in June 2013, continuing to chronicle the adventures of Jinx and her friends in high school.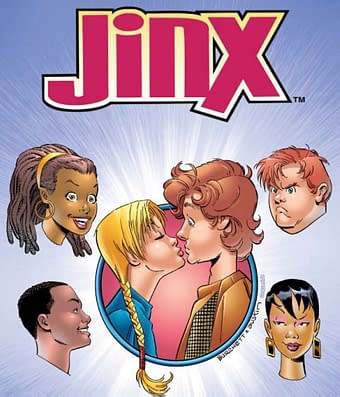 But there may be more plans for the character, as Archie Comics has just registered a trademark for the word "Jinx" covering use in… (breathe in)
Printed matter and paper goods, namely, comics, magazines, graphic novels, digests and books for children and adults featuring characters from animated and live action motion picture and television films; coloring books, children's activity books; stationery, writing paper, envelopes, notebooks, diaries, note cards, greeting cards, trading cards; lithographs; pens, pencils, pen and pencil cases, erasers, crayons, markers, colored pencils, painting sets for children, decals, iron-on heat transfers, plastic heat transfers; posters; mounted photographs and unmounted photographs; book covers, book marks, calendars, gift wrapping paper; paper party favor boxes and paper party favor gift bags sold empty; paper party decorations, namely, paper napkins, paper doilies, paper place mats, crepe paper, printed invitations, paper table cloths, paper cake decorations; printed embroidery and fabric applique design patterns; printed patterns for costumes, pajamas, sweatshirts and t-shirts; paper coasters for glasses of all types

Entertainment, namely, motion pictures and ongoing television shows relating stories about the trials, tribulations and interests of teenagers in dramatic and humorous circumstances broadcast over television, audio and video media, mobile phones, and the Internet; educational services, namely, providing classes, seminars, and workshops in the field of entertainment; providing educational information in the field of entertainment via a global computer network; providing information in the field of entertainment that features animation, rendered by means of a global computer network; entertainment in the nature of on-going television programs, motion picture films and motion picture animated films featuring action, comedy, drama, and children's entertainment; production of television programs; film production; organizing community sporting and cultural events; organizing and conducting entertainment exhibitions in the nature of book fairs featuring books and comic books
Emphasis ours, but covering all bases. Also including an appearance in Riverdale season three perhaps?
But in some cases, competing with a trademark already being applied for by Riot Games for the word "Jinx" covering:
Mousepads, computer accessories, namely, protective covers and cases for cell phones, tablet computers, USB drives, computer mice, headphones

Stickers, posters, temporary tattoos, paper banners, fiction books, comic books, graphic novel, coasters made out of cardboard coasters made out of paper; ball point pens; felt-tip pens; gel roller pens, ink pens

Figurines of vinyl; figurines of plastic; plastic key chains

Clothing, namely, pajamas, sweatshirts, t-shirts, pants, jackets, shorts socks, underwear, ties and sweaters, headwear, hats; shoes, wristbands

Plastic toy figurines; collectible toy figurines; stuffed toy animals; board games; card games; stress ball toys
Again, emphasis ours. Jinx is a character in the Riot Games game League of Legends, and is also known as The Loose Cannon.
Jinx modifies her basic attacks by swapping between Pow-Pow, her minigun and Fishbones, her rocket launcher. Attacks with Pow-Pow grant Attack Speed, while attacks with Fishbones deal area of effect damage, gain increased range, and drain Mana.
Interestingly, there seems to have been no trademark registrations by Brian Michael Bendis for any of his comic books — including Jinx — most recently published by Marvel Comics, but probably now looking for a new home.
But as it stands, both Riot Games and Archie Comics are applying for trademarks for some of the same categories… Jinx!
Enjoyed this article? Share it!