Will the Avengers Get a Bear or a Gorilla as Their Next Member for #700?
Just as Fantastic Four #5 will actually be Fantastic Four #650, so Avengers #10 by Jason Aaron, Ed McGuinness, Adam Kubert, Andrea Sorrentino and David Marquez will be Avengers #700. If you add all the separate volumes together.
Here's the solicit
AVENGERS #10
(W) Jason Aaron (A) Ed McGuinness, Adam Kubert, Andrea Sorrentino (A/CA) David Marquez
THE EARTH'S MOST HATED HEROES?!
After 700 issues of saving the world, you'd think the Avengers would be due some celebration. But instead the whole world seems to be gunning for them, especially Namor's fearsome new Defenders of the Deep and the reimagined Russian Super-Soldiers of the Winter Guard. And that's not to mention the shocking surprise the U.S. government has in store for our heroes. Plus: The all-new Agents of Wakanda! The mystery of the Avengers of 1,000,000 BC deepens! A key revelation concerning the resurrection of Wolverine! And the next startling new Avenger is revealed! Rated T+In Shops: Nov 14, 2018 Final Orders Due: Oct 22, 2018 SRP: $5.99
Which means we can interpret the following pieces of art from that issue by David Marquez, of those who may be joining the Avengers with that issue.
That would be Ursa Major of the Winter Guard, Mikhail Uriokovitch Ursus, a mutant with the power to turn into a bear. He possesses superhuman strength, stamina and resistance to physical injury to a much greater degree than an actual bear of similar size possesses.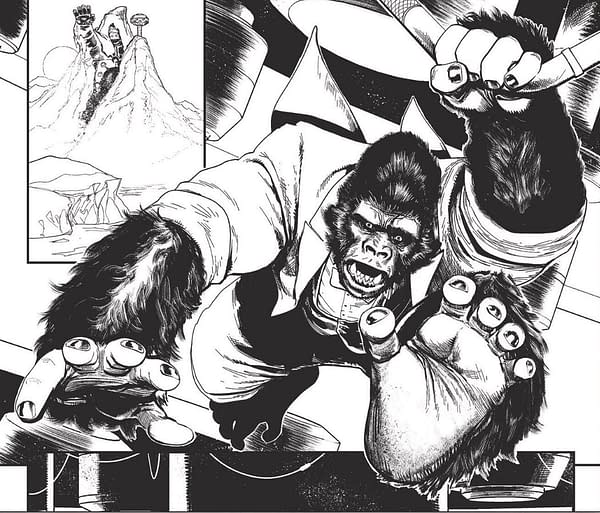 And we have Gorilla-Man from the Agents Of Atlas – now seemingly the Agents of Wakanda. Presumably this makes him Kenneth Hale, mercenary turned mystical demi-god and most recently a member of Domino's incarnation of the Mercs for Money.
So… which would you like to see join the Avengers now?