Brian Azzarello is one of the top-selling writers in comics. Even before the fuss, Batman: Damned with Lee Bermejo was a prestige format comic selling over 100,000 copies, and because DC wouldn't reprint the first issue, it rocketed in price. And then Batman: Damned #2 sold even more than #1, something almost unheard of.
But Batman: Damned #3 is delayed. Orders have been cancelled and the book resolicited for May – something DC publisher Dan DiDio took responsibility for. There's lots of speculation about changes from editorial and new management. Will we get the Batman comic that the creators intended? And what will all those Batman Damned fans while they are waiting?
Brian Azzarello has other outlets of course, than whatever kink some billionaire gets up to dressed in a mask on the rooftops of Gotha. He's written new series Faithless with artist Maria Llovet, coming out from Boom Studios. The publisher bills it as "an unforgettable story of self-exploration, eroticism, and…maybe even love." They were talking up the first issue at ComicsPRO to retailers.
Because, and here's the thing, it now has a Final Order Cut-Off variant cover by Lee Bermejo.
Yup, Boom have brought the Damned band back together – for the only time until the end of May. If you're lucky.
It's the first comic in the Boom's history to specifically feature what they label as "erotic content" (though I know some people have quite the thing for Six Gun Gorilla) and it's the first from Boom with "erotic variant" covers, that aren't being publicly previewed. Did Boom get their identity mixed up with Boundless? It's always possible. And these Tula Lotay covers are being bagged so you can't see them in the shop. A bit like Sex Criminals… or Black Kiss. Your choice.
Well, there's over 100,000 Batman: Damned fans out there who need to spend their money somewhere. And by now they're probably a little… frustrated.
At least the Bermejo will be unbagged…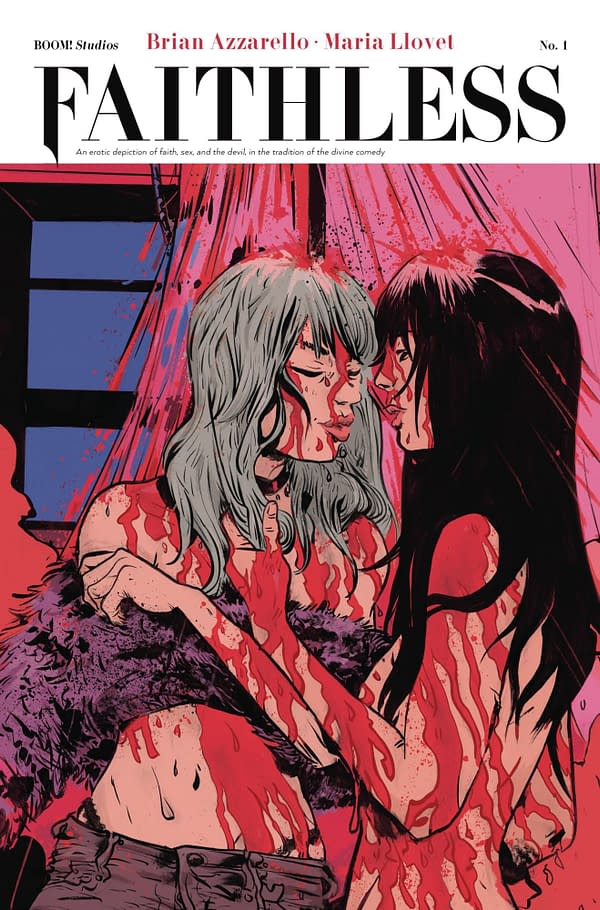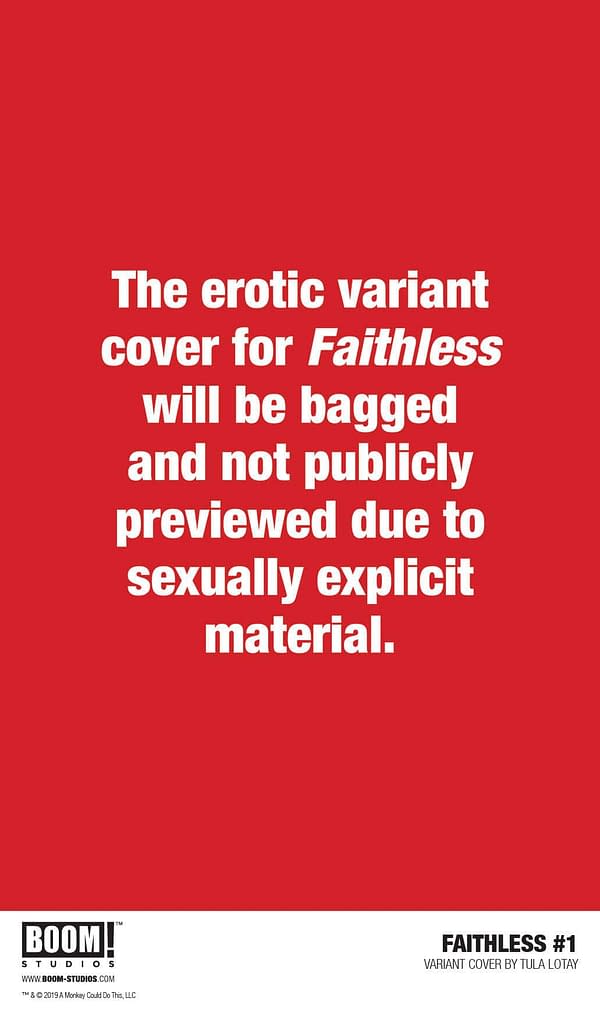 FAITHLESS #1 (OF 5) MAIN CVR POPE (MR)
(W) Brian Azzarello (A) Maria Llovet (CA) Paul Pope
Faith. Sex. The Devil.
Faith likes to dabble with magic. Her friends think it's cute-and not just a little off-putting, but it's part of her charm and her warped search for purpose in a world that makes too much sense. But she's a true believer and knows there is a power within her reach. She's right, of course. It just took a while for that magic, that temptation, that unknowable thing to find her . . .
In short- Faith is bored as hell. And Hell has noticed.
New York Times bestselling writer Brian Azzarello ( 100 Bullets , Batman: Damned ) and artist Maria Llovet ( Loud ) with Eisner Award winning artist Paul Pope on covers coalesce in a story of self-exploration, eroticism, and maybe even love.In Shops: Apr 10, 2019
SRP: $3.99
Enjoyed this article? Share it!