Cameron DeOrdio's Writers Commentary on "Charlie's Angels/Bionic Woman" #2
Cameron DeOrdio's Writers Commentary on Charlie's Angels/Bionic Woman #2, ut now from Dynamite, He writes,
Aaaaand we're back! Thanks for sticking with us on to issue 2; I think you're gonna like this one. Issue 1 set the board and introduced the pieces, and now we get to watch the game begin to unfold. That means digging into some motivations, discovering some new obstacles and figuring out what our characters want to do about 'em.
Pages 1-4
Julie Rogers didn't have Miss Congeniality to teach her about the solar plexus, but she did have the mean streets of 1970s New York City, which is at least as good for learning street fighting but loses points for lack of Sandra Bullock. Jaime does not have a bionic gut, so getting socked in it still doubles her over.
The stars, they're just like us.
The three Angels take advantage by running off and splitting up. By the time Jaime recovers, all three are out of sight. Unfortunately for Kris, she ran off to the right, which is the side of Jaime's enhanced ear.
Kris quickly realizes she may be dealing with someone who's more than human, but she still manages to shake her pursuer, at least for the moment.
These are a relatively action-heavy first four pages, especially compared to last issue. I wanted to establish right out of the gate that things are moving forward very fast now – and the Angels don't even know yet that they have a deadline approaching.
Showcasing Jaime's bionic powers – and translating the iconic sound effects, especially – was a pretty daunting ask, but Soo Lee and Addison Duke do a great job here, building on their work in issue 1. So much of what makes Jaime special was perceived by television audiences in the way she moves and the related sounds. Without motion or sound to go on, the art team – especially Crank!'s lettering – does a great job of conveying Jaime's inhuman abilities.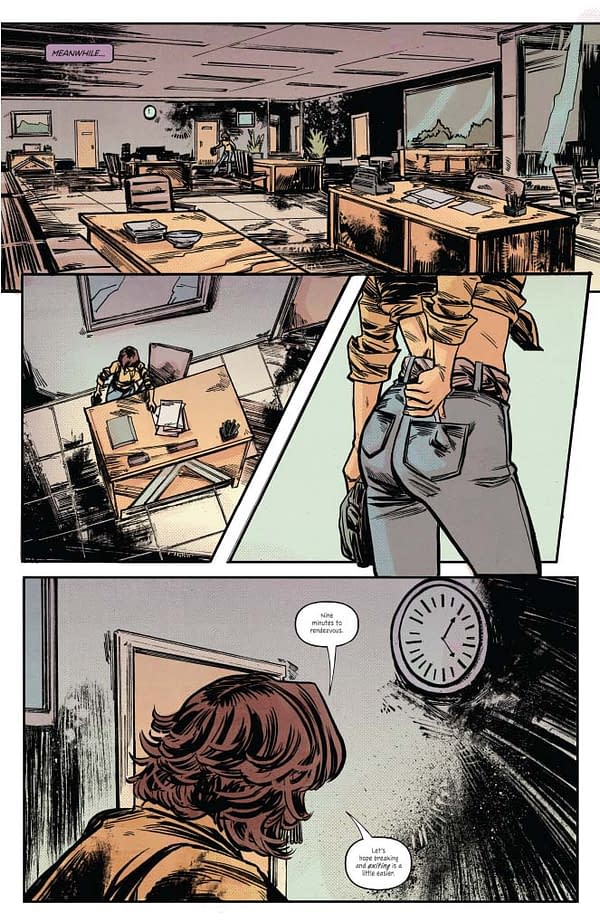 Pages 5-7
Unfortunately for Kris, hide-and-seek against someone who has superhuman hearing and super speed is virtually unwinnable. Fortunately for Kris, she's a savvy woman who's been an Angel for six years at this point, so she has a few tricks up her sleeve – or stitched to it, as the case may be.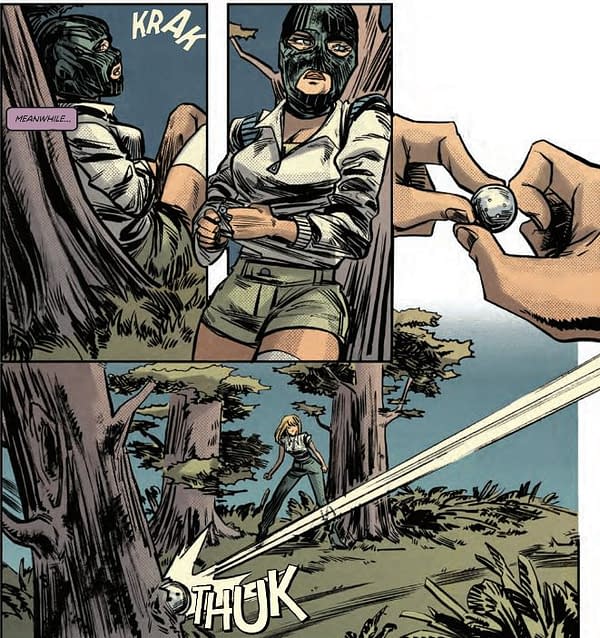 Despite Julie's sucker punch, it's become very clear to Kris that her training is nowhere near enough to take a specimen like Jaime on one-on-one. All that she knows is she is breaking into the headquarters of a powerful defense contractor, and she is apparently dealing with an organization that has not only managed to create superhuman guards, but they are willing to set them loose on intruders. Kris can't be sure what will happen if she gets caught, but it looks like it could be quite grim.
Once again, huge credit to the entire art team on this sequence, and minor credit to that month in college when everyone was seeing how far they could flick bottlecaps through the air. But seriously, Soo does a great job hitting all these notes in showing just how tense things are, and the SFX do a lot of heavy lifting.
Pages 8-10
GADGET TIME! I. Love. Gadgets. I love Mission: Impossible and James Bond type stuff, so I really wanted an excuse to put some piece of hyper-specific but extremely useful technology in here. I thought it'd be more interesting if it came from the side without the full force of a major miltech company behind it, so we could see something a little scrappier. Page 8 resulted in a very fun and likely very government-monitored logistics conversation between Soo and I, and I'm quite pleased with how it came out.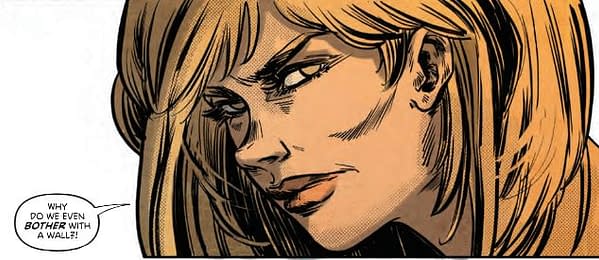 Why indeed, Jaime? Why indeed?
Pages 11-12
Remember that part where I said Kris could never take Jaime on and she knows it? Well, Jaime knows it, too, and she's none too happy about getting outfoxed. This is where we get to see for the first time in this book why Jaime does what she does, digging into her relationship with Oscar and her sense of responsibility to him and OSI – and, by extension, to Naris.
Also, yes, that is a Carnegie Tech sweatshirt.
Pages 13-14
While most websites will tell you Charlie's Angels have no superpowers, I feel those people are really underestimating how far a costume change and some charm can get you in this world.
Pages 15-16
Jaime, who may be starting to spiral a teensy bit, roams the Naris office looking for any clues she might have missed. Her special blend of bionic vision and paranoia pay off as she accurately half-proves, half-guesses what happened. When she takes it to Oscar, we see he may not be putting as much faith in Jaime as she's putting in him – and she's starting to notice it.
While '70s Jaime never had bionic vision, '07 reboot Jaime did, and we are in our own pocket continuity, so we had some leeway here. We decided to keep the classic, Lee Majors-style bionic vision look to it, though, which Soo has some fun with in these pages.
Pages 17-18
Wow, there sure are some major structural impediments to fairness, equality and justice in the country described in this comic book, Bosley.
Page 19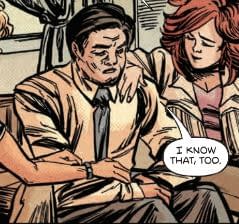 BUSTED!
Page 20
Or… is she? Pro tip: a chunky heel on a hard floor is bad for OpSec.
Whew! How's Kelly going to get out of this one? Is Kelly going to get out of this one? How much does Jaime know about what Naris is up to? How much does Oscar know? I'm offering these answers at a very reasonable price at your local comic shop. (Buy issue 3!)