Could Chris Claremont Rewrite X-Men Continuity With Cable Annual? (Spoilers)
At MCM London Comic-Con a couple of weekends ago, Chris Claremont was holding court with his many British fans talking about his X-Men work, past, present and future. We already mentioned a story he shared putting the recent Batman: Damned fuss in context with reference to Superman #75.
He also reminisced about the original Giant-Sized X-Men from the seventies that reinvented the title with a new diverse cast back in the seventies, as coming from the Marvel sales team, who wanted such a line-up of Europeans, Russians, East-Asians and Africans to aid selling their comics to an international audience. Basically, just the same kind of thing that Marvel has been doing recently…
But he also talked about a story in an upcoming Cable Annual.
Now, Cable recently died in Exterminated #4 though there is a Teen Cable running around now. But Claremont's story is set when Cable was but a baby, the young Nathan Summers. With Scott Summers as his dad, Madelyne Pryor his mother and Cable, even as a baby analysing, understanding and remembering everything.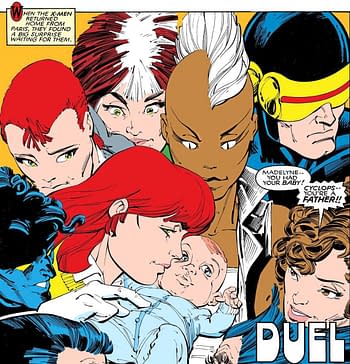 With the Summers visiting Madelyne's parents, with Scott suffering from postpartum depression as the reason he leaves them all and joins X-Factor (which was never a very satisfying set-up) with Jean Grey.
Except – is it possible that in this version of the story, Scott doesn't do that at all and goes back to his family? And changes the timeline?
Everyone else seems to be rewriting Scott Summer's history. Can Chris get a slice of that action?
It may be worth rereading X-Men Forever from the noughties. In that comic, Claremont retconned Nathan Summers being sent to the future entirely, and he was instead living with Scott's grandmother and the Starjammers in Alaska. The comic claimed it would address how this happened later… but never got around to it before cancellation.
It would certainly have been in X-Men Forever Vol. 3 had it happened, as the series ended with Nathan kidnapped by someone working for Mr. Sinister… could this be an attempt by Chris to revisit that dangling plotline?