Comic Artist Censored, Then Fired for Political Beliefs
A comic artist has apparently been fired from his job for political beliefs. Rob Rogers, the longtime political cartoonist for the Pittsburgh Gazette and a Pulitzer Prize finalist announced his own firing on Twitter Thursday.
Rogers' troubles began when Keith Burris took over as editorial director of the paper and began rejecting Rogers cartoons that were critical of President Donald Trump. Rogers posted the cartoons on social media instead, and online comics site The Nib collected ten of the cartoons in a feature on June 8th. The cartoons seem well within the bounds of what can be expected from a political cartoonist:
But Burris rejected at least 19 of them since becoming editorial director in March, an unusually high number, according to Rogers. If there's any doubt as to the motivation behind the rejections, it appears that Burris, along with the paper's publisher John Block, are supporters of the president who presumably disagree with the message behind the cartoons. The Philadelphia Inquirer reports that Burris penned a controversial editorial called Reason as Racism for the Gazette back in January (though the editorial is credited only to The Editorial Board in the byline.), which began:
Calling someone a racist is the new McCarthyism. The charge is pernicious. The accuser doesn't need to prove it. It simply hangs over the accused like a great human stain.

It has become not a descriptive term for a person who believes in the superiority of one race over another, but a term of malice and libel — almost beyond refutation, as the words "communist" or "communist sympathizer" were in the 1950s.
The publication of the editorial was reportedly pushed for by Block, who also refused to run a letter from 150 members of the paper's staff objecting to it, according to a report from Politico. The Pittsburgh City Paper screencapped a tweet in September of 2016 of Block posing with Trump on a private plane ride.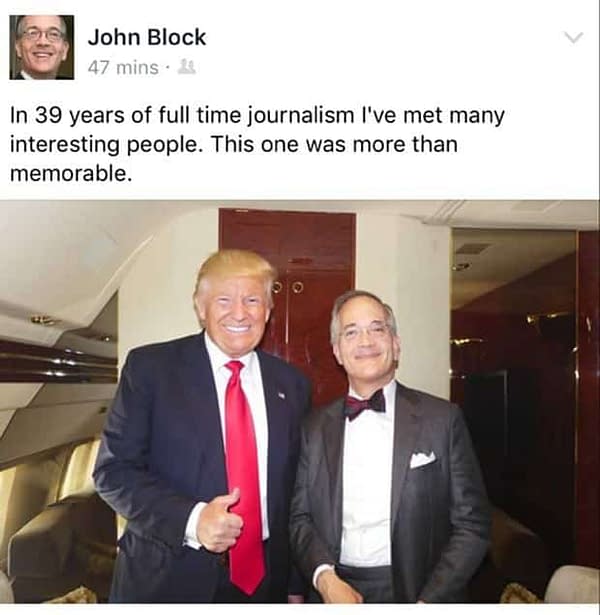 While the censorship of Rogers' cartoons is clearly politically motivated, his firing was likely compounded by the negative publicity the paper, along with Block and Burris, were receiving over it. On June 6th, CNN ran a report on the rejected cartoons, two days before the Nib published 10 of the rejected strips. For Rogers, judging by his most recent retweet, the message was clear: