Rod Lamberti of Rodman Comics writes weekly for Bleeding Cool. Find previous columns here.
We had a great Rod Deals on July 14th. Best sales day of the year so far. How is that? How did we beat out sales from Free Comic Book Day? Easily, actually.
Often the mindset for Free Comic Book Day is to go to a comic store and get all the freebies one can and leave without spending a dime. It is part of the reason I am not a big fan of Free Comic Book Day. I am able to sell product. I do not need to buy comics from big businesses to give away to get people into the store.
I believe Free Comic Book Day needs to change for the better. The reason my store keeps having Free Comic Book Day is not really a good one: we stay because we do not want to look like the cheap store. It's one of the few times where I do go along with what others are doing.
Not much to report this time. The store is currently flush with money. I made a minor mistake expanding the hours on Thursdays and Fridays. Not seeing any major increase in sales during those days even though it is summer now. Summer is our busiest time. Nailed it out of the park last Saturday. Summer still is not over, so hopefully Thursdays and Fridays during the day improve.
Wizards of the Coast (the makers of D&D and Magic the Gathering) surprised me with their announcement that they will end their direct sales program. I used to use a different vendor for the store's Magic supplies and had issues where dealing with this other vendor's mistakes was costing me money. Wizards of the Coast was not perfect, though they were pretty darn good, and I was able to order product by calling them even on the weekends. No current vendor to my knowledge does that. I deal with Southern Hobby, Alliance (due to them and Diamond having exclusives on various products), and ACD. I never got the feeling that Wizards of the Coast viewed my store as too small to deal with. With other vendors, at times it feels like I received a level of service that I would not be happy with if that was the same level we were doing in store. Multiple calls and/or emails going unanswered and so forth.
Not looking forward to losing Wizards of the Coast as a vendor.
I just had a former customer drop off their kid's comic collection, saying their kid grew out of comic collecting. We are able to get kids into comics, though; often they seem to "grow" out of them. At times I do wonder if the younger generation growing up with smartphones will make it tougher and tougher to get kids into comics.
That said, My Little Pony from IDW still sells the exact same amount for us as it has for years. I keep expecting some of the kids that get that title to "grow" out of it, but they have not done that yet. The adults who have it on their pull list have had it on there for years now, as well.
Parents do bring their kids into the store, and we do have a successful area to sell kids' comics.
I remember when I was a kid what barriers there were that prevented me from buying comics, and as I got older, I learned a few things.
As a kid, I was small. A kid who walks into a comic store does not want to have to look up just to try to see if there is anything they want. Poor kids are expected to strain their necks trying to see the top of a spinner rack. When I went to the grocery store with my mom as a kid all the comics were on the bottom shelf of the magazine section — easy for me to get to.
I read article years ago about some parents that were upset that grocery stores were placing cereal aimed at kids on the bottom row in the cereal aisle so kids could get to them. Some parents have a hard time with basic parenting and telling their kids no and were offended that grocery stores were trying to sell the best they could. For businesses, it is being smart.
On the bottom row of our comic shelves is where our Marvel Adventures, Simpsons, Teen Titans Go!, Teenage Mutant Ninja Turtles (that are aimed at kids), My Little Pony, SpongeBob, Scooby Doo, Where Are You?, and more kid-friendly comics go. Kids love it. I enjoy having kids as customers. They do not care if a comic is a first issue or if a comic is going to be worth money in the future or what condition a comic is in.
They just want to be entertained.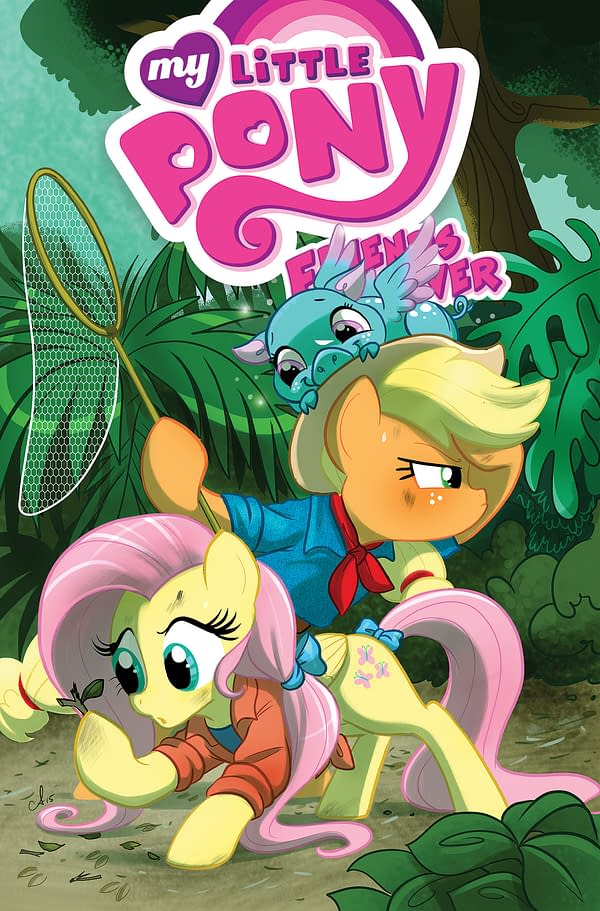 Enjoyed this article? Share it!