I sometimes get the idea that Dave Sim is exposed to far too much late night TV advertorial programming… and then I realise that, no, he is just generating this entirely from his own head.
Expect some very wrong things from more of his cut-and-paste Cerebus in Hell comics, every issue a new title and issue one, and each both a new parody and another insight into his mind… and what obsessed him.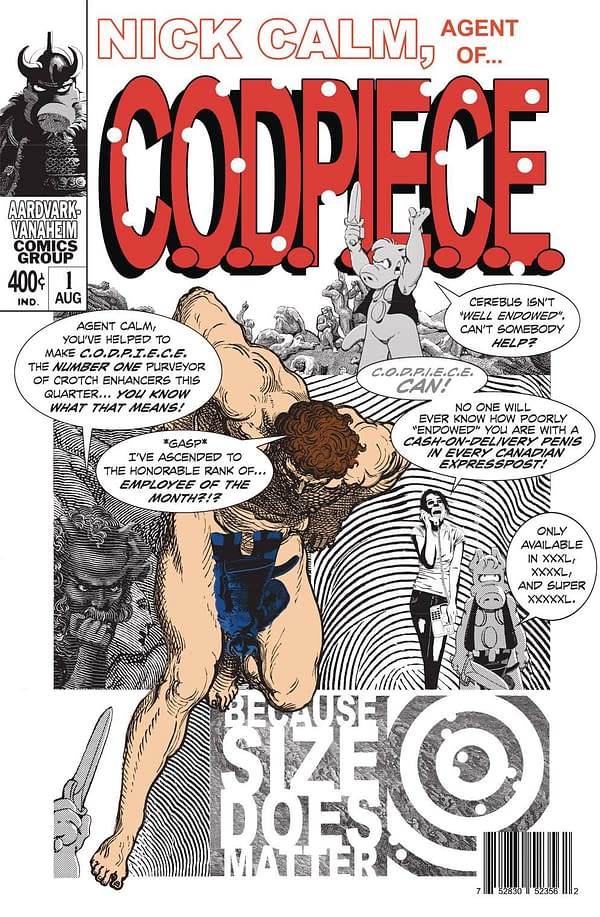 Put it away Dave… out in August.
NICK CALM AGENT OF CODPIECE
JUN181283
(W) Dave Sim, Benjamin Hobbs, Sandeep Atwal (A) Dave Sim, Gustave Dore (CA) Benjamin Hobbs
"Cash On Delivery Penis in Every Canadian Expresspost"; Super Cerebus hoaxes Satan; Cerebus appoints the Whore of Babylon Governor of the Bank of Canada; Electric cars a city-block long made of woven hemp powered by wind turbines on the roof; million-dollar banknotes; Francis suspects Super-Cerebus of being as "gay as the song the fairies sing"; "Foresworn & Sven Yeargan, Gol"; the computers are eating our pens; Count Ugolino and his sons and grandsons starve to death; "Bohemian Rhapsody" "on-hold" music; what it means when a Muslim calls you a "whore"; The 31 Gender Pronouns; "We're All Doomed"; The Whore of Babylon vs. Virgil;
Clinton Supporters of the Damned.
In Shops: Aug 29, 2018
SRP: $4.00
Enjoyed this article? Share it!