David Avallone has a Writer's Commentary on Elvira: Mistress Of The Dark #10, published recently by Dynamite Entertainment.
What follows is, as always, SOLID GOLD SPOILERS. So go read the comic and come back, and this will all make some kind of sense.
Covers: Just like last time… I hadn't quite cracked the story for this issue yet when I saw John Royle post a cool image of Elvira on Instagram. As a nurse: specifically as the Darryl Hannah nurse from KILL BILL. I reached out and he informed me it was for #10. Huh. Maybe I could have issue 9 end with her crashing at the end of the broom ride… and end up in a hospital. Fun! So two issues in a row, location and plot inspired by John's covers. This is kinda how comics were made in the 1970s.
The other covers are equally great. Craig Cermak (with color by Brittany Pezzillo) does a nice tribute to Elvira's career as a TV horror host, and newcomer to the series Tim Seeley gives us Elvira in a Witches' cauldron. Roberto Castro invites us to a Witches' tea party. Elvira being served, two different ways. The photo cover, of course, speaks for itself.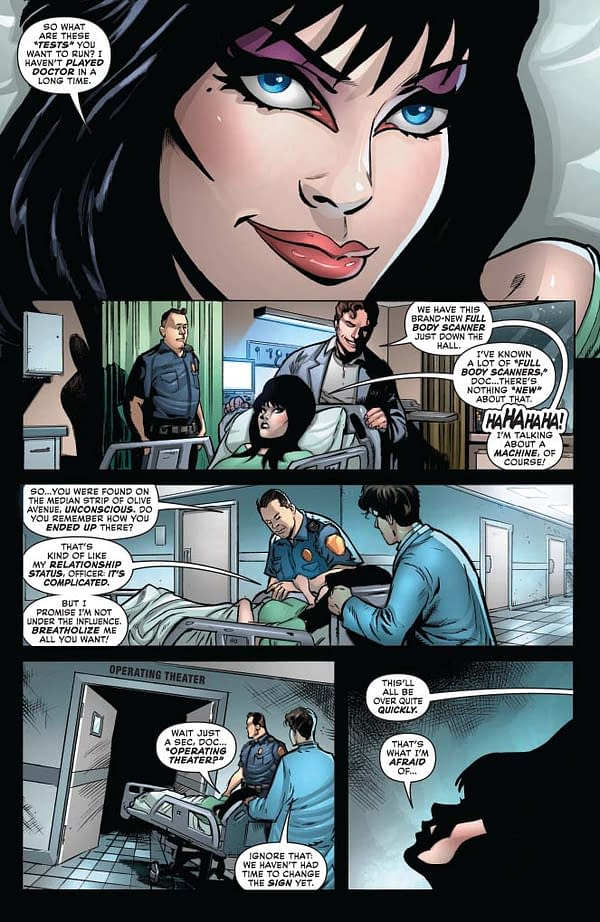 Page 1: Dave Acosta, folks. Right there, in panel one, a perfect portrait of our leading lady… and proof why he's the best artist this book could have. And while we're at it, Walter Pereyra's colors compliment Dave's work beautifully.
Right off the bat, we get the "playing doctor" pun out of the way. The big cop reminds me a little of Patrick Warburton.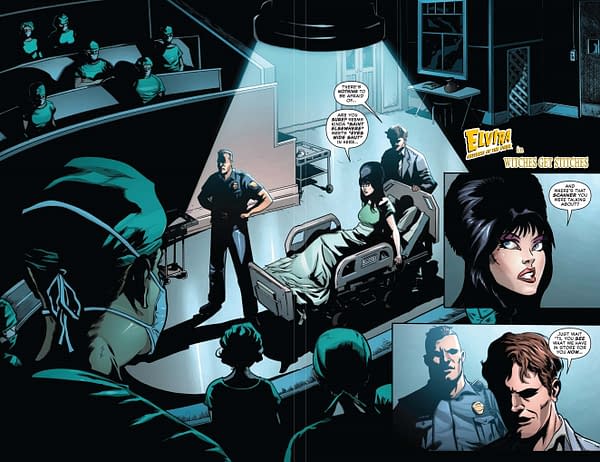 Pages 2-3: Splash page. Elvira says "St. Elsewhere" and "Eyes Wide Shut" and I think Acosta expresses that nicely. For the younglings… St. Elsewhere was a TV show about a quirky hospital. Eyes Wide Shut was a Kubrick movie about a creepy sex cult.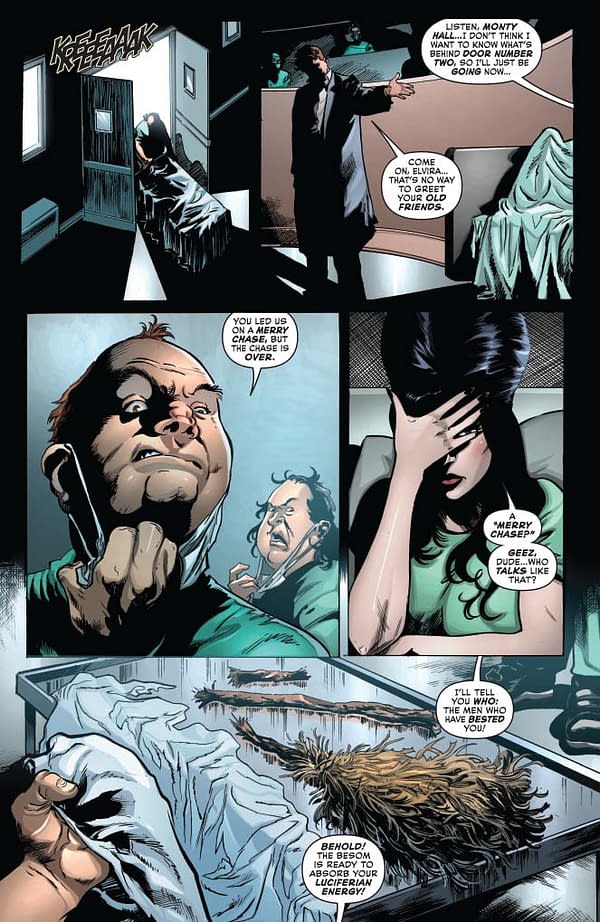 Page 4: Monty Hall and "door number two" are references to an old game show called Let's Make A Deal. We continue to make fun of the cultists old-timey Renn Faire-speak. As with the last issue, "Besom" is the technical term for a witch's broom. I didn't know that either, before I did my research…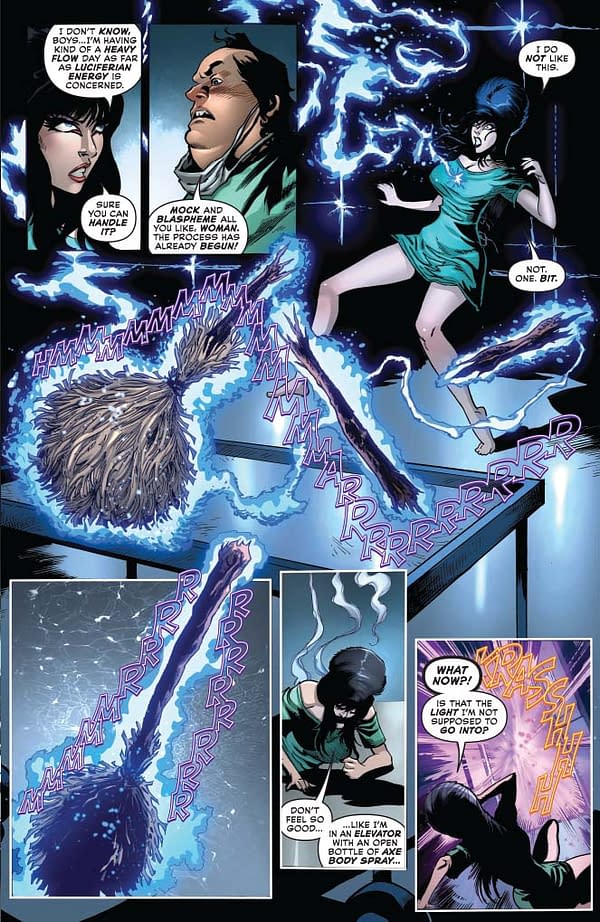 Page 5: Elvira makes a "heavy flow" joke. If you don't get it… maybe it's best I not be the one to explain it to you. They should have covered that in your 7th grade health class. Good page to point out the great work of Taylor Esposito, letterer extraordinaire… and his imaginative sound effects work and placement.
Pages 6 & 7: Elvira is rescued by a shadowy superhero! I love the black and purple treatment Taylor gave to his "Batman voice." And yes… that IS the actual Instagram account of "the Real Elvira." You should follow her. Hell, while you're at it you could follow me, too: @david_avallone_freelance. Lots of pictures of comic books covers and pages and works-in-progress, pictures of cats, and some doofus in a mustache and his beautiful wife.
Pages 8 & 9: I pay off the John Royle cover, sort of. Leg Avenue is a retailer of "sexy" costumes: not particularly the classiest or best stuff. The goofy shoes were totally Dave Acosta's idea and they crack me up.
Page 10: Our superhero! We'll reveal more about him in a couple of pages. Costume design by Dave Acosta, with minimal input from me. He's a character I created years and years ago, for another project, and he fit so nicely into this story that I had to throw him in.
Page 11: Elvira asks about the Deucalionids. As I said last time: they are a modern cult, made up entirely by me. Deucalion was the son of Prometheus. These guys connect the myth of Prometheus giving fire to mankind with the myth of Lucifer giving Eve an apple from the Tree of Knowledge. Gods who try to elevate mankind and get screwed over for it.
Page 12: When I wrote this, I wondered if Cassandra – the real Elvira – would be cool with it. I shouldn't have: she's been incredibly supportive of every story idea, and her notes are usually just a few alternative jokes. So Elvira is in a white dress – after Labor Day – for a lot of what follows. (For those who don't know: wearing white after Labor Day is a big fashion no-no. I have no idea why.)
Page 13: We finally identify our 90s vigilante superhero (who I did create in the 90s.) Ivan St. Croix, the Soul Survivor! The background of this character, and how he came to end up in this comic book… is complicated. I'll try to explain…
As some of you may know, my father was a pulp fiction/paperback writer. A prolific one. In the 1970s he created a character called The Satan Sleuth. His origin: Philip St. George was a wealthy playboy whose wife was murdered by a Manson-like cult… he snaps, and starts hunting cultists, ala Batman. Way back in '89 I wrote The Satan Sleuth into a script. When it looked – briefly – like that script would get made, my sister told me she didn't think it was the best way to introduce dad's character to the public, and she was afraid we'd lose control of the rights. I didn't agree, but to satisfy her, I created a pastiche of the Satan Sleuth called "The Soul Survivor." He has a very different origin (though it still involves a cult).
When I was plotting out this series, with its cult villains, the story just cried out for The Soul Survivor. He never had a "real name" back in the 90s. His name here – Ivan St. Croix – was inspired by two good friends of mine. About five years ago I edited a film called WITH ONE TIED HAND, about a World War Two "Buffalo Soldier" and his return to the Italian town he liberated in 1944, more than half a century later. That soldier's name was Ivan J. Houston, and he's a real life hero. Google him if you want to learn more. The "La Croix" comes from a burlesque dancer and artist friend of mine… Lux La Croix.
Page 14: Dave messaged me while he was drawing this and asked "so if they're all disguised as doctors… is Striker wearing a surgical mask over his big knight's helmet?" I thought that was hilarious, and this page still cracks me up.
Page 15: Elvira breaks the fourth wall to complain about her shoes. Vampirella was the first comic book hero I ever wrote. I wanted to also put the ™ after "stun staff", but I already used that gag on Vampi's name and I couldn't do it twice in one page.
Pages 16-18: Comic book action! It only took ten issues. I'm not above doing the ™ thing again now that we're on a new page. On page 17, the Soul Survivor is hitting four people at the same time. Kudos to Dave for making that work. It's usually Elvira making the pop culture references, but I let the Speaker quote the most famous Witch ever with a "surrender Dorothy", from The Wizard of Oz. Elvira comes back with a quote from legendary New York Mets manager – and, yes, Yoohoo™ spokeman – Yogi Berra. Who was famous for profound sayings like this that were secretly just kind of not smart.
Page 19: Walter does a great job giving this page the necessary magic, with his crackling blue power.
Page 20: Gonk is alarmed when people teleport into his home wearing the wrong dress. Understandable. Not to make something serious out of something comic… but for me, heroism is when you do the thing you don't want to do, because it has to be done. And our Elvira IS a hero. So she's off to Orange County (shudder) for next month's exciting episode: WITCH WAY TO THE APOCALYPSE. See you then!
Enjoyed this article? Share it!