The Difficulty Getting DC Comics to Berlin Right Now
Bleeding Cool has reported that Diamond UK and British comic shops have had a reprieve from DC Comics decision to drop Diamond from distribution, in favour of Lunar, UCS, Penguin Random House and Sideshow. British comic stores get to use Diamond until the end of the year – but what about the rest of Europe? Tobias Heidemann and two colleagues own a comic shop in Berlin. He tells us;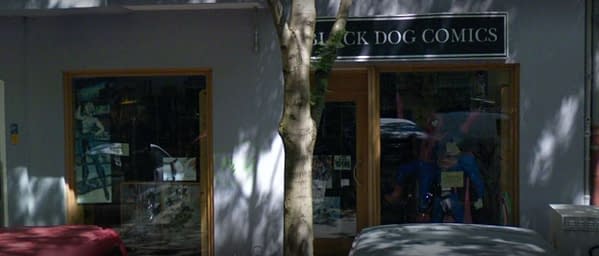 Black Dog Comics has been around for over 25 years and we are the first call for US comics in Berlin.

We thought we'll do it right, get to know UCS, get those weekly processes up and ready as soon as possible, develop a healthy business relationship yada, yada. I guess we didn't expect how far away UCS actually is from being an international comic distributor.

So I'll spare you all the stuff about the lackings of the UCS data side of things, like the actual data infrastructure of "Connect", the missing codes, pictures, the FOC process and so on because that's the same for shops in the US and I guess there is nothing Black Dog Comics can add to that since everyone is able to compare what Diamond does data-wise to whatever UCS thinks it's doing right now. I'll just leave our shipping experience here so you guys have some international context.

As you can imagine we had a lot of questions for our contact at UCS right from the start and although he wasn't able to give us answers to most of them he at least tried. "They are working on it", that was the general response. One of those questions obviously concerned shipping costs and the cooperation of UCS with freight forwarding companies. We have been working with GEODIS US for many years and we are doing customs on our own in order to asure that new shipments arrive in the release week. 95% of the time new releases are on the shelves on Wednesday. It has been like this for over 20 years. That's what our customers expect.

So we made it very, very clear that cooperation with GEODIS US was mandatory for us. And we were told, very early actually, that this was what was going to happen. So we asked UCS to hold all our orders until that processs was ready. We got in touch with GEODIS and they told us that all UCS had to do was send those first shipments to GEODIS and they would handle everything form there.

We did repeat that "hold" request severall times because these are crazy times for everyone and UCS is bound to make mistakes, which is perfectly fine, so you know, better make sure, write that email every week.

Last week while browsing through the UCS site we found a little "2" under "invoices". Those invoices had appeared overnight on a Sunday. There was no notification. They just popped up. Aaaand they had tracking numbers in there. From USPS.

We did the research. First shipment was sent like 4 weeks ago at that time. Second shipment was just recently sent, like a day after one of those repeated "hold" requests. While the first shipment was being held at customs at Speyer, a town 700 miles away from Berlin, the second was also on its way into the nirvana of the german courier system, because that's what you get without freight forwarding and proper paperwork.

It took us many hours to find those shipments, many emails were written, moody customs officers had be reached and when the first shipment finally arrived this Friday, after 4 fuc-ing weeks, it looked like a giant ill-bred baby had played with it. Because of course.

I did some numbers on that first shipment (the second one is still out there, it's so exciting). If I add the customs fees we had to pay in addition to the already very funny shipping fees almost 30% of our first invoice will be shipping cost. So there is that. I know this happened to other german shops too, but I can't speak for them. But still, this is not a singular mistake. This was considered "okay" by someone at UCS and we at Black Dog Comics, after doing comics for 25 years, say it's not. Just isn't.

And now I have to stop this little rant because I have to write an email to UCS asking a question about all those damages because as of right now there is no process for international UCS account for that. Fun times.
Anyone else have any similar stories to share?
UPDATE: UCS Comic Distributors get back to Bleeding Cool with the following comment:
We apologize for the issues for international retailers so far, we respect the difficulty they face during this transitional period, and UCS is working hard with DC to resolve each one of them. We're happy to announce that international GEODIS will be live this week, and we are addressing individual concerns with Black Dog Comics and other retailers directly, with the intention that all will be resolved shortly.