Do You Want Another Geek President Of The United States?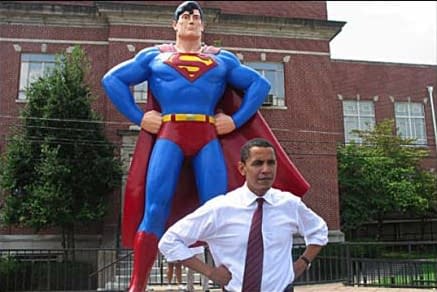 Obama was the United States' first geek President. A man who grew up reading and collecting Spider-Man and Conan comic books, can quote Stan Lee, flashed the Vulcan sign at Leonard Nimoy when their paths crossed and joked at a dinner while his birth credentials were in doubt, "I was actually born on Krypton and sent here by my father Jor-El to save the planet Earth."
Jeb Bush, however, when asked to name his favourite Marvel superhero, first went for Batman, then for Supergirl as she was hot – and he'd just seen the CBS trailer.
Ted Cruz wears his geek on his sleeve. Whether that's Simpsons impressions for Buzzfeed or doing his best Obama/Darth Vader impersonation.
In comparison, Hilary Clinton has actually worked with Stan Lee, on fundraising duties, although that was mediated by later-convicted fraudster Peter F Paul. But we did get this conversation…
STAN: I thought myself it was because we're offering everyone a free comic book but I guess I was wrong.

HILLARY: Oh I think that's a big draw myself, it's the reason I'm coming

…

HILLARY: Stan, what we haven't told you, is that you're going to be the next Secretary of Defence.

STAN: Well, I expected that.

HILLARY: Because superheroes will be a lot cheaper than the missile defence system.

STAN: Hillary, you're wonderful.

…

STAN: You've got the mutant vote right around the world.

HILLARY: Some people think I'm the mutant candidate, so I should have.
And while Bernie Sanders may not have geek credentials himself, the guy running his campaign for Presidency, Jeff Weavers, owns the comic shop Victory Comics, has been a regular Comic Con exhibitor, has a rather large personal collection and was one of the people who discovered the million dollar pus Lost Valley Pedigree Collection. So you just know he's leaving copies of Transmetropolitan or DMZ around the office for Bernie to pick up and flick through.