Extinction Parade, Letter 44 And iZombie – What Difference Does A TV Announcement Make To The Aftermarket?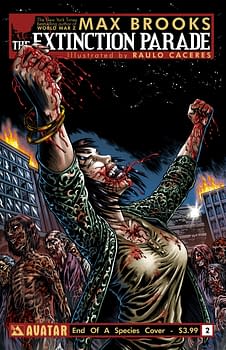 Three books. All relatively obscure. All now attached to television series. How does that affect the sale and value of back issue? Let's take a look!
For standard raw covers of Max Brooks' Extinction Parade, they've been briskly selling at cover price, but no real sign of a price spike yet, though a 9.8 signed CGC version sold for a hundred bucks. The very rare limited leather signed cover editions have also been going for silly money – but that was before any TV series announcement.
Letter 44 is a different story. With news of a TV series also in the offing, and just one issue published so far, the black and white version selling for $10 at San Diego and New York Comic Cons is now a $30-$50 book easy. The standard colour version that was priced at one dollar, if signed, can sell for over $20 but even just picked off the shelf can sell for up to $14 right now though $10 is more common, for the standard version and for the Phantom Variant.
But new TV series announcement, iZombie looks like the one that everyone has their eyes on. Only three days ago, a copy of the first issue couldn't sell on eBay for 39 cents though the Darwyn Cooke variant managed to get $3. There are now no single copies for sale of issue one on eBay…. but suddenly a few scalpers trying to get $300 for the full 28 issues issues or $57 for the first five. They may well get it…