Firebug by Johnnie Christmas and Tamra Bonvillain Comes to TPB from Image in March
Image Comics is collecting Firebug, originally serialized in The Island, as its own trade paperback next March. A press release provides the details on the comic by cartoonist Johnnie Christmas and colorist Tamra Bonvillain:
A volcano goddess named Keegan is loose in the world, and the prophecies are unclear whether her coming will bring humanity's destruction or its salvation.

In the shadow of a sacred volcano from which Keegan derives her powers, lies the ancient city of Azar. To unravel the mysteries of her past, Keegan and her friends must get to Azar before it is overrun by a horde of forest monsters. Meanwhile, the nefarious Cult of the Goddess has plans to summon forces as old as time to extinguish Keegan's flame permanently.
"Firebug is a comic I've wanted to make for years now!" said Christmas in the press release. "I'm excited to finally get it out into the world in such style: Tamra Bonvillain on colors, Ariana Maher on letters/design, and published by Image Comics. I couldn't ask for a better way to present this fun, exciting, and touching adventure to readers!"
"I always love working with Johnnie," added Bonvillain, "and it's exciting to work with him on his first self-written OGN, and to have Ariana join us as well."
The book hits comic book shops on March 7th and bookstores outside the superhero-industrial complex on March 13th. You should consider picking it up, but don't take our word for it… just look at the art below: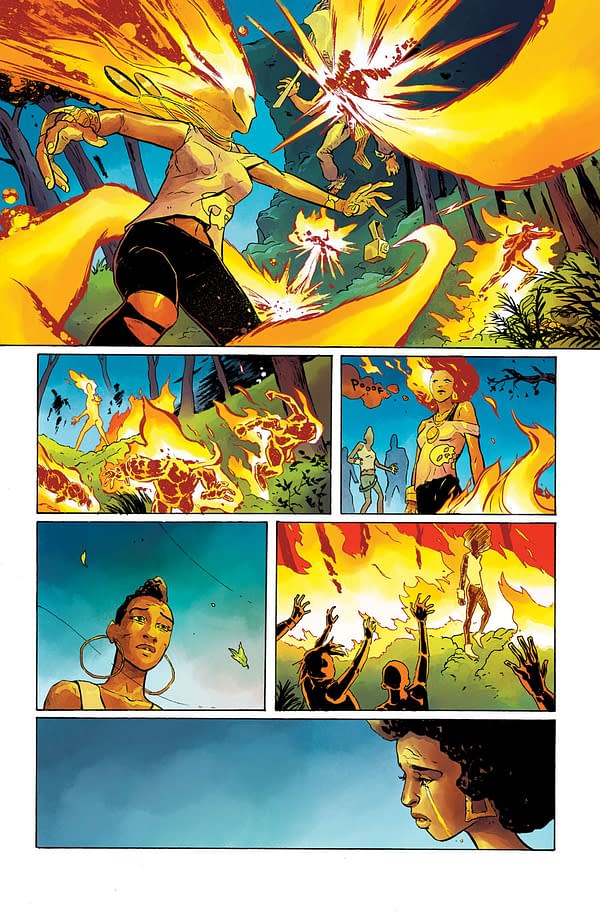 'Nuff said.