First 6 Issues of Immortal Hulk To Be Reprinted (Again) As Director's Cuts
At the Diamond Retailer Summit in Las Vegas yesterday, the Marvel Comics presentation ran through all manner of comics, projects, promotion and the like. But also recognised the eztraordinary sales success that Immortal Hulk has been enjoying, pointing out that the most recent issue sold at the same numbers as the first heavily promoted, multiple varianted, increased discount issue last year, something unheard of at the publisher in recent years.
And as the first issue enjoys its fifth printing now, it's also getting a Directors Cut version in August, along with the rest of the first siz issues of the series. Which means original artwork, script, notes and other production matter into the series that Al Ewing, Je Bennett and Paul Mounts have brought to fruition…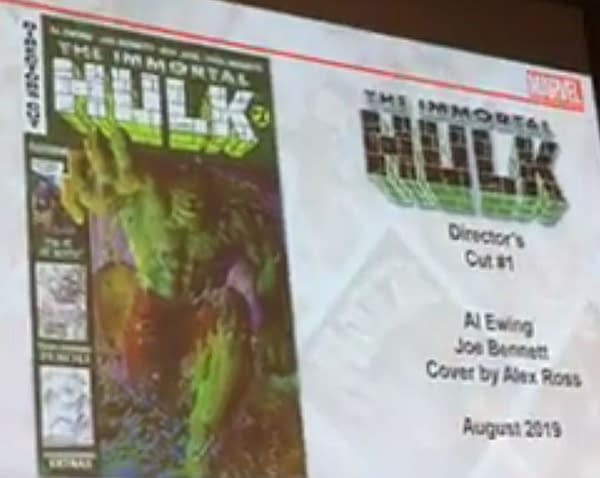 Courtesy of Dennis Barger of Wonderworld Comics, Michigan. Catch up with the rest of the Diamond Retail Summit coverage right here.