Frank Miller's CEO Silenn Thomas Vs DC Comics Over "Birds Of Prey" Movie?
Silenn Thomas is the CEO of Frank Miller Ink, the production company owned by Frank Miller. And anyone who has read even her open posts on Facebook will see that she has a certain manner of writing. This screencap from her private feed has been doing the round however.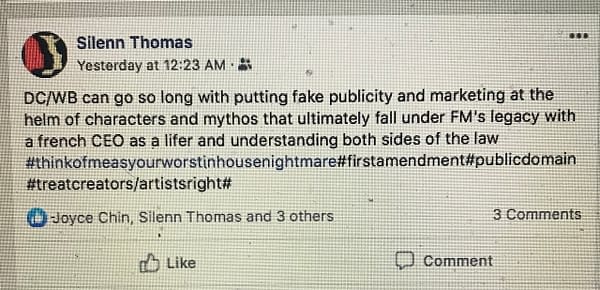 I'm going to guess, by looking at a previous public post of hers, that this might be in reference to the look of Birds Of Prey (And The Fantabulous Emancipation Of One Harkey Quinn).

That was while DC Comics were publishing Superman: Year One and Golden Child, of course. Silenn Thomas is talking about herself as a French CEO, she was also the US head of Poisson Rouge Pictures. Here, she looks as if she is challenging DC Comics over their use of Frank Miller's characters and legacy in the Birds Of Prey film. Which may be an interesting take. When film studios use comics IP, they're getting lots of built-in design, writing, etc for 'free' – that if it was a normal production using guild members would cost them a pretty penny. So it could indeed be considered a bit of a slick dodge.
Silenn also adds further allegations that, well, okay I think we're going to have to ask around about first. But this will do for now.
Back in 2017, Frank Miller and Silenne Thomas were sued by Miller's former manager Mark Lichtman, for a million dollars or more in damages. The lawsuit alleged that Lichtman helped to develop Miller's career as his manager for 30 years, and that he was entitled, according to their original contract, to 10% of Miller's earnings from entertainment deals, at least $1 million in commissions for several movie projects, including films in the 300 and Sin City franchises. In the lawsuit, Lichtman's lawyer says that Silenn Thomas, who started working with Miller in 2006 pushed Lichtman out, calling him "incompetent" and "too old" to handle Miller's business, and claiming he was too old to manage Miller. The suit also claims that, when Lichtman asked for more money, Thomas replied in an email, "How bad of a jew are you to your fellow humans !!!!!!!?????????" It also alleged that Lichtman he tried to approach Miller at the Sin City 2 premiere, but that Thomas made false statements to The Weinstein Group that suggested the writer would not welcome Lichtman at the event. nd that Thomas interfered with his business relationship with Miller and exerted influence over the writer, and that Lichtman was fired by Miller's attorney in August 2014. The suit was settled in early 2018,