Posted in: Comic Connect Sponsored, Comics, Comics History, Vintage Paper | Tagged: Alex Schomburg, bender, futurama, startling comics
---
Futurama Fans: Here's a Rare Shot at the Bender Prototype
Startling Comics #49 is an example of something I love about the vintage comic book market: no matter how long you've been collecting them, vintage comics will still surprise you. There's always that special cover tucked away in the middle of some forgotten title run that you haven't noticed before, that fresh connection to some film or television series, or that forgotten artist you've never heard of waiting to be rediscovered. After 80+ years of riding the tides of American pop culture, sometimes even the most obscure characters and titles of decades past wash ashore on the modern media landscape and leave a bigger impression than their original creators would have imagined.
An obscure Marvel/Atlas comic from 1956 like Mystery Tales #40 can show up out of nowhere on the TV series Lost, prompting us all to revisit not just that issue but the entire Mystery Tales series. And a classic but obscure Alex Schomburg cover painting for the Standard/Nedor-published Startling Comics #49 can go absolutely crazy on the vintage market because the robot on the cover looks for all the world like it's the original version of Bender from the television series Futurama. Or at least a prototype.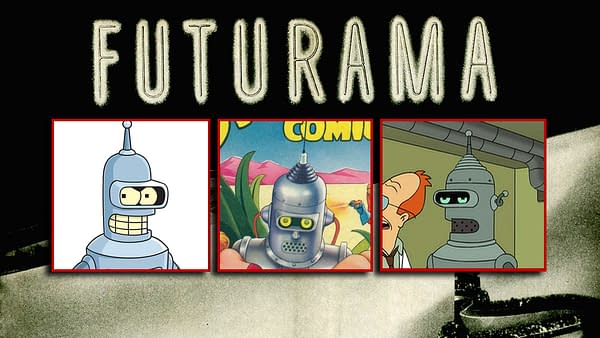 Basic Bender
To my knowledge, Matt Groening has never addressed this matter (and for the record, Startling Comics #49 is in the public domain regardless). In 1999, he told the New York Times:
For starters, there was Bender's head. The hard-drinking and nihilistic robot started out with a squarish one, on the assumption that most robot heads would look that way in the year 3000. But then, Mr. Groening said, Bender's was rounded to underscore the fact that he is a misfit, a round peg in a square hole.

"We initially gave him antennas where he would have ears, but we decided it was more effective to make him more streamlined," Mr. Groening said. "He's not streamlined as a personality, and that's part of what makes him funny."

It is also what helps make Bender believable as a machine who can still be a companion of sorts. He knows no guilt, constantly feels sorry for himself and can bend metal.
And yet, it didn't take fans too long to wonder about the coincidence. Then, in Futurama Season 5, Episode 1, a more "primitive bending unit", a primitive version of Bender essentially, appeared which matches the particular details of the look of the Startling Comics #49 robot even more closely.
Futurama and the World of Tomorrow
It's not too hard to imagine how such an influence might have come about during the design of the Futurama series. The name itself comes from the Futurama exhibit at the 1939 New York World's Fair — an important moment for the comic book and pulp publishers of the era, some of whom created tie-in titles to take advantage of the excitement surrounding the Fair. For example, long-running DC Comics title World's Finest essentially started its run as New York World's Fair Comics. Similarly, Standard/Nedor editor Mort Weisinger (later a longtime DC Comics editor) was inspired to create the character Captain Future during the Fair. There were both pulp and comic book versions of Captain Future, and the comic book version was used as a regular feature in the Startling Comics title. Futurama and the 1939 New York World's Fair marketed the experience to visitors as "The World of Tomorrow", and Captain Future was promoted in Startling Comics as "The Man of Tomorrow".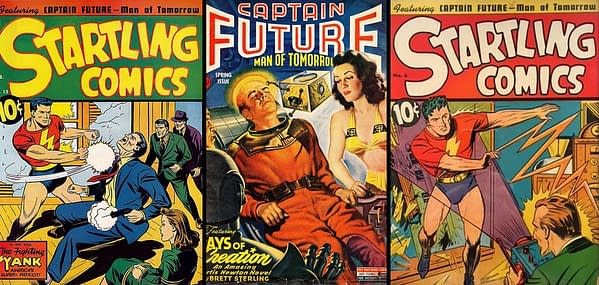 Captain Future disappeared from the pages of Startling Comics a few months before Startling Comics #49 featured its Bender-prototype in 1948. And sadly, the Bender-prototype on this cover does not appear on any interior story. The cover is one of countless comic book covers from the wildly imaginative Alex Schomburg, who is well-remembered today for his long career as a science fiction artist for pulps, magazines, and comics, and for his detailed Marvel/Timely superhero covers among others.
All of these these elements appear to have come together to influence the design of Bender at some fundamental level. Serious vintage comics fans believe there's a connection, at least. A Startling Comics #49 CGC 9.6 sold for $101,575 in 2016. There's a CGC 4.0 copy up at auction tonight at Comic Connect that will likely sell for a much more modest amount.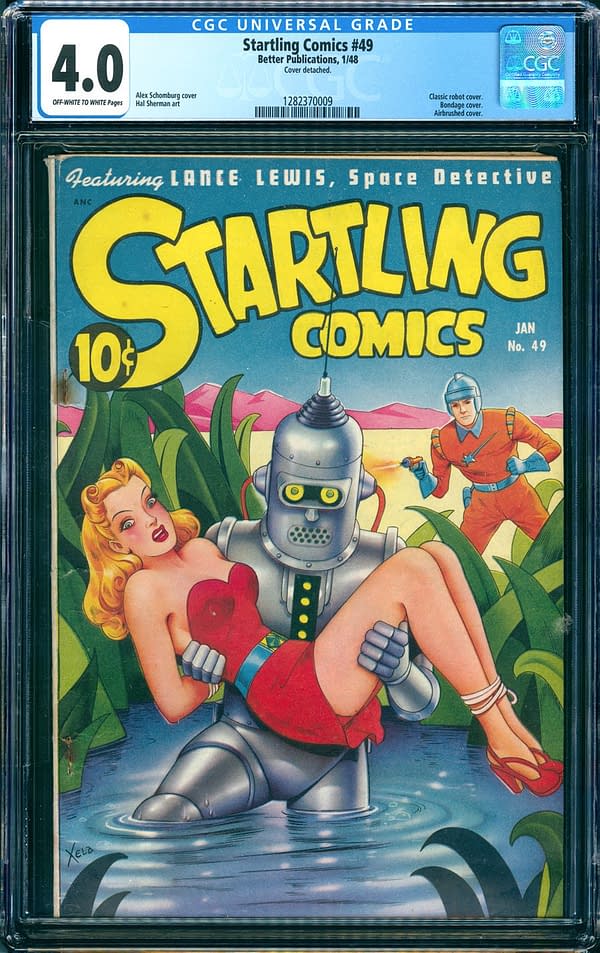 Affiliates of Bleeding Cool buy from and/or consign to ComicConnect.
---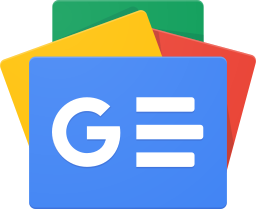 Stay up-to-date and support the site by following Bleeding Cool on Google News today!