Do you like Hellboy? Do you enjoy drinking beers with names like "Indigo Blue Fruit Ale" and "Maple Syrup Pancake Beer?" If the answer to both of those questions is "yes," then you almost certainly live in Portland. You're also the perfect target demographic for a new line of Hellboy beers bring produced by Oregon brewery Gigantic Brewing commemorating the 25th anniversary of Hellboy.
A press release details the new lineup of six beers, five of which have an alcohol content of exactly 6.66%, though one has 9.99% because it is a "British Barleywine," and everyone knows British Barleywines have a higher alcohol content. Pfft.
The first beer will debut at Emerald City Comic Con in March at a release party offsite from the convention, and the beers come with labels illustrated by Hellboy creator Mike Mignola and styled like comic book covers. Each brew will be available in limited quantities (666 cases), so be sure to bag and board them and keep them in your basement for 30 years if you want to be RICH!!!
Oh, and we were just kidding about the Portland crack. Not all beer hipsters live in Portland. You might also live in Brooklyn, New York, Austin, Texas, or Columbus, Ohio.
Check out the press release below:
To commemorate the 25th anniversary of the publication of Hellboy: Seed of Destruction, Oregon's Gigantic Brewing and Dark Horse Comics are teaming up to create 666 cases of Hellboy beer, based on award-winning cartoonist Mike Mignola's legendary character. All told, Gigantic Brewing will release six different Hellboy beers, with flavors inspired by fan-favorite characters from the Hellboy comic books. Each new beer will be a limited edition run of 666 cases and will be released approximately every seven weeks. The first beer, Hellboy, features a maple syrup and pancake profile. Gigantic Brewing's first Hellboy beer will be released in March, ahead of Hellboy Day on March 23, 2019, when comic book stores and fans across the country will celebrate twenty-five years of Hellboy comics and graphic novels.

The limited edition beers will be released in the following order and feature different flavor profiles:
● Hellboy – Maple Syrup Pancake Beer (6.66% abv)
● Liz Sherman – Mole Chili Stout (6.66% abv)
● Johann Kraus – Citrus Wit Beer (6.66% abv)
● Abe Sapien – Indigo Blue Fruit Ale (6.66% abv)
● Blood Queen – Cranberry Yuzu Sour (6.66% abv)
● Trevor Bruttenholm – British Barleywine (9.99% abv)

Fans attending Seattle's Emerald City Comic Con will get a chance to be the first to taste Hellboy beer at its official release at an offsite event on March 15th at an as-yet-undisclosed event. Hellboy beer will subsequently be available in select locations across the US. Gigantic Brewing will also be selling prints and t-shirts featuring new Mike Mignola's illustrations for each of the six Hellboy beers.

Hellboy has appeared in graphic novels and comic books, prose novels and short story collections, two animated features, two live action films, toy lines and all manner of merchandise. Neil Marshall's forthcoming Hellboy film starring David Harbour, Sasha Lane, Ian McShane, Penelope Mitchell, and Milla Jovovich will be released by Lionsgate on April 12, 2019.

For more information about Hellboy Beer, follow Gigantic Brewery on Twitter, Facebook, and Instagram or visit https://www.giganticbrewing.com/pages/hellboy.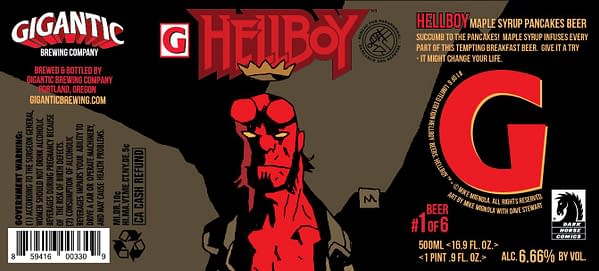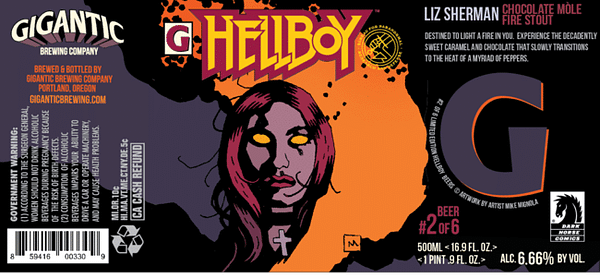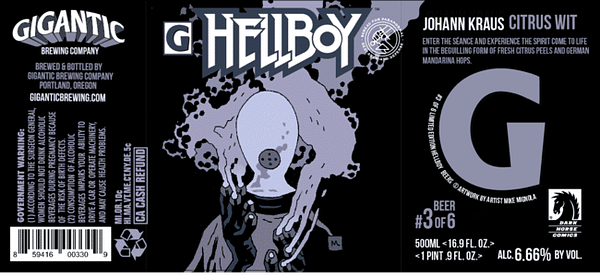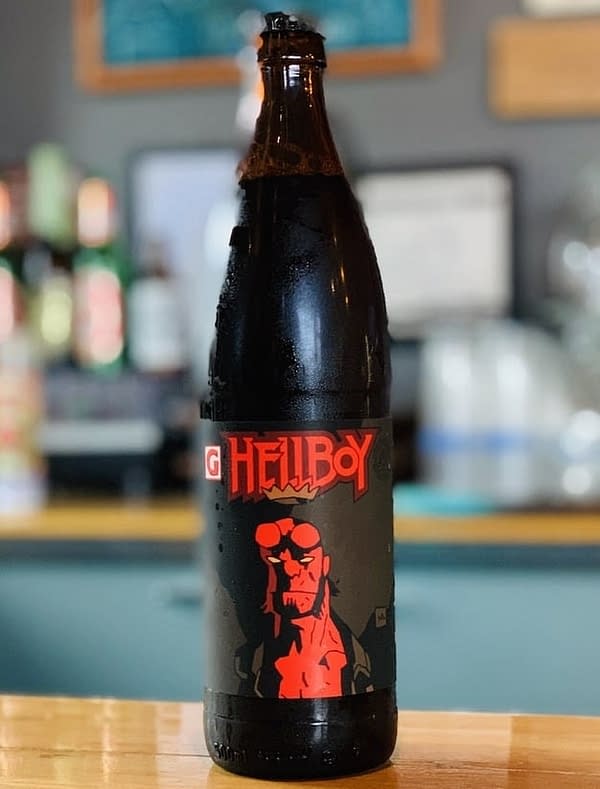 Enjoyed this article? Share it!