Doomsday Clock, the unauthorised sequel to Watchmen by Geoff Johns and Gary Frank, featured the eighties pulp detective series Nathaniel Dusk by Don McGregor and Gene Colan, reinvented as a series of films, with the history of those who appeared micing with the timeline of the DC Universe and Watchmen characters.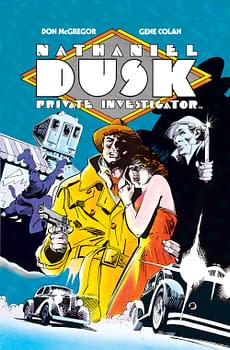 The series has never been collected before. Now DC Comics is to collect both series in one volume, out in November… we are hoping for a fine reproduction of Gene Colan's work.
Nathaniel Dusk: The Complete Collection
By Don Mcgregor and Gene Colan
The complete adventures of Nathaniel Dusk, seen recently in Geoff Johns and Gary Frank's smash hit DOOMSDAY CLOCK series, are now collected here in their entirety for the first time ever!
Walking the mean streets of Depression-era New York City, private eye Nathaniel Dusk isn't afraid to get into the gutters and dark alleys of the town he calls home. A World War I veteran, Dusk couldn't stomach the corruption of the police force and decided to take the law into his own hands. With just his wits and his fists, this wily detective brings the worst New York has to offer to its knees…until the fight becomes much more personal than he ever bargained for.
With art from the legendary Gene Colan (BATMAN) these pulp tales originally from the 1980s will shed light on the incredible character that plays such a pivotal role in the landmark series that sees the Watchmen invading the DC universe. Now completely remastered, NATHANIEL DUSK: THE COMPLETE COLLECTION brings back to life one of the hidden gems in DC lore! Collects NATHANIEL DUSK #1-4 and NATHANIEL DUSK II #1-4.
Enjoyed this article? Share it!