Is What If? Punisher Basically the Snyder Cut of Spider-Man?
Have you ever wondered what it might look like if Zack Snyder directed a Spider-Man movie? What if he wrote a Spider-Man comic? If he did, we might see something like this week's What If? Punisher, which asks the question: what if Peter Parker became the Punisher instead of Spider-Man?
In a preview of the comic, we see Spidey's familiar origin. But when he catches up with the criminal who killed his Uncle Ben, Peter, just like the DCEU, takes the concept of Great Power and Great Responsibility TO THE EXTREME!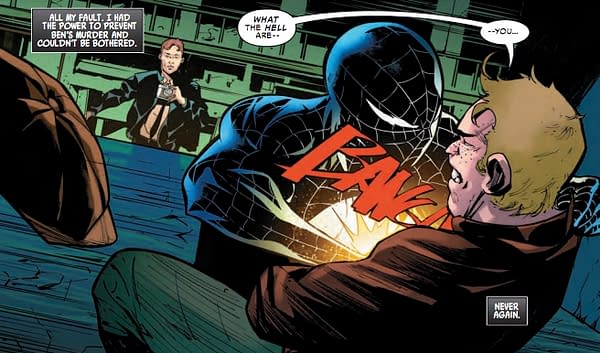 That's right, it's a world where Spider-Man is a bloodthirsty killer who cares only for vengeance, kind of like Snyder's vision of Superman, Batman, and Wonder Woman in the DCEU. What If? Spider-Man hits stores on Wednesday. Check out the preview below, fellow Snyderbronies!
What If? Punisher
(W) Carl Potts (A) Juanan Ramirez (CA) Chris Stevens
WITH GREAT POWER…
When Peter Parker's Uncle Ben is ruthlessly killed by a burglar Peter let escape, he vows to never let the same fate befall another innocent bystander. From then on, he stands as a figure of cold retribution. Criminals beware – the guilty caught in this spider's web will be PUNISHED.
But will Parker stand triumphant…or shattered by this twist of fate?
The friendly neighborhood takes a different turn in this WHAT IF? adventure, positing a very different sense of responsibility for the man who will be known as THE PUNISHER, as his battles against villains like the GREEN GOBLIN take a new path!
Rated T+
In Shops: Oct 10, 2018
SRP: $3.99