The Siegel and Shuster Lost Superman Story that Marv Wolfman Rescued as a Boy
Newsweek has run details on the unpublished Superman story by Superman co-creators Jerry Siegel and Joe Shuster that will appear in the Action Comics #1000: 80 Years of Superman hardcover volume.
And how it was rescued by veteran comic creator and editor Marv Wolfman when he was a young boy on a trip to the DC Comics offices, written by Jerry Siegel with art by the Joe Shuster Studio titled "Too Many Heroes."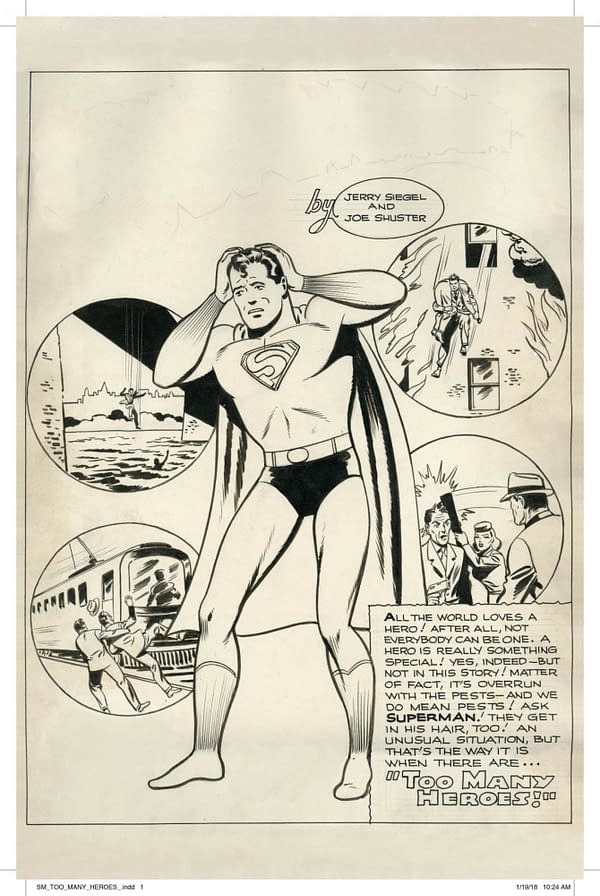 Paul Levitz stated:
"Back when DC did regular tours of the New York office, it was common for fans to get original art that would have been otherwise disposed of as a tour souvenir. As a young fan on a tour Marv Wolfman found this Superman story and kept it all these years. It's incredible to think that Marv not only rescued this unpublished story, he then went on to become one of DC's most prolific writers, and shared the story with DC to publish as part of this special new collection."
Roy Thomas interviewed Marv Wolfman about the find way back when, in Alter Ego Magazine. concerning storied labelled "Written Off", not to be published for some reason, that were then destroyed.
"Several fans and I were on one of DC's regular Thursday afternoon tours when production manager Sol Harrison came wheeling a huge postal cart past us, filled with 'Written Off' artwork, mostly from the '40s. He was bringing the pages to the building's incinerator to destroy them; obviously, the small office DC had at the time was running out of space and they had to clear away room.

"Sol asked the fans on the tour if we wanted any of the art. As fans, we all knew artwork was important, even if the professionals didn't. We all dove into the postal cart like Uncle Scrooge into his money bin and took everything we could, then scurried downstairs and traded in the building's lobby.

"I had so many pages by the end of the day that I had to take a cab home from Manhattan to Flushing, Queens, which was very expensive for a kid. I don't remember if every page was stamped "WRITTEN OFF," but most were.

"The pages we got then were full pages, and uncut. I realized early on that I had gotten almost all the pages of a 12-page never-published Siegel and Shuster Superman story and managed to trade for the other pages. I still have that story and it has never been printed. The pages have "WRITTEN OFF" stamped on them, as well as editing notes which were never corrected in the story. It has an incredibly good splash page with a full-page Superman shot on it.

"Later, when I went to work for DC, I went through their library to try to trace the time period of that story. As best I could figure out, it must have been done about 1942. In 1947, I believe, the story was rewritten as a ten-page story and then redrawn by Wayne Boring and was published. Why the Siegel and Shuster version wasn't used, I don't know.

"It is called 'Too Many Heroes!'"
You can also read about other similar stories saved by Wolfman when he worked as a DC Comics intern – while he was ordered to destroy them. And while he saved over 500 pages worth…
Most of the artwork that passed through his hands, alas, wound up being destroyed. Among the treasures he specifically recalls having to consign to the flames were pages of Alex Toth art, a Neal Adams Deadman story, and the Gil Kane-drawn origin of the Silver Age Atom from Showcase #34.
As to Action Comics #1000 hardcover, it will also have a new story by Neal Adams, written by Paul Levitz.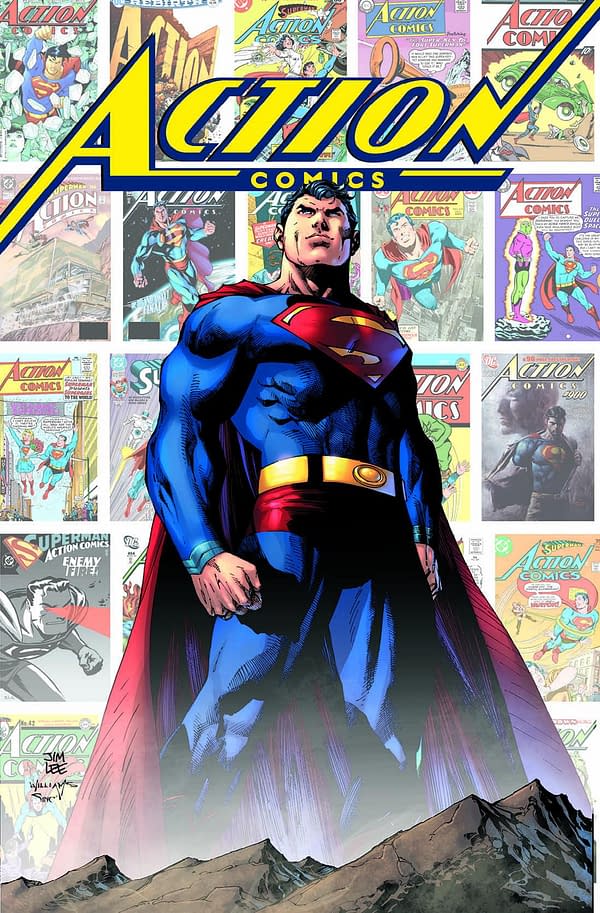 The 384-page hardcover book will cost $29.99 and hit store shelves on April 19th. Highlights and key Superman stories in this collection include:
A new cover by legendary artist and DC Publisher Jim Lee
Text pieces including: an editor's note by Paul Levitz, a tribute to ACTION COMICS by Laura Siegel Larson (daughter of Superman co-creator Jerry Siegel), an introduction by Jules Feiffer, plus essays by Tom DeHaven ("It's Superman!"), David Hajdu ("The Ten-Cent Plague"), Larry Tye ("Superman: The High-Flying History of America's Most Enduring Hero") and Gene Luen Yang (SUPERMAN, NEW SUPER-MAN and the National Book Award finalist "American Born Chinese")
"The Coming of Superman," from ACTION COMICS #1, written by Jerry Siegel with art by Joe Shuster
"Revolution in San Monte," from ACTION COMICS #2, written by Jerry Siegel with art by Joe Shuster
"The Terrible Toyman!," from ACTION COMICS #64, written by Don Cameron with art by Ed Dobrotka and George Roussos, featuring the debut of Toyman
"The Super-Key to Fort Superman," from ACTION COMICS #241, written by Jerry Coleman with art by Wayne Boring and Stan Kaye, featuring the first appearance of the Fortress of Solitude
"The Super-Duel in Space," from ACTION COMICS #242, written by Otto Binder with art by Al Plastino, featuring the debut of Brainiac
"The Supergirl from Krypton!," from ACTION COMICS #252, written by Otto Binder with art by Al Plastino, featuring the debut of Supergirl
"The World's Greatest Heroine!," from ACTION COMICS #285, written by Jerry Siegel with art by Jim Mooney
"The Superman Super-Spectacular!," from ACTION COMICS #309, written by Edmond Hamilton with art by Curt Swan and George Klein, featuring an appearance by President John F. Kennedy
"Superman Takes a Wife," from ACTION COMICS #484, written by Cary Bates with art by Curt Swan and Joe Giella
"If Superman Didn't Exist…" from ACTION COMICS #554, written by Marv Wolfman with art by Gil Kane
"The Game," a new original story written by Paul Levitz with art by Neal Adams
"Squatter," from ACTION COMICS #584, written by John Byrne with art by Byrne and Dick Giordano
"Ma Kent's Photo Album," from ACTION COMICS #655, written by Roger Stern with art by Kerry Gammill and Dennis Janke
"Secrets in the Night," from ACTION COMICS #662, written by Roger Stern with art by Bob McLeod
"A Hero's Journey," from ACTION COMICS #800, written by Joe Kelly with art by Pasqual Ferry, Duncan Rouleau, Lee Bermejo and others
"The Boy Who Stole Superman's Cape," from ACTION COMICS #0, written by Grant Morrison with art by Ben Oliver
"The Mystery of the Freight Train Robberies," from ACTION COMICS #1, written by Fred Guardineer with art by Guardineer, featuring the debut of Zatara
"The Origin of the Vigilante," from ACTION COMICS #42, written by Mort Weisinger with art by Mort Meskin, featuring the debut of the Vigilante
"The Assassin-Express Contract!," from ACTION COMICS #419, written by Len Wein with art by Carmine Infantino and Dick Giordano, featuring the debut of the Human Target
ACTION COMICS #1000: 80 YEARS OF SUPERMAN is just part of DC's Superman celebration, with the seminal ACTION COMICS #1000 periodical issue also released in April and a series of Superman-themed variant covers and even more to come. Check out www.dccomics.com or the DC YouTube channel for the latest news on the ACTION COMICS #1000 celebration.