In the Marvel comic book Star Wars #39, out last year by Kieron Gillen, Salvador Larocca and Guru-eFX, saw Luke Skywalker and travel to the moon Jedha, and what remained of it after the Death Star "test" in the prequel movie Rogue One: A Star Wars Story. A long time ago in a galaxy far, far away…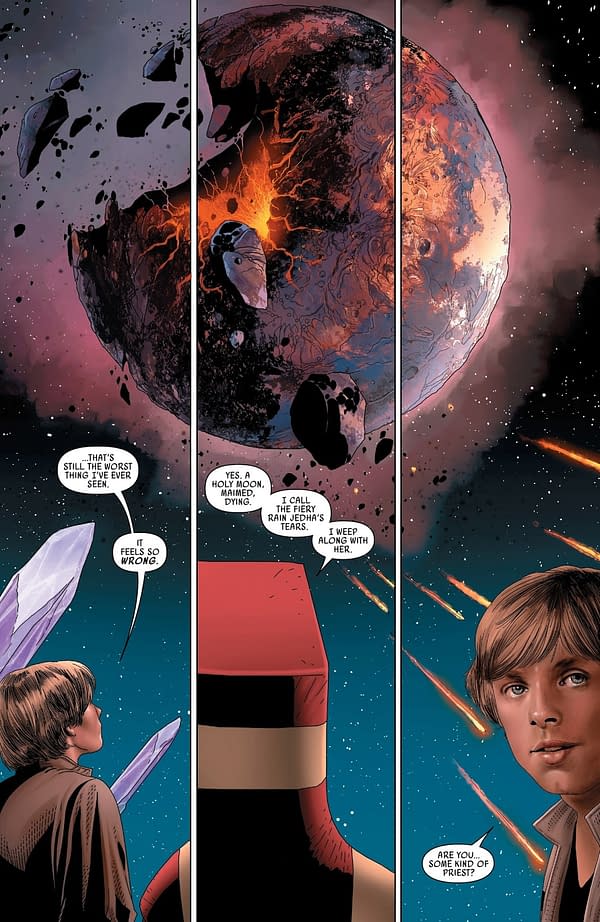 Skywalker took the opportunity to learn something more about what had gone before, talking to Ubin Des, who would have been part of the Rogue One team, if she hadn't been sick. Learning who the Rogue One team were. And why the rest of the Rebel Alliance seem rather taciturn regarding them.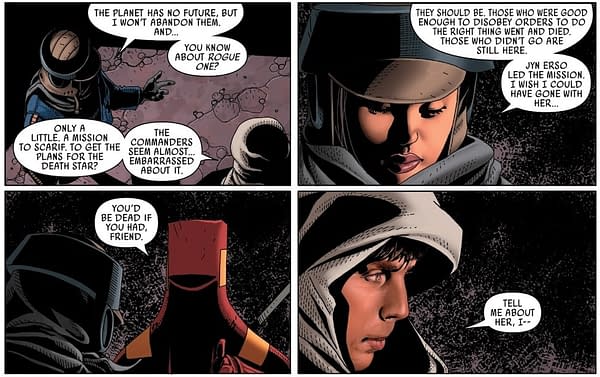 And in doing so, gaining a relationship with Rogue One character Benthic, revealed to have survived the assault on Jedha.
In today's Star Wars #40 also by Kieron Gillen, Salvador Larocca and Guru-eFX, just as Chewbacca returns from a similar mission, Luke Skywalker has learned about what came before in Rogue One and has let it sink in.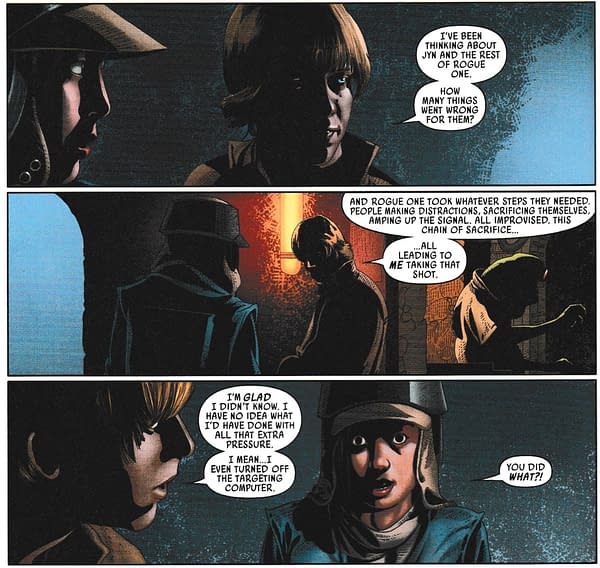 I have to say, watching the first Star Wars again with the kids over Christmas, after seeing Rogue One, that Death Star scene does give the overall impression of Luke Skywalker being an even bigger twat than usual.
Out today: Star Wars 42. I think this is my favourite one so far.

— Kieron Gillen (@kierongillen) January 17, 2018
Enjoy the comic, published today. Oh and especially those of you who will enjoy seeing C-3PO actually getting to be a protocol droid again… the Shu-Torun courtly customs observed by their systems are rather weird.
STAR WARS #42
(W) Kieron Gillen (A) Salvador Larroca (CA) David Marquez
THE ASHES OF JEDHA, PART 5
The Leviathan is heading for the remains of Jedha, prepared to pick the carcass of the once-holy planet clean. But with Luke Skywalker torn between his allegiance to the Rebellion and pursuing the path of a Jedi, who will lead the charge against the Empire?
Rated TIn Shops: Jan 17, 2018
SRP: $3.99
Enjoyed this article? Share it!