Mark Millar Announces He Is Writing Jupiter's Requiem, the Third Chapter of Jupiter's Legacy
Jupiter's Legacy by Mark Millar, Frank Quitely and Peter Doherty began as Jupiter's Children, until a trademark fight saw them rename the book Jupiter's Legacy, and the book published by Image Comics in 2013.
The comic began looking at the generational conflict between a group of ageing superheroes known as the Union, who used the powers they gained in 1932 for the betterment of mankind and their children, who are daunted by the prospect of living up to their parents' legacy. Other conflicts and themes in the book include sociopolitical and economic differences among the older heroes and the end of capitalism.
The series' storyline is further explored in the spinoff series Jupiter's Circle, the first volume of which debuted in 2015, and which depicts the lives of the six founding members of the Union in the 1950s and 1960s. Netflix recently wrapped filming on Jupiter's Legacy, which is due to debut later this year, with Steven S. DeKnight as showrunner.
And now we have a third chapter, Jupiter's Requiem.
Or rather we will have, Millar has announced that he's just begun to write the third book. And that it will be a ten-issue series. for now, of course.
Zoom in…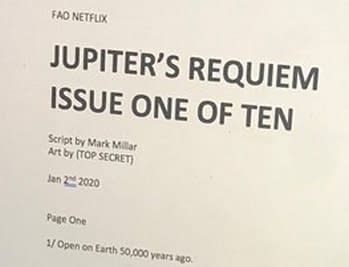 And so, while the artist is as yet unknown, we know that it will open on Earth 50,000 years ago. Which is about the time homo sapiens emerged out of Africa, throughout Asia and Eurasia, contributing to the extinction of the Neanderthals…