Marvel Comics' First Gay Couple Revealed – But It Doesn't End Well
In last week's Avengers #26, set in the dawn of man, as part of the Avengers 1,000,000 BC storylines, we got to meet the first superhero of Earth, sixty-six million years ago, as a result of the asteroid that hit Earth and wiped out the dinosaurs. Well, almost all the dinosaurs. Because one got lucky and, courtesy of the same asteroid, became the first superhero of the Marvel Universe, a Tyrannosaurus Rex, the first wielder of the Star Brand in the Marvel Earth. And who seemed to use the Star Brand's power to live for sixty-five million years – or at least somehow had progeny that he/she could pass the Star Brand along, long after dinosaurs died out.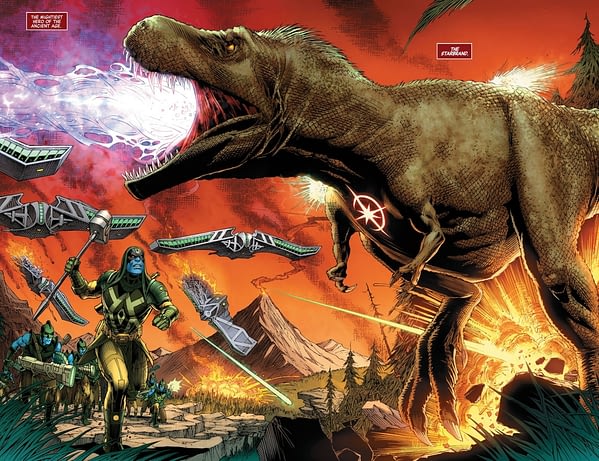 But we also saw what happened next. Who inherited the Star Brand after the Tyrannosaurus and would become the first proto-human superhero of the Marvel Universe and join the Avengers 1,000,000 BC. We have seen a Hulk-like figure possessing the Star Brand as a member of that team before. Caveman and one of the first human – or humanish – superheroes of the Marvel Universe.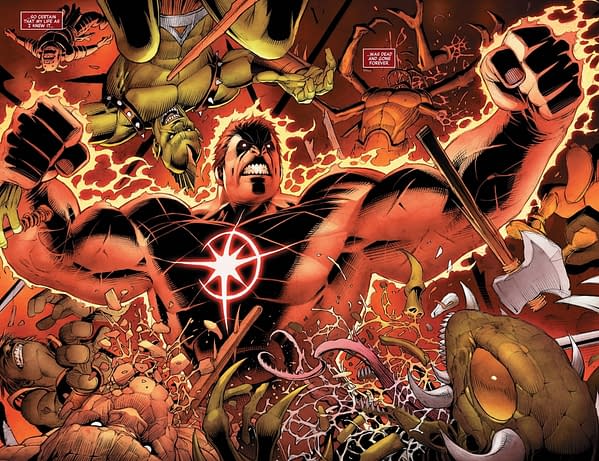 But we also get to see him before he Hulked out. We meet two cavemen, Brrkk and Vnn. And it was at this point, that I thought I might have a sequel to my Brett Booth and Norman Rapmund are the new Jim Lee and Scott Williams article, by discovering someone I thought might be the new Dale Keown. And then checking the cover to discover that it was the old Dale Keown. Anyway…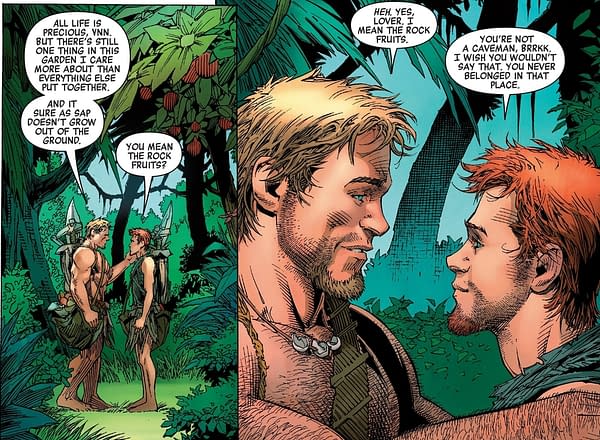 Brrrk and Vnn, just a couple of everyday members of homo erectus. Oh please, I do the jokes around here. Because, yes, even then they were different – more down to nascent abilities -but they found each other.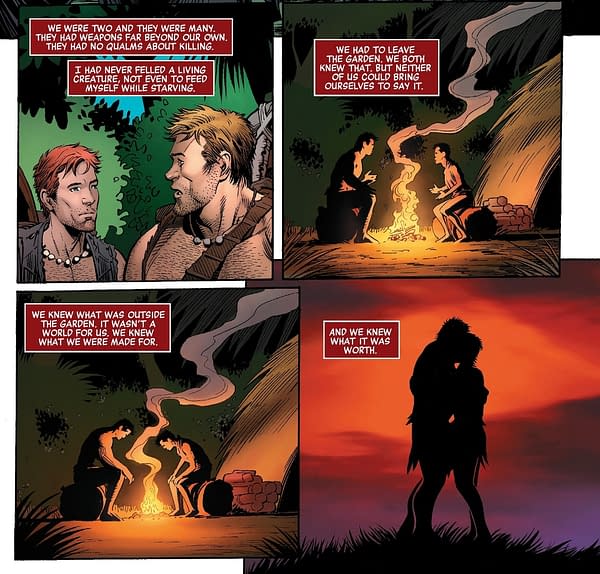 Human prehistory began with the stone age, or Palaeolithic, stretching from about 2,500,000 years ago to the invention of agriculture in 10,000BC. During that time, homo sapiens, evolved. Even before that, hominids such as homo erectus began to hunt and gather, create basic stone tools, and develop societies. But here we get some agriculture from a million years ago. As Vnn and Brrkk, Marvel Comics' first gay couple, bound together, called by the Garden, defending it from…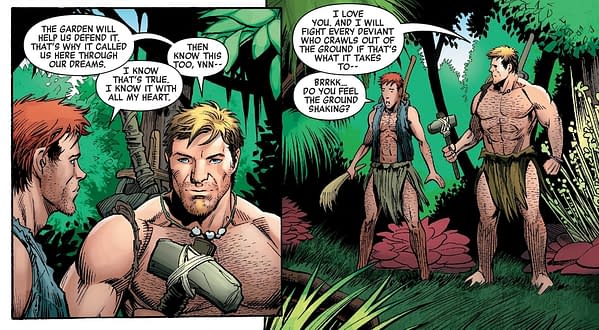 Sorry, yes, the Celestials had created a race of Eternals and of Deviants back then. Worth elaborating on that, I guess. Go read your Marvel Universe History book that Mark Waid and friends have been putting together. Of course, what happens next…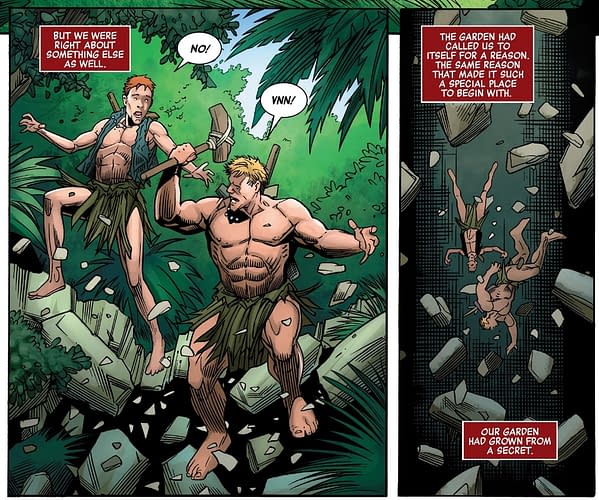 Because there is a trope known as 'Bury Your Gays'. The presentation of deaths of LGBTQ+ characters where these characters are nominally able to be viewed as more expendable than their heteronormative counterparts. But in this case, that may not be applicable…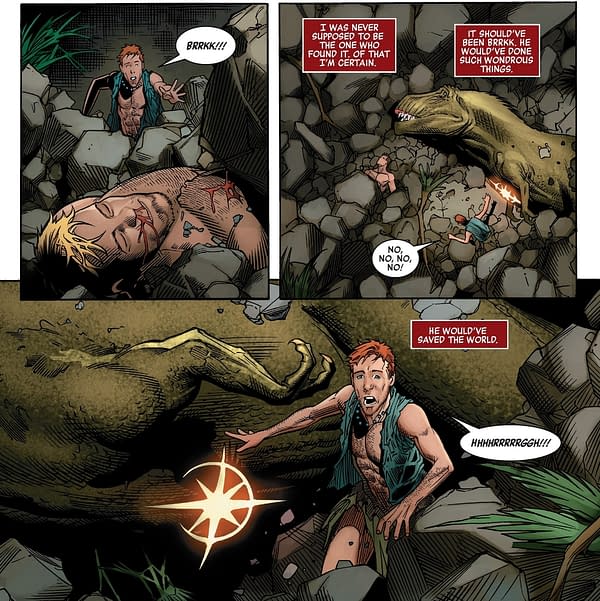 …because Vnn lives. And they hadn't even invented fridges back then. He takes the Star Brand from the dead Tyrannosaurus and bulks up just a little…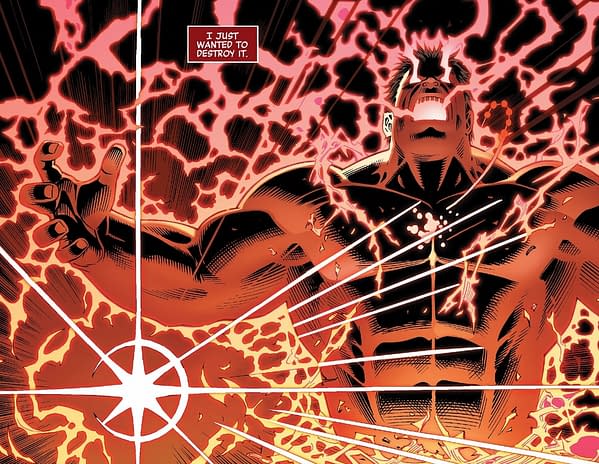 Welcome to Marvel's first superhero human, just about, Vnn. A gay caveman. With a lot to be angry about.
Avengers #26 was bought and read on ComiXology.
AVENGERS #26
(W) Jason Aaron (A) Andrea Sorrentino, Joe Weems, Cam Smith, Craig Yeung (A/CA) Dale Keown
A PREHISTORIC SAVAGE… WITH THE POWER OF THE STARS!
Legendary artist Dale Keown (The Incredible Hulk) is here to unleash the secret, savage origin of the biggest, nastiest, most cosmically-powered caveman who ever lived: the original Starbrand, one of the mighty Avengers of One Million B.C.
Rated T+In Shops: Nov 20, 2019
SRP: $3.99