Marvel's Cup O' Joe NYCC '16
By Madeline Ricchiuto Dan Slott, David Walker, Axel Alonso, Sana Amanat, Khary Randolph, Charles Soule, Nick Spencer and Joe Quesada rounded out the roster for Marvel's Cup O' Joe panel at NYCC this year. They kicked things off with a few announcements. The first cover to be shown was Inhumans v. X-men #0 featuring Beast, Storm, and Medusa on the cover. For IVX #1 Ms. Marvel, Mosaic, and Moon Girl are on the cover which may hint at some direct involvement from them in the event, or maybe they're just fucking with us as none of those three have been in the interior pages shown so far.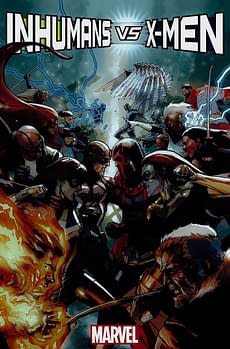 The cover of Uncanny Inhumans #18 features Maximus the Mad, who will be on hand during the Inhumans vs. X-men event. "If you like heroes kicking monster butt, this if for you," Alonso said, as Steve McNiven created a whole new monster for the event.
Nick Spencer on Captain America: "It's only going to get a little harder for Sam from here. We're going to talk about Sam's supporting cast. There's going to be a D-Man issue. You'll see Misty Knight wielding the shield." So expect to see Misty and D-Man over the next few months.
Steve Rogers: Captain America #6 will be a Civil War II tie-in. Apparently "Steve's Big Plan " will actually amount to something in issue #7.
Moasaic is going to be about finding humanity according to Khary Randolph. He also compared Mosaic's alter ego to a meeting between Lebron and Kobe. Which, kind of an odd venue for a sports comparison, Randolph, but, okay.
Amazing Spider-Man #20 will feature the return of Doctor Octopus. Shannon Hale and Dean Hale will be writing The Unbeatable Squirrel Girl Squirrel Meets World which will be out in February 2017. The title should be family friendly.
October 25 will see Iron Man: The Gauntlet hit the stands. That is, a novel, about Iron Man, not a comic guys.
Rocket & Groot: Keep on Truckin! is another new novel coming out from Marvel. It was written by Tom Angleberger and will be available April 4, 2017.
Bendis videoed in from a con in Honolulu to mock everyone for being in New York and thank them for supporting Jessica Jones and all of his work. How cute.
The Daredevil #12 cover features Daredevil fighting Medusa. Bullseye returns in Daredevil #15 with a cover by Lee Bermejo. The whole issue will take place during a gun shot from Bullseye's gun, finishing when the bullet hits its intended target. Interesting, we'll see how that works out.
Apparently they will be answering the question of how Daredevil has a secret identity again in issue #16. Mr. Fish will be making an appearance in Power Man and Iron Fist #10. The cover of issue 10 also includes Black Cat and Alex Wilder from Runaways. Wilder will become the series' new villain. Walker – "He's going to emerge as one of the most dangerous villains in the Marvel Universe." They showed off pages from Cage #1 which is out now. Not much of an announcement there.
Iron Fist #1 features Iron Fist taking on a female protege. That could be interesting.
Dan Silver took the stage to talk about Madaya Mom, which is part of a non-fiction digital studio that Silver is creating at ABC. Marvel and ABC collaborated with a woman inside of Madaya to create a representation of her life during the conflict. The text used is from the real life woman the team was communicating with. The art is by Marvel.
Q&A
Panelists discussed their favorite spidey stories.
Fans asked about Star Wars, those questions were not answered – "Watch next week."
When asked about brining Ms. Marvel to the bigger MU events, Amanat said "her meeting Captain America and Iron Man for the first time is like us meeting Captain America and Iron Man for the first time." Charles Soule confirmed that Ms. Marvel will be involved in IvX.
Dan Slott said he knows "Marvel science" more than real science, while David Walker said he spends months doing research and at the end of the day says "screw it."
None of that is at all surprising.
Alonso told fans that Lockjaw has a big role in IvX. Which should be good news for some people.
Spencer confirmed that we will see Steve Rogers reaction to the Miles Morales vision from Civil War II in upcoming books.