Several designers and marketing managers from the Hasbro team sat down to discuss new releases and reveals with fans at the Hasbro: Star Wars panel during San Diego Comic-Con 2018. To make sure you don't miss anything, a full gallery of everything shown can be viewed at the end of this recap.
The panel started in much the same fashion as during SDCC 2017, with cheers and excitement from the crowd as the panelists roamed through the room waving Force FX Sabers before giving them away to audience members.
From there, the panel took a moment to celebrate the successful backing of the Star Wars Sail Barge from Return of the Jedi, which was announced back in February. A video played featuring the ship model that showcased an almost astounding level of detail that made my jaw hit the floor. To top it all off, they chose a "youngling" from the audience to receive a free barge when they ship out.
They went on to show off some of the convention exclusives starting with Chewbacca and Porgs as part of the Star Wars Forces of Destiny line that premiered last year. While already sold out by the time the panel took place, they will be eventually be found as a Target Exclusive.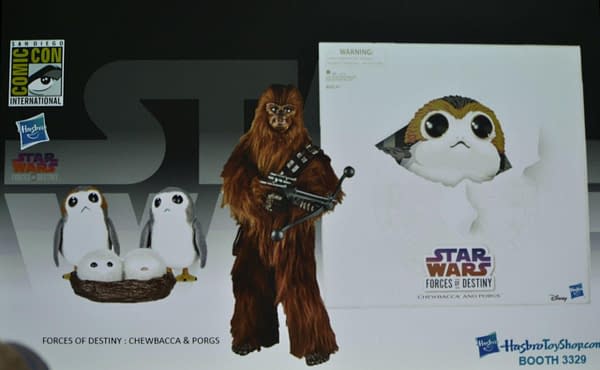 For fans of the Star Wars comics, there is a Vintage Special Action Figure Set featuring Doctor Aphra, BT-1, and 0-0-0. While there are no current plans for them to be released, it is not off the table for the future.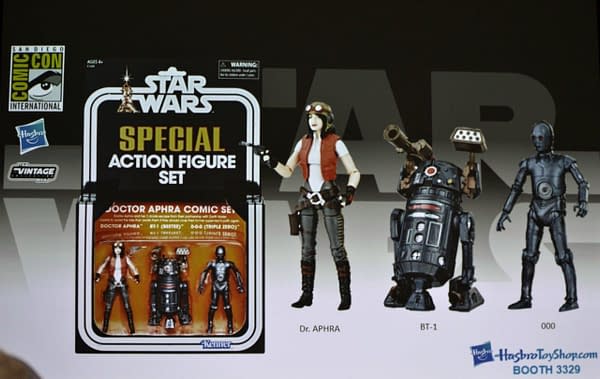 There is also a classic Han Solo paired with a Bespin Mynock figure as seen in The Empire Strikes Back. Unfortunately it appears to not be available after the convention.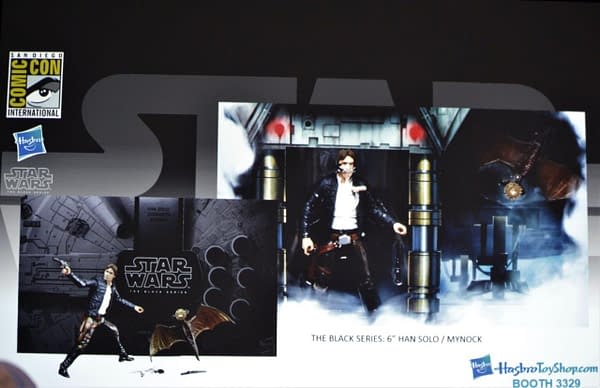 Possibly the most eye-catching of the exclusives shown was the Rey and Kylo Ren centerpiece which portrays their battle on the surface of Starkiller Base in The Force Awakens. It features a lit backdrop and orange LEDs to bring the effect of the ground beneath them breaking up. Nothing is as impressive as a built-in mister that will spew fog to add to the atmosphere of the entire piece.
Next up were several new reveals. After recapping the announcement of series 5 and 6 figures, there was a reveal of four Micro Force vehicles with matching pilots, including Rey's speeder and Kylo Ren's fighter. The Mighty Muggs line also had some new figures, including Darth Maul, Wicket the Ewok, and Luke Skywalker. However, I had a soft spot for the full-sized Kessel playsets for 3.75 figures available for $30 and $40.
There were several other figures being shown off, such as some new Solo characters — there was Rio Durant, featuring four arms with full articulation; Rebel's long-haired Ezra sporting his lightsaber-blaster and a three-ball-jointed neck; C1-10P, which can be posed with his third wheel or a thruster attachment; and a battle-damaged Captain Phasma from right before her demise in The Last Jedi.
All of these announcements almost paled in comparison to when the fans were told about the Black Series Archive, which will be releasing a small group of vaulted figures each year. The first to be sold are #6 Boba Fett, #10 Bossk, #15 IG-88, and #1 Luke Skywalker. They will all feature updated photo-real deco faces.
My personal favorite announcement of the entire panel was when they presented a Vintage line Darth Revan (my absolute favorite character in Star Wars lore). This was shown off with other Vintage figures, the most notable being Donald Glover's Lando Calrissian, a TIE fighter with pilot, and an updated Imperial stormtrooper that was described as "the best stormtrooper ever done." The icing on the cake for all of these was that Hasbro has figured out how to adapt their photo-real technique to 3.75-inch figures, bringing a level of detail that was not possible before.
To finish it all up, the Hasbro team list showed the release schedule of all announced figures being released up until spring 2019.