Mile High Comics Launches All-Ages Drag Shows, the First Sunday of Every Month
Chuck Rozanski of Mile High Comics announced a new regular programme for his Jason Street Mega-store in Denver, Colorado, Drag For All Ages, a regular under-21 drag show every first Sunday of the month evening, beginning in March.
A Family friendly monthly drag show benefit for the White Rose Scholarship! We will be donating $1000 every month to this charity on top of any money raised!

Doors will open at 5 PM, show will begin at 6. All of our young performers will be allowed to keep their tips, so please bring $1 bills!

Performers will get to keep their tips and also get information on how they can apply for scholarships to use for their education in the future!

There will also be a special appearance by the Imperial Crown Princess of the Americas, Bettie Pages.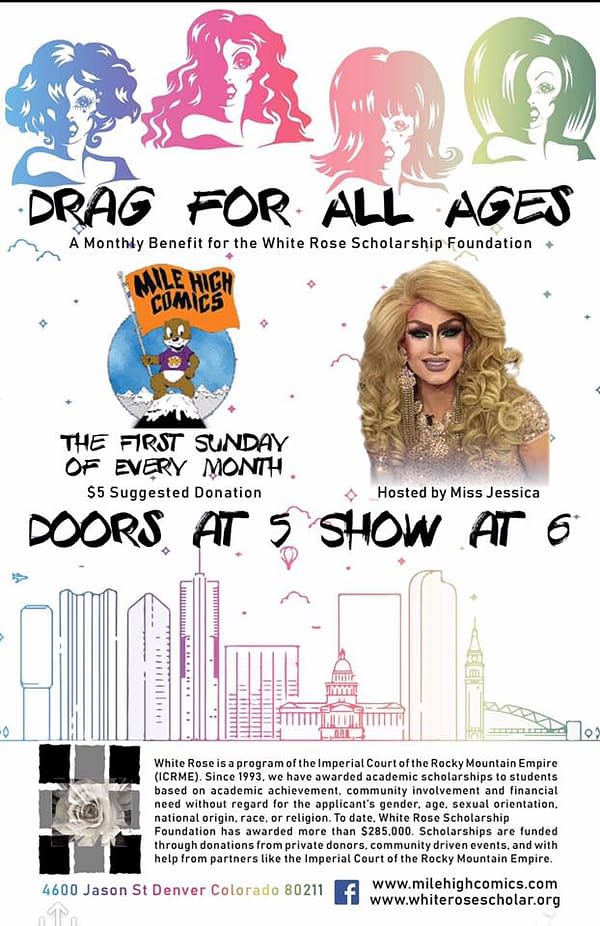 Reaction on the Mile High Comics Facebook page was pretty positive that a comic book store would be hosting such an event, and a lot of sharing with other people, not everyone was welcoming.
Really? Why sexualize comics especially when you're looking to draw young kids? I'm all for having an open minded conversation but having to have that when I'm trying to share my love of the culture and media, with my 5 year old doesn't seem like the time or place.
With Mile High Comics replying,
our events will be staged after the store is closed on Sunday nights. Our store actively seeks to serve all children in our Community, including those who are gender non-conforming.
What stand-out events are your comic shops hosting, away from the usual?