My Hero Academia and Viz Media Boost Adult Fiction Numbers By 55%
My Hero Academia is saving the bookstores… NPD Bookscan is the premier bookselling statistical measure in the USA, and for the week ended the 10th of April, sales of print books were up 6% on this time last year. Publishers' Weekly noted a decrease in sales of juvenile books while adult titles boomed. "The reason for the discrepancy was twofold: Easter week sales boosted sales of children's books at this time last year, while adult sales comparisons in 2021 benefitted from the decline in sales during the same period in 2020 because of the pandemic."
But the increase in the adult fiction category, a massive 55.3% increase was credited to the release of four new graphic novels published by Viz Media which took the first, second, fourth, and tenth spots on the adult fiction bestseller list, adding sales of around 73,000 total copies.
The top seller in the category was Kohei Horikoshi's My Hero Academia, Vol. 27, which sold nearly 22,000 copies, in the week of publication. Marvel Comics' crossover with the series looks wiser and wiser. Chainsaw Man, Vol. 4 by Tatsuki Fujimoto, in second place, sold just over 20,000 copies.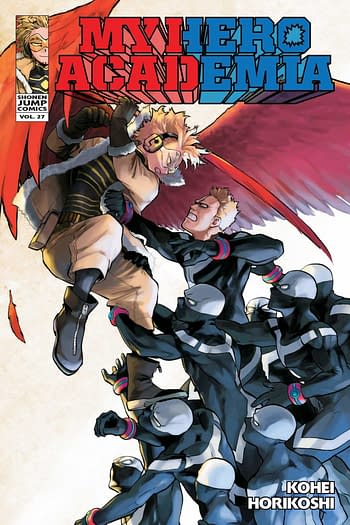 My Hero Academia, Vol. 27 Paperback – April 6, 2021

Midoriya inherits the superpower of the world's greatest hero, but greatness won't come easy. What would the world be like if 80 percent of the population manifested superpowers called "Quirks"? Heroes and villains would be battling it out everywhere! Being a hero would mean learning to use your power, but where would you go to study? The Hero Academy of course! But what would you do if you were one of the 20 percent who were born Quirkless? The confrontation between the heroes and the villains of the Paranormal Liberation Front is about to kick off! With so much at stake, even the students of U.A. have joined the heroes to help in the coming battles. Within the PLF, Hawks continues to play a dangerous game as a double agent, but the villains have fearsome resources of their own, including whatever lurks in the doctor's lab. Plus, with every moment that passes, Tomura Shigaraki comes closer to his ultimate form… When it all gets started, there won't be any going back!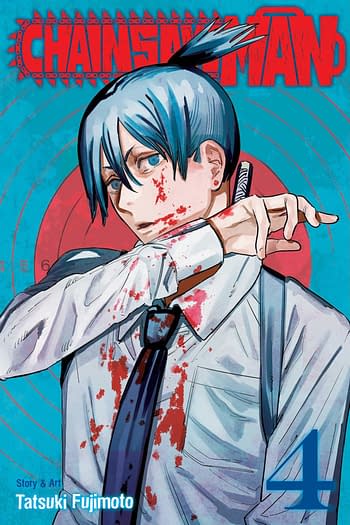 Chainsaw Man, Vol. 4 by Tatsuki Fujimoto

Broke young man + chainsaw dog demon = Chainsaw Man! Denji was a small-time devil hunter just trying to survive a harsh world. After being killed on a job, Denji is revived by his pet devil-dog Pochita and becomes something new and dangerous—Chainsaw Man! Devil Extermination Special Division 4 is in serious trouble as a devil has sent a whole team of assassins to take Denji's heart. In order to survive the onslaught, Denji, Power and Aki will have to get stronger. But is Denji smart enough to learn how to control his devil powers? Can you can teach an old chainsaw-dog-devil new tricks?