DC Comics has announced their 2019 holiday special in the just-released December solicitations, but it's not the heroes of the DC Universe who will celebrate the holidays. Instead, DC will explore holiday tales about The Hoker, Sinestro, Harley Quinn, and more in New Years Evil #1, an eighty-page, ten-dollar one-shot hitting stores on December 4th and borrowing the title from a series of DC one-shots released way back in 1998. Will your holidays be merry if you pick this one up? They'd better be, for ten bucks!
Check out the solicit below:
NEW YEAR'S EVIL #1
written by KURT BUSIEK, GABRIEL HARDMAN, CORRINA BECHKO, VITA AYALA, DAN WATTERS, and others
art by DALE EAGLESHAM, GABRIEL HARDMAN, SUMIT KUMAR, ELENA CASAGRANDE, and others
cover by JIM CHEUNG
Why hello there, readers! It's your Uncle Joker letting you know that this year's DC winter holiday special is not for the good guys. It's all about the folks on Santa's naughty list! Folks like me, Sinestro, Toyman, Harley Quinn, and even an appearance from that timely rascal the Calendar Man. Come sledding with your favorite villains in 10 fantastic tales created by comics' finest talents. They're not as funny as me, mind you, but it's important that we be charitable this time of year.
ONE-SHOT
PRESTIGE FORMAT
ON SALE 12.04.19
$9.99 US | 80 PAGES
FC|DC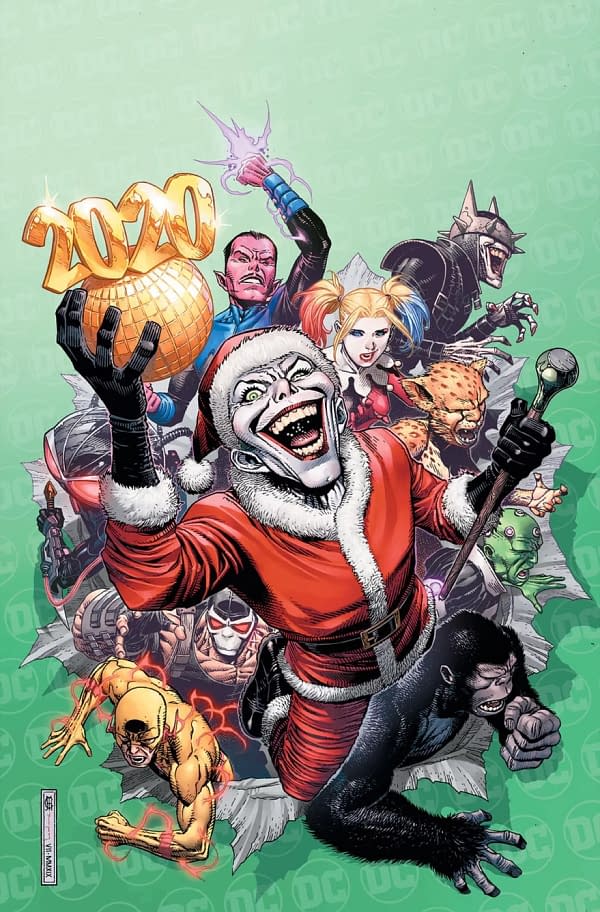 Enjoyed this article? Share it!