Every month the comic book companies send out folded promotional posters to the comic book retailer / Diamond accounts. During the month different posters show up for the comic book stores to put up and promote upcoming titles. Most customers are familiar with the stores putting up new posters to show off upcoming titles, but which ones are out now for this month?
Starting with DC, they send out their promotional posters on a week to week basis usually on the week a title comes out or a week before and they come folded 8 ways if they are 24 X 36, or folded one way if they are only 11 X 17. Their promotional posters are not made for sale later though they produce more of them then Marvel does to distribute. The month again two posters were sent out to retailers from DC:
The first poster is a modified version of Wonder Woman's #750 with artwork by Joelle Jones measuring 24 X 36. Putting out this poster makes complete sense with a $9.99 price point and the desire of DC to hopefully sell a lot of copies at your Local Comic Book Shop last week.
The other DC promotional poster is for Batman #86 except with unique promotional artwork of members of Batman's villains gallery promoting James Tynion IV's start on the series. The use of unique Tony Daniel artwork is rare for a promotional poster but very nice to see and the poster also measures 24 X 36.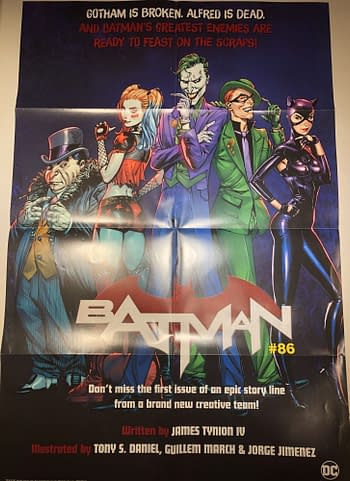 Marvel posters for this month were the usual six posters that as always show up folded 16 ways so more compact then the DC ones. However, Marvel puts up almost all their posters for sale and the for sale versions come rolled, though both measure 24 X 36. All six posters from this month are now for sale, so check with your Local Comic Book Shop to see if they got one you wanted or use the Diamond code and ask to order one.
The first Marvel poster is the eerie main cover art for Iron Man 2020 #1 by InHyuk Lee. The Diamond code is NOV190997 if you want to try to order it still.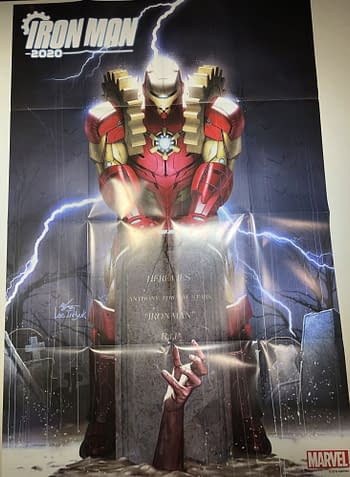 Following is the new volume of Guardians of the Galaxy #1 with artwork by Larraz with a Diamond code of NOV190998 .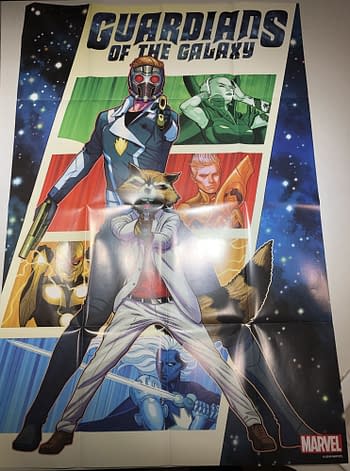 Next is the cover for Thor #1 by Copiel. NOV190999 is the Diamond Code.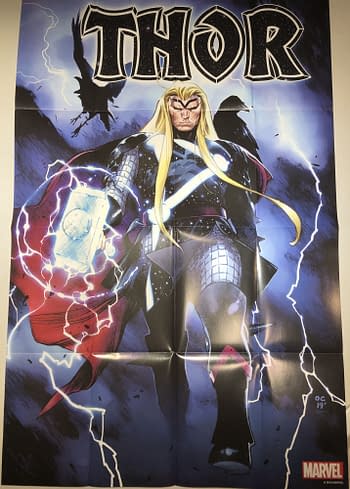 The fourth poster is the cover for #1 of the new Star limited series and NOV191000 is the Diamond Code.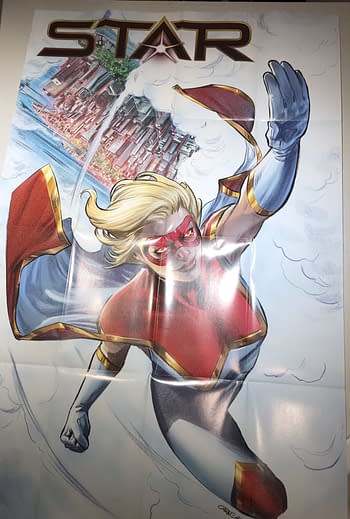 Continuing the new trend of facsimile posters put out by Marvel is the Erik Larsen artwork from Amazing Spider-Man #347. NOV191001 is the Diamond Code.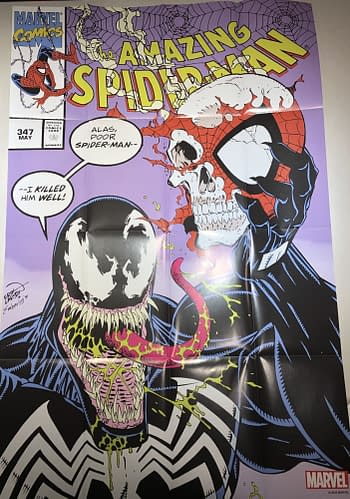 The final poster for this month is main cover for Doom #4, which has a Diamond Code of NOV191002. The only poster for this month, except the facsimile poster, which isn't cover artwork for a new #1 debut issue.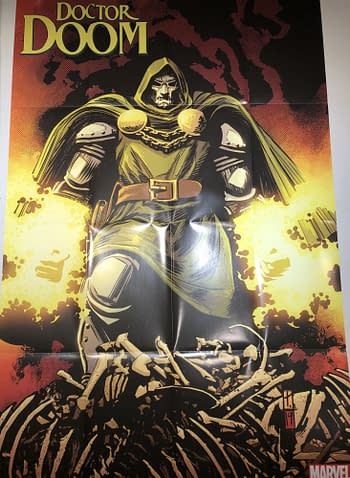 So is any of this artwork worth having up on your wall at home?
Enjoyed this article? Share it!