'It's Always Sunny in Philadelphia' Season 13: Glenn Howerton Confirmed for "Pretty Much Every Episode"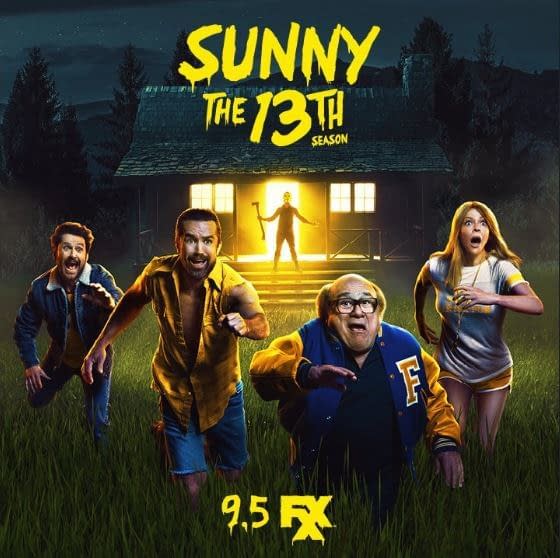 After months of rumors and speculation, It's Always Sunny in Philadelphia fans can breathe a sigh of relief: Dennis Reynolds (Glenn Howerton) will definitely be back in a major way for the series' upcoming season 13. During their turn at FX's Television Critics Association (TCA) summer press event, Sunny cast members Charlie Day, Danny DeVito, Rob McElhenney, and Kaitlin Olson held a table read of future episode "Mac Finds His Pride;" and took questions from the media.
With the new season set to premiere on September 5 at 10 p.m. ET/PT on FXX, McElhenney confirmed that Howerton will appear in most of the season's episodes: "We went through all sorts of ideas before we knew that Glenn was coming back. He's in pretty much every episode." Day followed up by saying, "He's in the majority of them;" revealing that the crew got very creative with how to shoot around Howerton's absence, including an all-female "reboot" of a past episode.
Here's a look at the official teasers, synopsis for FXX's It's Always Sunny in Philadelphia's "lucky" 13th season:
"The Gang Returns… mostly…. in the 13th season of the FXX original comedy series It's Always Sunny In Philadelphia. Mac (Rob McElhenney), Charlie (Charlie Day), Dee (Kaitlin Olson) and Frank (Danny DeVito) return to their duplicitous, scheming ways at Paddy's Pub, while Dennis (Glenn Howerton) takes on the new role of father in North Dakota.

Even without Dennis Reynolds, the Gang has its hands full as Charlie hopes to have a child with The Waitress, Mac sets out to understand his newfound sexuality, Dee takes feminism to new heights, and Frank goes to great lengths for the Gang to experience the greatest moment in Philadelphia sports history – an Eagles Super Bowl victory."
Howerton's somewhat reduced role was not unexpected, given he is currently the lead on NBC comedy AP Bio, which was renewed for a second season in May 2018. In that show, the actor plays a philosophy scholar who loses out on his dream job and goes to work as a high school Advanced Placement biology teacher.