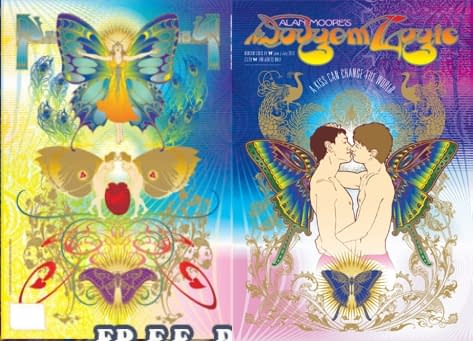 This is the wraparound cover to Alan Moore's Dodgem Logic #4 by John Coulthart.
Other contributors to the new issue, out in the UK in certain places about now, include Viz creators of the Drunken Bakers, Barney Farmer & Lee Healey, contribute to the magazine, as well as comedy sceptic Robin Ince, pieces by Steve Moore, Dick Foreman, Steve Aylett, a Melinda Gebbie gallery, Kevin O'Neill, more from Mustard and a free 'Bohemia' Poster, all with a very psychedelic feel. And naturally lots and lots of Alan, writing about science-fiction.
I hope to pick up my copy from Gosh! Comics tomorrow, but there's now free shipping across the UK, and discount shipping elsewhere as well, you have more options. I'll get my copy first though.
Alan Moore now has an official Facebook page. What a world. And there's a Dodgem logic blog too, geeking out about Lauren Laverne mentioning the mag on Radio 6.
Enjoyed this article? Share it!