Elevator Pitch: Ground Floor – What Hero Do YOU Want To See On The Silver Screen?
By Gary Turner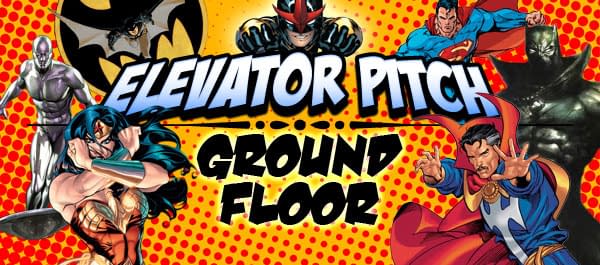 When iconic comic book heroes make the leap to film we usually share the same responses:
AWESOME, "It's about time they made that flick!"
PRAYER, "Please, please, please not Nick Cage!"
OUTRAGE, "WTF!?! Are they on crack, or just wanna bury this franchise?"
Well, this guy shares your pain.
Why do we get so worked up?

'Cause we love these characters. Not only did we grow up with them, many of these characters grew up with us! For both good and bad, comics have grown in maturity with their readers. That's why we'd like to see our heroes treated, maybe not so much with reverence, but at the very least a core understanding of why we fell in with them.
That's why I cannot get behind Batman using guns to blow up cars. Why? Because they were in the way of his bat-cycle (der, der, der). How about Superman having a mega-destructive fight in the middle of a densely populated city?
Many times I've thought about how much fun it would be to take a crack at bringing comic heroes to the big screen. It'd be a blast thinking out the challenges, and assembling a dream team.
Why not do that here?
Let's not make this one geeks opinion though. You are INVITED to jump aboard! Every week we'll cover one from a list of characters. What do you think makes this character great? Post your thoughts in the feedback below, message me on FB, or just send an email.
Our focus will be on what make that character great. Not so much who should be the villain, or how big the explosion, effects, or budget should be. But what defines that hero's core. I'll start right off by saying, I think Hollywood attributes way too much to the superficial and not enough on what makes them super.
Each Week:
I'll go through your insights, combine the most cohesive, thought provoking points (giving credit where due!) with some of my own into an elevator pitch. Sort of a What if… where Uatu opens a view to a universe in which a fellow fanboy became a movie exec.
Then we'll open with a trailer in paragraph form. Right after we'll cover not only what works, but why some elements didn't work. Also who should play the part of that coveted roll?
Part of the fun pitching is realizing what elements can transition and which parts take unexpected twists. Is it an origin story? Most often, but not always. The important thing is that we adhere to the core of what make the character great, while keeping us on our toes.
Will someone in Hollywood realize what a great tool this could be? Ah…nope. No way. No how. But we can still have fun imagining it.
Let's set that ball off and figure out where we end up as we roll. So which feature would you line up to buy a ticket to first?
Wonder Woman
Batman
Black Panther
X-Men
Teen Titans
Superman
Nova
Doctor Strange
Silver Surfer
Gary Turner, creator of d20 comic Technically Magi, spends his days languishing in the middle of the Pacific (to be specific…Hawaii). If not for his day job of television production & animation he'd be off doing something completely frivolous. Rollin' with the RPGers, and making mad sequential plots is how his nights are lost.