Frankensteining DC Comics Solicits for May 2018
Let's put together a bunch of Marvel Comics solicitations for May 2018 from what's already out there.
Remember, there's the DC Super Hero Girls reprint preview for Free Comic Book Day.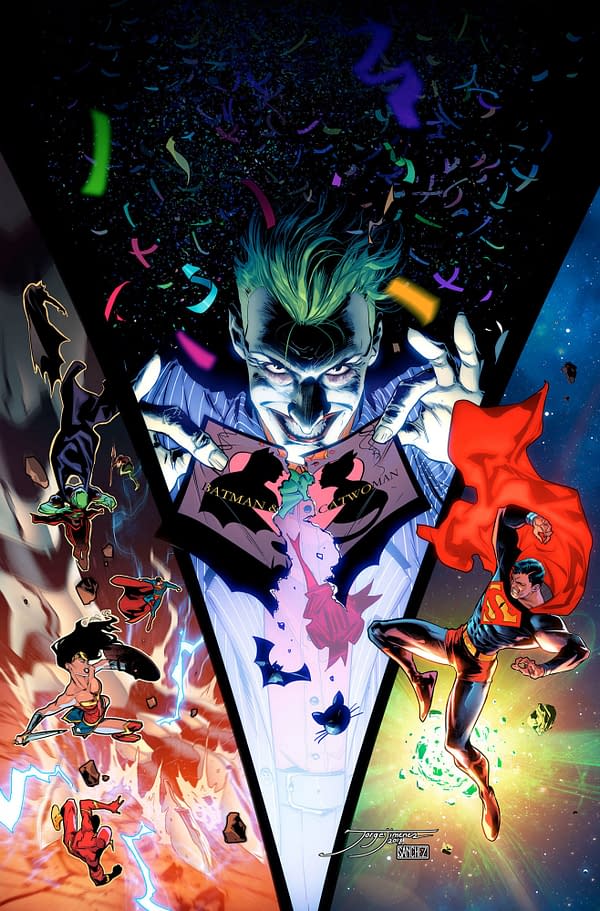 DC NATION #0
DC Comics is kickstarting its new promotional magazine DC Nation with the release of DC Nation #0 on May 2, just a few days prior to Free Comic Book Day on May 5. DC Nation #0, which will retail for $0.25, features three stories from three of the biggest events coming to the world of DC Comics in 2018.
2018 is shaping up to be a huge year for DC Comics following the debut of Dark Nights: Metal in 2017. With the conclusion of Metal comes the debut of the next chapter, Justice League: No Justice, coming on May 9. Fans who enjoyed Metal will no doubt love No Justice, which is the story of what happens when Earth's biggest threat arrives and the Justice League must reach out to some unlikely allies to save the planet. The DC Nation #0 preview of No Justice features the team of Scott Snyder, James Tynion IV, Joshua Williamson and artist Jorge Jimenez.
With the biggest wedding of 2018 coming in Batman #50, in stores July 4, Tom King and artist Clay Mann have a preview of the Bat and Cat's pending nuptials for DC Nation #0. The Joker isn't happy that the Bat and Cat are getting married, but what will the Clown Prince of Crime do to ruin Batman's day? (We can guess that he won't be giving the happy couple a gift, at least not one from their registry…)
Finally, DC Nation #0 will feature a celebration of Brian Michael Bendis' arrival at DC and his work on Action Comics #1000 due in April. Bendis is joining artist Jose Luis Garcia-Lopez for a prelude to Bendis' Man of Steel weekly miniseries coming in late May.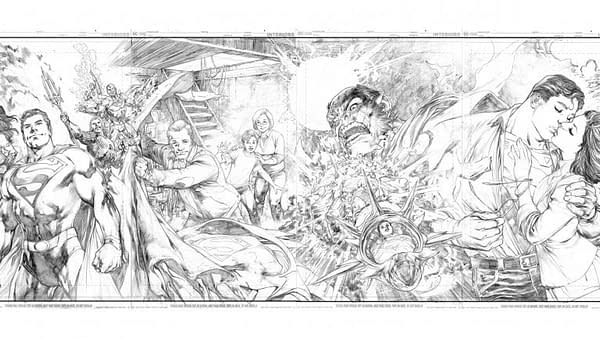 MAN OF STEEL #1
(W) Brian Bendis (A) Ivan Reis and Joe Prado
May 30th
Justice League: No Justice #1-#4
(W) Scott Snyder, James Tynion IV, and Joshua Williamson (A) Francis Manapul.
No Justice will set the stage for a family of Justice League comics starting in June, with the flagship title being written by Snyder and the others by Tynion, Williamson, and more.
Starts May 9th.
ACTION COMICS SPECIAL #1
"The Last Will and Testament of Lex Luthor," written by Jurgens with art by Will Conrad. Beginning with the events of REBIRTH, Superman's greatest enemy became his most unexpected ally. Is Lex finally on the heroic path, or is he still hiding his true colors? When he finds himself in an adventure where Superman could be destroyed, what will he do? Save the Man of Steel, or witness his demise at the hands of an unimaginable enemy? This oversize special also includes stories from Max Landis and Francis Manapul (TRINITY, JUSTICE LEAGUE: NO JUSTICE) originally slated to appear in the DC UNIVERSE HOLIDAY SPECIAL 2017 #1, and Mark Russell (THE FLINTSTONES, EXIT STAGE LEFT: THE SNAGGLEPUSS CHRONICLES) with artist Jill Thompson (WONDER WOMAN: THE TRUE AMAZON). 48-page special. On sale May 2nd.
SUPERMAN SPECIAL #1.
Features Tomasi and Gleason's "The Promise," concluding a story from REBIRTH that began in issue #8, 2016's "Escape from Dinosaur Island." Before Superman's world goes through some drastic changes, he has unfinished business to attend to on Dinosaur Island. Superman and the Losers' Captain Storm take one final trip together into the abyss of tomorrow, which brings the military man out of time into the world of today. This 48-page extra-size special also features bonus stories by Mark Russell with art by Bryan Hitch and Ian Flynn with art by Kaare Andrews. 48-page special. Available May 16th.