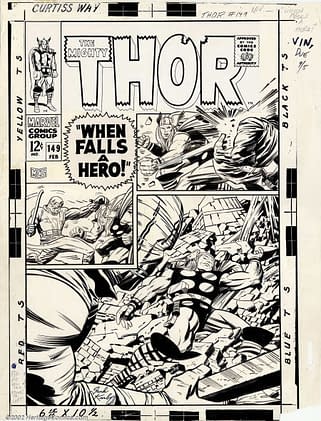 In 1987, Jack Kirby got about a fifth of the ten thousand pages of artwork he created for Marvel over the previous four decades back, and that was after considerable legal wrangling. Some was given away, some was shredded, some was recycled, some was thrown away, some was taken home by employees, some was sold to dealers, some were taken into private collections, some was given to poster and promotional companies to use and some…
Because despite all the above, by 1980 almost all of Jack's work was retained by the company. By 1987 however,  it had been pentimated.
The stock had been moved from a warehouse during the Kirby legal wranglings to the Marvel offices, reportedly into a storage area very close to the elavator. That's how the story runs anyway, and recently it was repeated in the Comic Book Comics series from Evil Twin.
Now, for the first time, Marvel editor-in-chief at the time, Jim Shooter, has gone on the record about the missing pages with his version. He writes;
Around about early 1978, Marvel's warehouse got broken into and ransacked. Other than scattering artwork all over the floor–they apparently hadn't taken any of it that we could tell–but this warehouse was a dump! It was completely unsafe; anybody could break in there. I went to the people that ran the warehouse and said, "I want that artwork all moved to my office." So it was. You should've seen it. It was me in a little corner, and wall-to-wall files full of art, because my office was the safest place in the building. You had to go through three doors to get to my office: The front door, the door to the editorial suite, and then my door, and I was the only one who had a key. It was safer there than it was in the warehouse.

Then when Marvel moved, around the end of 1979, we got a brand new state-of-the-art safe warehouse, so the stuff was moved from my office to the new warehouse; except for one box, which for some reason was moved to the Marvel lunchroom. When I was made aware of that, I went to get Bernie, the office manager, and said, "That box goes to the warehouse right now!" I went back to my office, then Bernie came in a few minutes later and said he went to get the box and it wasn't there. Somebody had obviously grabbed the box, went straight out to the freight elevator–which was near there–and was gone. I have no idea what it contained. There was probably Jack Kirby's stuff in it among other things. To this day I have no idea who took it.
And ideas anyone?
Enjoyed this article? Share it!