So there's the Multiverse. Parallel universes where different things happen, where different versions for characters exist and they all keep crossing over all of the time. And the subject of the upcoming animated movie, Into the Spider-Verse, with Miles Morales as the Spider-lead.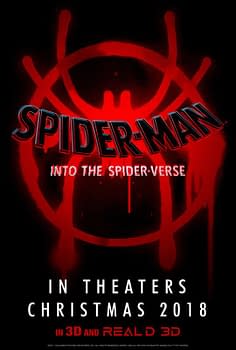 Produced by Columbia and Sony Animation, the film is directed by Bob Persichetti, Peter Ramsey, and Rodney Rothman, from a screenplay by Phil Lord. Shameik Moore voices Miles Morales, starring alongside Liev Schreiber, Mahershala Ali, and Brian Tyree Henry.
Spider-Man: Into the Spider-Verse is scheduled for release on December 21st.
And Marvel Comics seems to be wanting to introduce new readers to this idea through the Spider-Man comics with a themed Into the Spider-Verse line of collections… and all coming out on November 13th, a month before the movie. Here are the Amazon listings.
Into the Spider-Verse: Spider-Men Paperback – November 13, 2018
Every world has its wall-crawler – and these are some of the most amazing! When Peter Parker, the original Spider-Man, journeys to the Ultimate Universe, he finds himself face-to-face with another Aunt May, a young Gwen Stacy, and an all-new web-slinger – Miles Morales! It's a landmark meeting of the Spider-Men! Elsewhere in the Spider-Verse, venture into the dark world of Spider-Man Noir, and watch as he faces the smoke and mirrors of the magnifi cent Mysterio! But you've never seen anything like SP//dr – or its pilot, Peni Parker! Things take a hammy turn as Peter Porker, Spider-Ham celebrates his 25th birthday -but who invited Doctor Octopus and the Swinester Six? Plus, Spider-Gwen, Spider-Girl and more unite as the Web-Warriors!
COLLECTING: SPIDER-MEN 4-5; EDGE OF SPIDER-VERSE 1, 5; WEB WARRIORS 6; MATERIAL FROM SPIDER-HAM 25TH ANNIVERSARY SPECIAL
Into the Spider-Verse: Spider-Gwen Paperback – November 13, 2018
What if Gwen Stacy were bitten by the radioactive spider, not Peter Parker? Find out on Earth-65! There, Gwen is the spectacularly misunderstood Spider-Woman – and she's wanted for Peter's death! And that's bad news, especially since Gwen's dad is a cop! When a Lizard-like menace runs amok, it brings back painful memories for Gwen – but will Captain America's mighty shield inflict new ones? Web-slinging doesn't leave much time for Gwen to play drums with her band, the Mary Janes – but on Halloween, they'll share a night to remember, courtesy of Mysterio! Then, switch genres from horror to romance when Miles "Spider-Man" Morales swings by for an interdimensional team-up! Plus, fl ash back to an early Spider-Gwen encounter…with She-Hulk?!
COLLECTING: EDGE OF SPIDER-VERSE 2; SPIDER-GWEN (2015B) 1-2, 13, 16; SPIDER-MAN (2016) 13; MATERIAL FROM SPIDER-GWEN ANNUAL 1
Into the Spider-Verse: Miles Morales Paperback – November 13, 2018
Get to know Miles Morales, the Spider-Man of two worlds! In the wake of Peter Parker's death in the Ultimate Universe, brave young Miles steps forward with his own incredible arachnid-like abilities to live up to the Spider-Man legacy! Meet Miles' best friend Ganke, his parents Rio Morales and Jefferson Davis, and his uncle Aaron – but watch out, Miles, he's your Earth's Prowler! Jefferson has his secrets, too – but what do they have to do with S.H.I.E.L.D.? Then, Miles' life is turned upside down when he and his loved ones find themselves part of the Marvel Universe! But how can one teen hero stand in the way of the demonic Blackheart when the Avengers fall?
COLLECTING: ULTIMATE COMICS SPIDER-MAN 1-2, MILES MORALES: ULTIMATE SPIDER-MAN 8-9, SPIDER-MAN (2016) 1-2, MATERIAL FROM ULTIMATE FALLOUT 4
Into the Spider-Verse: Fearsome Foes Paperback – November 13, 2018
Five of Spider-Man's most vicious villains take the spotlight! First, Stan Lee and Steve Ditko introduce the poisonous Scorpion – and young Peter Parker feels the lethal sting of his tail! Then, it's a knock-down, drag-out, no-holds-barred throwdown between Spidey and the Kingpin of Crime himself, Wilson Fisk! Discover the terrifying origin of the whispering hitman, Tombstone – and his devastating history with the Daily Bugle's own Joe "Robbie" Robertson! Then head to the Ultimate Universe to meet its horrific, twisted version of Norman Osborn, A.K.A. the Green Goblin! And witness the climactic confrontation between the newest Spider-Man, Miles Morales, and his uncle Aaron – who secretly lives a double life as the pernicious Prowler!
COLLECTING: AMAZING SPIDER-MAN (1963) 20, 197; SPECTACULAR SPIDERMAN (1976) 139; ULTIMATE SPIDER-MAN (2000) 7; ULTIMATE COMICS SPIDER-MAN 11-12
Enjoyed this article? Share it!