The Week That 39 Marvel Comics Hit The Shelves…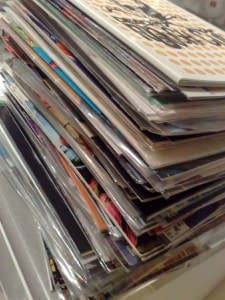 This Wednesday, Marvel will ship 39 serialised comic books.
Twelve X-titles – Astonishing X-Men #30, Timestorm 2009/2099 X-Men #1, Uncanny X-Men #512, Wolverine First Class #16, Wolverine Noir #3, Wolverine Weapon X #3, X-Factor #45, X-Force #16, X-Men Forever #2, Dark Wolverine #75, Wolverine Magazine #3 and Dark Avengers/Uncanny X-Men: Utopia #1. And five are Wolverine specific.
That last title adds up to five Avengers books, including Avengers/Invaders #12, Avengers: The Initiative #25, Dark Avengers #6 and New Avengers #54.
Adding to those three Dark Reign books are another nine, Dark Reign: Elektra #1, Dark Reign: Zodiac #1, Dark Reign Lethal Legion #1, Dark Reign Sinister Spider-Man #1, Dark Reign The Hood #2, Amazing Spider-Man #598, Ms. Marvel #40, Secret Warriors #5 and Thunderbolts #133, making twelve.
And then we have Daredevil #119, Fantastic Four Giant-Size Adventures One-Shot, Guardians of the Galaxy #15, Immortal Iron Fist #27, Incredible Hercules #130, Marvel Adventures Spider-Man #52, Nova #26, Riftwar #1, Runaways #11, Skaar: Son of Hulk #12, Squadron Supreme #12, Terror Inc. – Apocalypse Soon #3, Thor #602 and Ythaq No Escape #3.
To all Marvel zombies out there… that's a lot of comics. Especially when there are fourteen additional variant covers on top. Plus eleven, count them, elevn trades or hardcover collections.
In comparison, DC Comics who traditionally publish more titles with less sales, have 22 titles, across their different imprints. Last week, Marvel had 29 new titles. The week before that 20.
Now naturally, publishing companies find they have clumps in their schedules, heavy weeks and light, and while they try to keep things spread out, sometimes it doesn't happen.. But will sales be affected? Will fanboys step up and dig deep? I have to say, I'd hate to be a small indie comic book shipping next Wednesday…
I remember talking to Stan Lee 15 years ago, when he visited Newcastle-Upon-Tyne (his wife, Joan Clayton Boocock, comes from the area) and he expressed some concern at the number of titles Marvel were publishing at the time, approaching forty a week. They called that the comics boom…