Things to know. Everyone knows (I think) that the new Avengers #10 is also Avengers #700 with a hell of a lot going on. Now, both Uncanny X-Men #1 and Avengers #10/#700 out today are $7.99 comics, two times the price of a usual Marvel comic book, like Black Order #1 (which I also have a copy of). The 20 page Black Order is flimsy. Both Uncanny X-Men #1 and Avengers #10 are far more than twice its size. (AMEND: Sorry, Avengers #10 is but $5.99. So only 50% more than a standard Marvel comic)
Avengers #10 has a 32-page main story and then followed by additional scenes with different artists, an 8 pager, a 6 pager, a 4 pager that all tie in with what's gone on in the main storyline. That's 50 pages for $7.99 $5.99. I hope that makes a difference.
Because what this comic and Uncanny #1 does succeed in doing that Black Order does not, is give you heft. A wodge of comics in your hand that won't take 5 minutes to read. And rather than just one superteam, you get a bunch of them.
The first are, of course, the leads of the current Avengers series. The current volume by Jason Aaron and (mostly) Ed McGuinness has been setting up the new Avengers team fighting Celestials and Celestial Killers, but from Marvel Legacy #1 onwards, looking at iterations of Avengers far into the past with a similar makeup a million years before. And with Avengers #700 a look back on that past, as well as predictions of the future to come.
And it's the decision to ally the Avengers to Wakanda by making Black Panther, King T'Challa their team leader, that has international implications.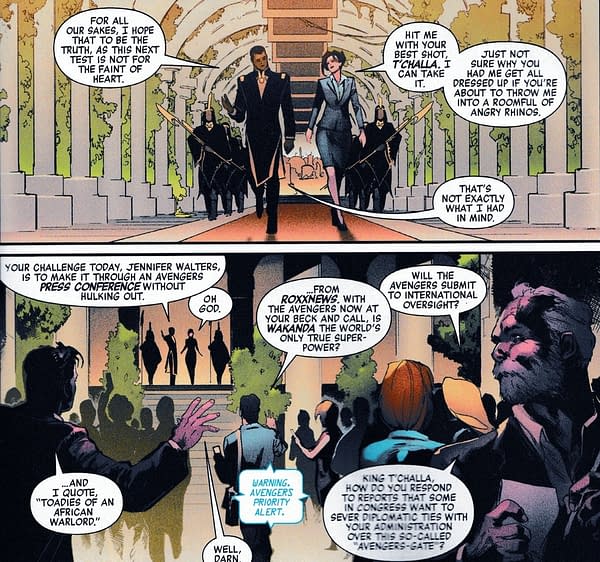 Which sees the Avengers going up against the Namor (note Stingray is no longer dead)…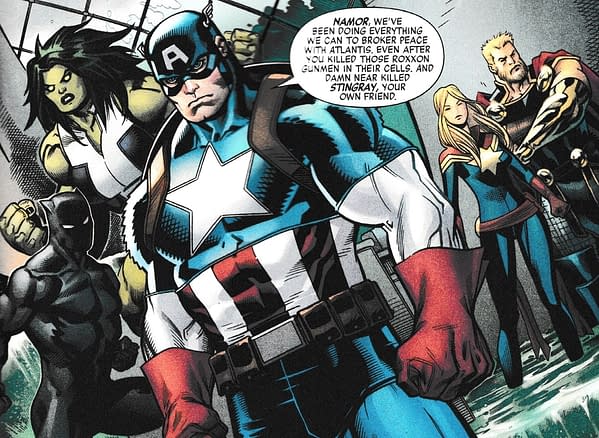 …and the team he leads, Deep Sea Defenders team led by Namor…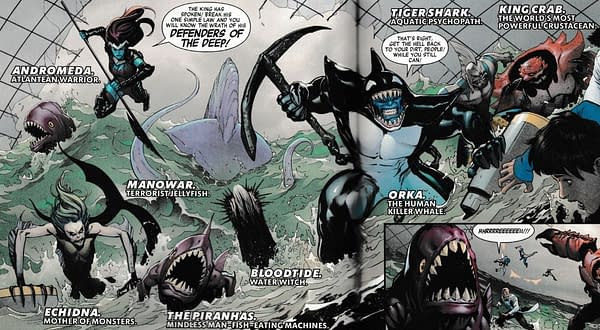 …which means the Avengers will briefly ally with the new Winter Guard, complete with their own Iron Man, Thor, Vision, Captain America, Wasp and Hulk and more…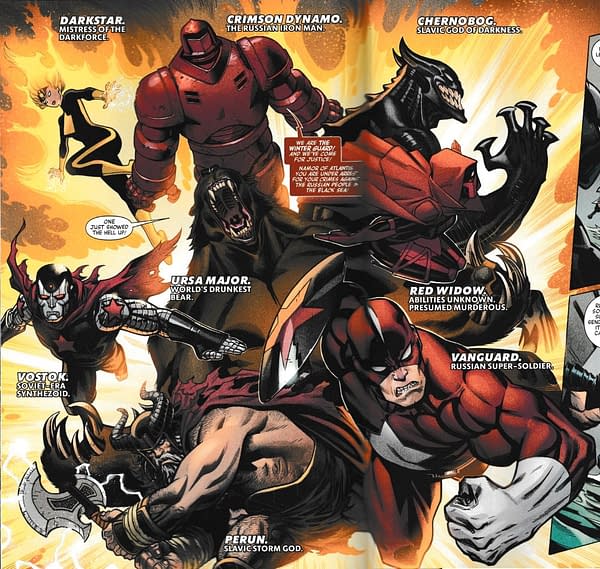 We did say briefly.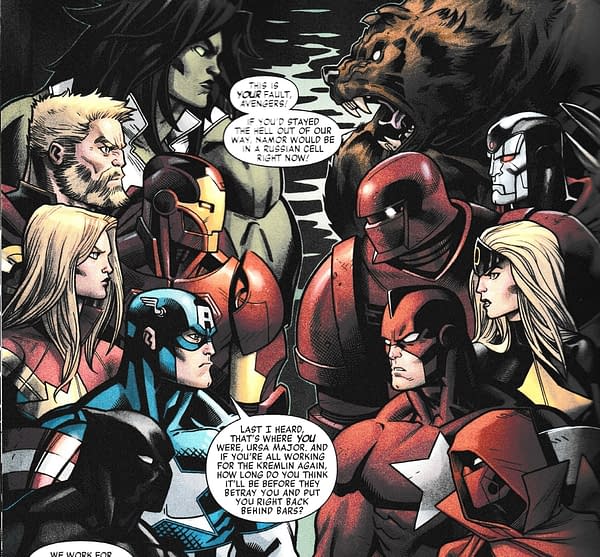 But that's only three teams. Because if the Avengers are no longer of the United States of America, then the USA is going to need its own team.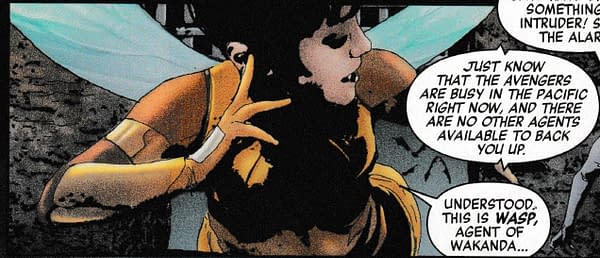 The Wasp makes this quite explicit.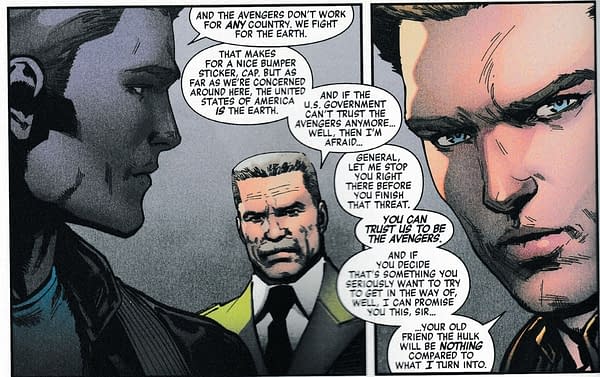 Yeah we saw in Secret Empire, Steve. So who will put this all-American team together? Who will make it up? Well, it is a big spoiler, so why not click here if you want to massive spoilers for the direction that the Avengers is heading towards ahead of Wednesday's publication for months to come… or just wait till Wednesday like you know you can.
Talking of spoilers, the comic looks to the past with art from Frazer Irving… and the revelation that there was an ancient Deathlok as well… amongst the Avengers 1,000,000 BC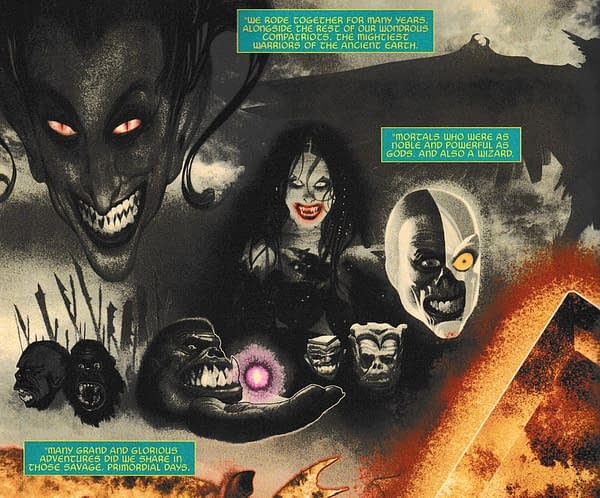 And the future as shown by Wolverine to Loki (see, everyone is in on this.)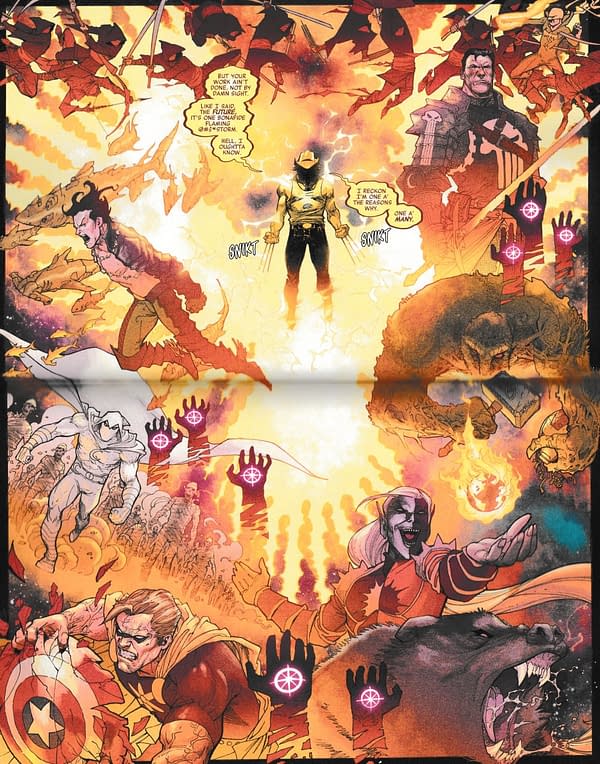 Man Thing getting the hammer and the helmet. Hyperion getting the shield? Moon Knight leading the dead? Hyperion swinging the shield? Has there been a superhero jumble sale been going on? And which Wolverine is this anyway? Are those fiery claws?
But it is here you will get answers to some of those Marvel Legacy #1 questions. This pays off the Celestial meeting with Loki in Infinity Wars. Looks at Wolverine's resurrection. And even throws in Frazer Irving as a major artist in this issue despite not bothering to tell anyone. Frazer Irving for goodness sake. And he's great.
There are also new members. Gorilla Man from the Agents Of Atlas is not the Avengers' butler, even though Tony Stark would like him to be.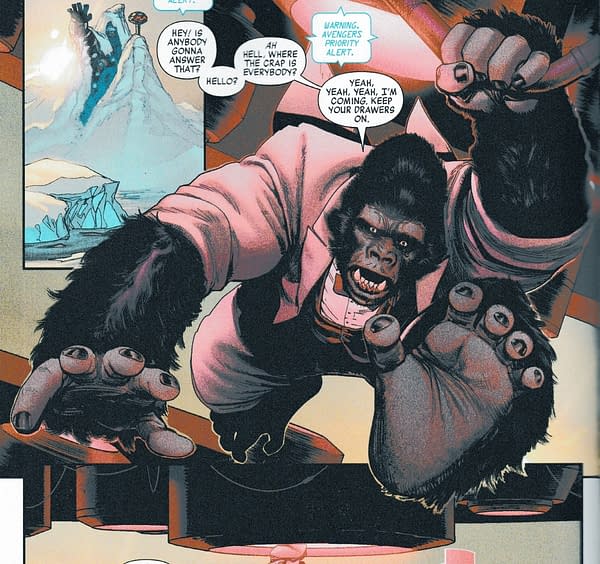 And another one with the Wasp was recruiting – big major final page spoiler there, so we'll hide that in this link as well… if Newsarama hasn't beaten us to it…. but again another indication of where the Avengers are going.
This is the event comic books that all of Marvel's event comics for the past few years have been heading towards. It's big, bold and brash and devastatingly pretty.
And it's all hiding inside Avengers #10. Sorry, I mean #700. Out on Wednesday…
AVENGERS #10
(W) Jason Aaron (A) Ed McGuinness, Adam Kubert, Andrea Sorrentino (A/CA) David Marquez
THE EARTH'S MOST HATED HEROES?!
After 700 issues of saving the world, you'd think the Avengers would be due some celebration. But instead the whole world seems to be gunning for them, especially Namor's fearsome new Defenders of the Deep and the reimagined Russian Super-Soldiers of the Winter Guard. And that's not to mention the shocking surprise the U.S. government has in store for our heroes. Plus: The all-new Agents of Wakanda! The mystery of the Avengers of 1,000,000 BC deepens! A key revelation concerning the resurrection of Wolverine! And the next startling new Avenger is revealed!
Rated T+In Shops: Nov 14, 2018
SRP: $5.99
Enjoyed this article? Share it!