Today's State Of Secret Empire, And How Will Beast's Reputation Be Repaired? Amazing Spider-Man #30, Secret Warriors #4, Uncanny Avengers #25, Deadpool #33, X-Men Blue #7, Spider-Men II #1
A look through this week's Secret Empire tie-ins to see which are essential to your Hydra experience and which are mere frippery that you can knock along well without. The more Imperial importance they contain, the more Hydra Heads we give them. Four Secret Empire comics out today from Marvel Comics. And one interloper.
Amazing Spider-Man #27, Secret Warriors #4, Uncanny Avengers #25, Deadpool #33, X-Men Blue #7 and Spider-Men II #1. So how Imperial are they?
First, there have been a lot of questions asking just how Captain America's reputation will, or could, be restored after the end of Secret Empire, as he was turned into a fascist totalitarian dictator of the USA. Well a) Captain Marvel managed but b) it's not just the Captain. Hank McCoy, The Beast, has been through a lot of late, breaking the fabric of spacetime (twice), giving us a Trial Of Hank McCoy, being responsible for Inhumans Vs X-Men even happening, and now a direct collaborator with fascists, keeping Captain America in position.
Well, he does the double today, first in Amazing Spider-Man #30 by Dan Slott, Christos Gage, Stuart Immonen, Wade Von Grawbadger, Marte Gracia and Joe Caramagna. As Doctor Octopus of Hydra goes to New Tian/San Francisco to get some stuff he left hanging around in Parker Industries there. And is confronted by the X-Men-and related folk.
And any objection is countered by The Beast, collaborator-in-chief. The comic continues the battle, is naturally more concerned with Spider-Man Vs Doc Ock, with Stuart Immonen doing the work of his career right now…
…but is very recognising that the world is totally different.
The Beast is revealing his colours, more yellow than blue, over in X-Men Blue #7 by Cullen Bunn and Cory Smith, with the Beast showing some regret for the world that he has helped engineer, playing the devil's advocate to his fellow ruling villains.
But for all that handwringing. he has made his choice. Anything else is just fake liberal tears. So, yes, plenty of Hydra heads for this act of betrayal and treason from the big footed fool.
Uncanny Avengers #25 by Jim Zub, Kim Jacinto, Jahnoy Lindsay, Juanan Ramirez, Tamra Bonvillain, Rachelle Rosenberg and Clayton Comics have the team still stuck inside the Darkforce dome around Manhattan. I have criticised this particular plot for its similarity to Inferno, and no one actually involved noticing that they went through this all before. So I did get a nice surprise… As the similarity is finally lampshaded. But for all that, this is an excuse for superheroes to fight monsters and the wider world doesn't even get the passing though mention that the previous issue did. Just a recognition that by the next issue, none of this will have mattered and it will all be over.
Deadpool #33 by Gerry Duggan, Matteo Lolli, Mike Hawthorne, Christian Dalla Vechia, Terry Pallot, Ruth Redmond and Joe Sabino gives us one tale of the time of the takeover that shows how Hydra went dark alongside New York. But the Hydra-ised world does give Deadpool – and daughter – to rebel against a whole new level of authority. Of course, you've got to be in it to spin it.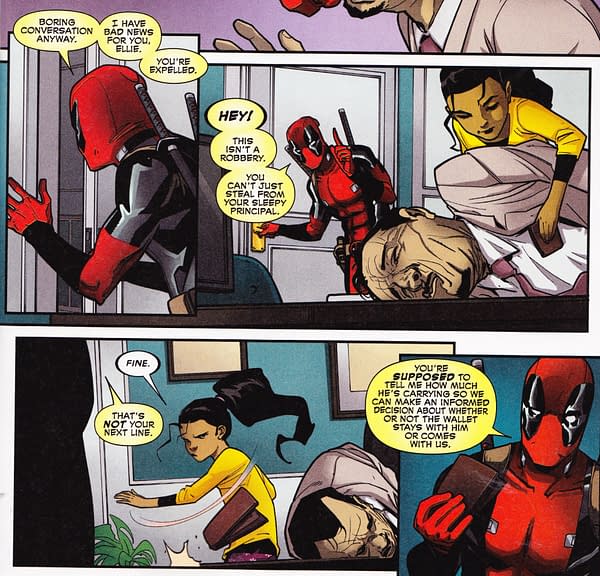 Works a treat.
Secret Warriors #4 by Matthew Rosenberg, Javier Garron, Israel Silva and Clayton Cowles continued to be the standout book of the crossover, with Garron and Silva's work utterly leaping off the page. And Rosenberg giving characters surprising yet consistent responses to the madness of the world around them – and opportunities to step up in new and interesting ways. Specifically giving Moon Girl a greater chance to shine.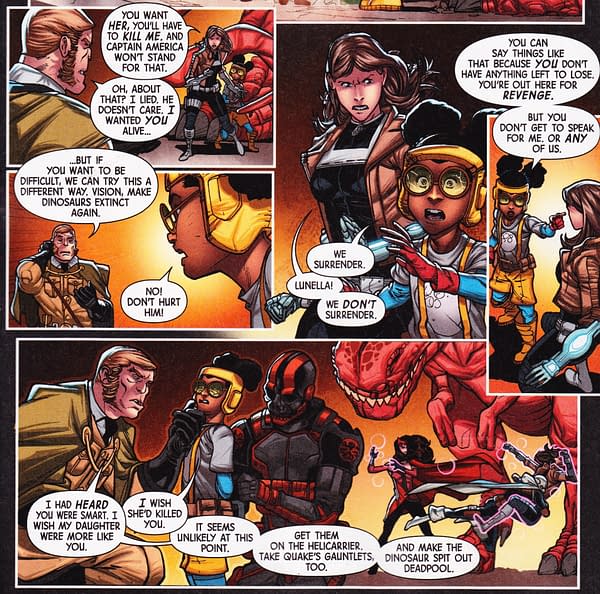 It also plays the trick of being one of the most Secret Empireish of the crossovers and spinoffs, yet totally remaining its own thing. Previous iterations of the title did much to launch and propagate other careers within Marvel, I can see Rosenberg, Garron and Silva gaining much plaudits – and Marvel legacy positions – as a result.
But it's Spider-Men II #1 by Brian Bendis and Sara Pichelli which is the weird one. We've mentioned that Brian Bendis has chosen not to have any of his comics crossover with Secret Empire and, indeed, left Guardians Of The Galaxy before it did so. But he does seem to make strange nods to it – the Hydra cover and SHIELD involvement in recent issues of Jessica Jones, and in the new Spider-Men II? A certain familiar face to recent Secret Empire issues – and Secret Warriors above…
It's like he just can't leave well alone.
Taskmaster? Stab the child…