September 2017 Comics Marketshare Still Down As Marvel Legacy Takes The Top Spot
Diamond has released their sales statistics for September 2017 for products sold to retailers the North American direct market. Last month it was noted that sales were falling sharply based on last year. So how is it looking for September?
Marvel Comics is September's top publisher with a 37.97% dollar share and a 38.13% unit share, up on money from August's 35.01% dollar share but down on actual sales from August's 39.52% unit share. As with last month, it is an indication that Marvel is engaging in heavy discounting to keep their numbers up.
DC Comics' dollar share is back up above the psychologically important 30% mark, up from 28.18% to 30.21%, and their unit share has risen from 31.09% to 36.68%. Everyone else… gets squeezed a little
Marvel Legacy #1 grabbed the top spot but only had one more title in the top ten, with Venomverse #1. DC had even including Metal #2, Batman #30 and #31 and a surprise entry on the Harley Quinn 25th Anniversary Special ahead of Batman: The Red Death, Murder Machine, Action Comics, while Image Comics has Walking Dead in the seven spot.
Hmm. Will look into that Harley Quinn placement later…
Additionally, Star Wars Adventures #1 was IDW Publishing's top book at #33, while Neil Gaiman's American Gods: Shadows #7 was Dark Horse Comics' top-ranked book at #115.
And for the year so far? Still not good, 10% down year on year from 2016 so far in dollars and 6.71% down in units sold.
TOP COMIC BOOK PUBLISHERS
RETAIL MARKET SHARE
PUBLISHER
SHARE
MARVEL COMICS
37.97%
DC ENTERTAINMENT
30.21%
IMAGE COMICS
9.55%
IDW PUBLISHING
4.30%
DARK HORSE COMICS
2.44%
BOOM! STUDIOS
1.99%
DYNAMITE ENTERTAINMENT
1.94%
VIZ MEDIA
1.40%
TITAN COMICS
1.16%
ONI PRESS
1.10%
OTHER NON-TOP 20
7.94%

UNIT MARKET SHARE
PUBLISHER
SHARE
MARVEL COMICS
38.13%
DC ENTERTAINMENT
36.68%
IMAGE COMICS
8.81%
IDW PUBLISHING
3.67%
DYNAMITE ENTERTAINMENT
1.91%
BOOM! STUDIOS
1.77%
DARK HORSE COMICS
1.70%
VALIANT ENTERTAINMENT LLC
0.93%
TITAN COMICS
0.85%
AFTERSHOCK COMICS
0.75%
OTHER NON-TOP 10
4.80%
COMPARATIVE SALES STATISTICS
DOLLARS
UNITS
SEPTEMBER 2017 VS. AUGUST 2017
COMICS
-0.44%
1.26%
GRAPHIC NOVELS
-14.41%
-15.46%
TOTAL COMICS/GN
-4.81%
-0.08%
TOYS
-18.35%
-15.27%
SEPTEMBER 2017 VS. SEPTEMBER 2016
COMICS
-2.98%
-5.49%
GRAPHIC NOVELS
-13.14%
-16.98%
TOTAL COMICS/GN
-6.07%
-6.37%
TOYS
-13.86%
-30.78%
YEAR-TO-DATE 2017 VS. YEAR-TO-DATE 2016
COMICS
-9.20%
-6.15%
GRAPHIC NOVELS
-11.83%
-13.22%
TOTAL COMICS/GN
-10.00%
-6.71%
TOYS
-11.33%
-18.24%
NEW TITLES SHIPPED
| | | | | |
| --- | --- | --- | --- | --- |
| PUBLISHER | COMICS SHIPPED | GRAPHIC NOVELS SHIPPED | MAGAZINES SHIPPED | TOTAL SHIPPED |
| MARVEL COMICS | 88 | 42 | 0 | 130 |
| DC ENTERTAINMENT | 77 | 34 | 0 | 111 |
| IMAGE COMICS | 58 | 25 | 0 | 83 |
| IDW PUBLISHING | 40 | 21 | 0 | 61 |
| VIZ MEDIA | 0 | 43 | 0 | 43 |
| BOOM! STUDIOS | 28 | 10 | 0 | 38 |
| DYNAMITE ENTERTAINMENT | 29 | 7 | 0 | 36 |
| TITAN COMICS | 19 | 10 | 3 | 32 |
| DARK HORSE COMICS | 16 | 13 | 0 | 29 |
| ONI PRESS | 8 | 6 | 0 | 14 |
| OTHER NON-TOP 10 | 123 | 154 | 17 | 294 |
| TOTAL | 486 | 365 | 20 | 871 |
TOP 10 COMIC BOOKS
| | | | | |
| --- | --- | --- | --- | --- |
| RANK | DESCRIPTION | PRICE | ITEM CODE | VENDOR |
| 1 | MARVEL LEGACY #1 | $5.99 | JUL170990-M | MAR |
| 2 | DARK NIGHTS: METAL #2 | $3.99 | JUL170300-M | DC |
| 3 | VENOMVERSE #1 | $4.99 | JUL171050-M | MAR |
| 4 | BATMAN #30 | $2.99 | JUL170338-M | DC |
| 5 | BATMAN #31 | $2.99 | JUL170340-M | DC |
| 6 | HARLEY QUINN 25TH-ANNIVERSARY SPECIAL #1 | $4.99 | JUL170413-M | DC |
| 7 | THE WALKING DEAD #171 (MR) | $2.99 | JUL170918-M | IMA |
| 8 | BATMAN: THE RED DEATH #1 | $3.99 | JUL170308 | DC |
| 9 | BATMAN: THE MURDER MACHINE #1 | $3.99 | JUL170309 | DC |
| 10 | ACTION COMICS #987 LENTICULAR EDITION | $3.99 | JUL170323 | DC |
TOP 10 GRAPHIC NOVELS & TRADE PAPERBACKS
| | | | | |
| --- | --- | --- | --- | --- |
| RANK | DESCRIPTION | PRICE | ITEM CODE | VENDOR |
| 1 | THE WALKING DEAD VOLUME 28 TP (MR) | $16.99 | JUL170919 | IMA |
| 2 | BATMAN: THE DARK KNIGHT III: MASTER RACE HC | $29.99 | JUN170390 | DC |
| 3 | STAR WARS: DARTH MAUL TP | $16.99 | MAY170950 | MAR |
| 4 | EAST OF WEST VOLUME 7 TP (MR) | $16.99 | APR170796 | IMA |
| 5 | DC SUPER HERO GIRLS VOL. 4: PAST TIMES AT SUPER HERO HIGH TP | $9.99 | JUN170333 | DC |
| 6 | SEX CRIMINALS VOLUME 4: FOURGY TP (MR) | $16.99 | JUL170876 | IMA |
| 7 | ALL-STAR BATMAN VOL. 1: MY OWN WORST ENEMY TP | $16.99 | JUN170378 | DC |
| 8 | ROYAL CITY VOL. 1: NEXT OF KIN TP | $9.99 | JUL170757-M | IMA |
| 9 | HARLEY QUINN VOL. 3: RED MEAT TP | $16.99 | JUN170383 | DC |
| 10 | WOLVERINE: OLD MAN LOGAN VOL. 5: PAST LIVES TP | $17.99 | JUL171218 | MAR |
TOP 10 BOOKS
| | | | | |
| --- | --- | --- | --- | --- |
| RANK | DESCRIPTION | PRICE | ITEM CODE | VENDOR |
| 1 | MOUSE GUARD ALPHABET BOOK HC | $16.99 | MAY171234 | BOO |
| 2 | ART OF RICK & MORTY HC | $39.99 | MAY170019 | DAR |
| 3 | DC SUPER HERO GIRLS: FINDERS KEEPERS | $4.99 | JUL172420 | RAN |
| 4 | DC SUPER HERO GIRLS: HARLEY QUINN BRAIN SQUEEZERS | $5.99 | JUL172421 | RAN |
| 5 | DC SUPER HERO GIRLS: SHOWDOWN IN SPACE | $4.99 | JUL172423 | RAN |
| 6 | DC SUPER HERO GIRLS: POWER PLAY | $9.99 | JUL172422 | RAN |
| 7 | STAR WARS: A NEW HOPE OFFICIAL COLLECTOR EDITION SC | $10.99 | MAY171880-M | TTN |
| 8 | POKEMON: LET'S FIND POKEMON SPECIAL EDITION HC | $16.99 | AUG172181 | VIZ |
| 9 | THE SHADOW DOUBLE NOVEL VOLUME 121 | $14.95 | JUN172308 | SAN |
| 10 | STAR TREK ADULT COLORING BOOK VOLUME 2 TP | $14.99 | MAY170057 | DAR |
TOP 10 TOYS
| | | | |
| --- | --- | --- | --- |
| RANK | DESCRIPTION | ITEM CODE | VENDOR |
| 1 | BATMAN VS. HARLEY QUINN BATTLE STATUE | MAR170452 | DC |
| 2 | DC BOMBSHELLS: HARLEY QUINN DELUXE STATUE | MAR170453 | DC |
| 3 | MARVEL GALLERY: BLACK PANTHER PVC FIGURE | APR172656 | DST |
| 4 | DRAGONBALL Z MASTER STARS PIECE MANGA DIMENSIONS: TRUNKS FIG | NOV168294 | BAN |
| 5 | BATMAN ANIMATED: GCPD ROGUES GALLERY FIGURE 5-PACK | FEB170344 | DC |
| 6 | DC DESIGNER SERIES: WONDER WOMAN BY FRANK CHO STATUE | MAR170457 | DC |
| 7 | MARVEL GALLERY: NETFLIX THE PUNISHER PVC FIGURE | MAR172720 | DST |
| 8 | DC ICONS: ROBIN & SUPERBOY ACTION FIGURE 2-PACK | MAR170456 | DC |
| 9 | THOR LEGENDS 6-INCH ACTION FIGURES | JUN178405 | HAS |
| 10 | DC ICONS: SUPERGIRL ACTION FIGURE | MAR170455 | DC |
TOP 10 GAMES
| | | | |
| --- | --- | --- | --- |
| RANK | DESCRIPTION | ITEM CODE | VENDOR |
| 1 | WIZKIDS HEROCLIX: UNDEAD | MAR173404 | NEC |
| 2 | DRAGON BALL SUPER CCG BOOSTER 1 | FEB178467 | BAN |
| 3 | CLUE: LEGEND OF ZELDA BOARD GAME | JUL173383 | USA |
| 4 | YU-GI-OH! TCG: LEGENDARY DUELISTS | JUL173370 | KON |
| 5 | YU-GI-OH! TCG: MEGA TINS | JUN173366 | KON |
| 6 | OUTPOST SIBERIA CARD GAME | MAY170588 | IDW |
| 7 | SEIKATSU GAME | JUL170677 | IDW |
| 8 | WONDER WOMAN 1000-PIECE JIGSAW PUZZLE | JUL173357 | NMR |
| 9 | MAGIC THE GATHERING TCG: ARCHENEMY NICOL BOLAS | APR173298 | WIZ |
| 10 | MARVEL DICE MASTERS: GUARDIANS OF THE GALAXY | OCT168614 | NEC |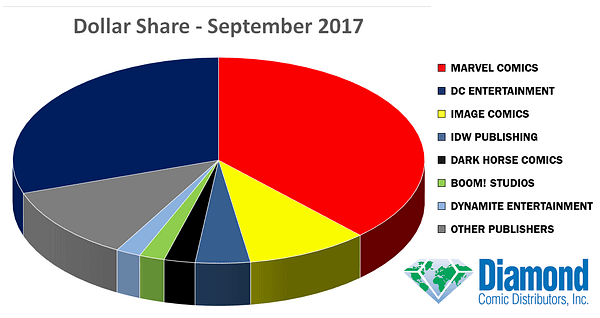 Dollar Market Share – September 2017
Unit Market Share – September 2017