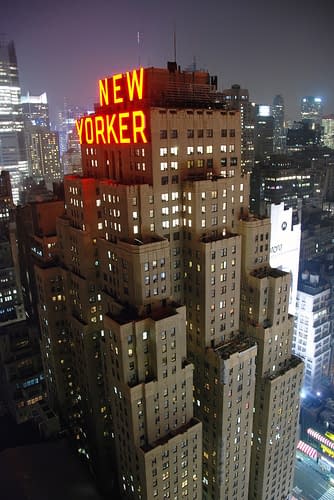 I stayed at the New Yorker hotel for NYCC, now owned by the Wyndham group. I could only see improvements, such as the free fast speed Wi-fi. Others however were less than impressed. Comic book creator Justin Jordan reports on his own experience.
The Wyndham New Yorker does not care about the safety and security of their guests. I urge you to not stay there if that bothers you, and it should. And if you opt not to stay there, then please tell them why.

This is long, as I want to be fair and honest, but the TLDR: a friend was harassed outside the hotel and the Wyndham New Yorker security not only didn't intervene, they refused to acknowledge the problem on several different occasions.

This past weekend was NYCC. I attended, and stayed at the Wyndham New Yorker Hotel, same as the last two years. I was joined by a female friend. I won't share the specifics of her story, because I want to keep the focus on the most important parts of this experience: the actions taken by The Wyndham New Yorker.

My friend was sexually harassed. Although I don't believe in ranking severity of harassment, she was physically unharmed and the harassment was primarily verbal, along the lines of street harassment. A Wyndham New Yorker security guard was present and didn't intervene.

Let me repeat that: a security professional was present while my friend was being harassed outside the front door of the hotel and he did not intervene. When the harassment ended, my friend was scared and asked to be escorted to her room. I was asleep at the time, or else I would've been there for her.

She was told that she'd be fine, and to call the desk if she had any problems. So to be clear, security did not intervene when she was being harassed, and then refused to escort her, a guest at their hotel, to her room when asked.

The next day when she talked to the security manager, she was told to speak with the security person involved. This was after the security manager asked her what she was wearing when she was harassed. It doesn't matter what my friend was wearing–she could've been wearing pasties and underwear made out of cotton candy in a rainstorm.

Her behavior wasn't inappropriate. Her behavior wasn't making someone afraid. He didn't ask her about the harassment, nor did he make any efforts toward hearing her side of the story. He asked what she was wearing. For the record? It was pajamas. She left, her problem still unsolved, and with the weight of the implications that she invited this treatment with her appearance.

Sunday after the con, we were told we couldn't take the box we had on an elevator. Since I was already intending to speak with them about the previous thing anyway and wasn't getting an explanation about this matter, since we'd been taking the same stuff on an off the elevator, I asked to speak the security manager.

He said to he spoke the security involved and they told a different story. The security manager said there was nothing he could do because, and this is a direct quote ,"it was a he said she said story" between my friend and hotel security. He said I could come back at midnight and talk to the security involved. Why would the manager of a security team have no power to look into customer service concerns, particularly about the safety of hotel guests?

I did go back at midnight. Neither the man I spoke with originally or the one who initially ignored my friend would speak to me. To his credit, the man who told me this was very nice and helpful. I was told to come back tomorrow and speak the overall head of security in the morning.

Which I didn't do. Partly because I was exhausted and had an early train, but mostly because I realized they'd already had multiple chances to do even the marginally right thing, and they doubled down on asshole every time.

Here's the thing:

Even if they thought she was crazy, and she isn't, any guest at a hotel should be able to be escorted to their room by security if they feel unsafe.

Even if the night security told a different story, they should have told her that they apologize and they would take steps to make sure this didn't happen.

But at every step they were unhelpful, evasive and sought to minimize the situation. And in fact, they attempted to imply that my friend invited the treatment she received based on her wardrobe. And what I listed above is the bare minimum they should have done, even if they had no intention of doing anything else.

What they ACTUALLY should have done to begin with was believe that when a person asks for an escort, they are afraid and have reason to be afraid. And if a guest at your hotel feels unsafe for any reason, security is to fix that. Period. Hotel security's job is not to evaluate whether a person SHOULD feel safe. Their job is to keep them safe and make them feel safe. This is not what they did.

What I find interesting is that The Wyndam New Yorker has an entire section of their website devoted to helping women travel safely:

They clearly understand that guests want to feel safe, and provide resources to help women build awareness. In fact, the mission statement from Women on Their way includes the following:

"As a female traveler, you are one of our most valued customers. We believe you have important things to say and we want to know more, which is why we ask the tough questions and really listen to your answers.

"From our women's advisory board and research, to personalized surveys and requests – we're committed to constantly improving, so your travel experience is relaxing, revitalizing and completely worry-free."

How did the actions of the security team help my friend have a relaxing, revitalizing and completely worry-free experience? How did they uphold the values they claim are so important? The answer is they did not. The Wyndham New Yorker had three separate opportunities to do the right thing and they did nothing. They very clearly wanted her, and then me, to shut up and go away.

Alright. I'm going away. I won't stay at this or any other Wyndham Hotel.

Shut up, not so much. Because this is wrong.

It is absolutely clear to me they do not care about the actual safety and security of their female guests (and, frankly, their male guests). I don't want a refund and haven't asked for one. I don't want an apology and haven't asked for one, although my friend clearly deserves one.

What I want is for people to be safe and feel safe. The best I can do in that regard is this: I am not staying at the Wyndham New Yorker or any other Wyndham. I am telling them why. I honestly don't think they'll care. I'm one person staying for five days in a hotel with hundreds of rooms. So me complaining and boycotting personally is unlikely to have an effect.

So if you feel like you can't stay at a place that refuses to take your safety seriously, like the Wyndham New Yorker has demonstrated, repeatedly, that they do not: tell them. Maybe they'll at least do the minimum.

So yeah, I'm asking you to share this.
Will do, Justin will do.
Enjoyed this article? Share it!