Spencer & Locke Creator on Jim Shooter's New Image Book: "Is There A Royalty Check Coming?"
Earlier today, Image Comics announced the return of legendary comics editor Jim Shooter for Slow City Blues, a new series by writer Samuel Haine, penciler Shawn Moll, inker John Livesay, colorist JD Smith, and letterer Thomas Mauer. Here's the description of that book, set to launch in February:
Slow City Blues brings you everything you crave in a comic book: action, adventure, suspense, fantasy, tragedy, and plenty of humor. The story is focused on Detective John Loris, who gets trapped inside his imagination after accidentally killing a little girl in the line of duty. After trying to take his own life, John instead ends up in Slow City, a construct of his mind's eye, a place where anything and everything is possible, except a way out.

John Loris is both revered and reviled as The Creator, but in Slow City, even God is just another slob. So, he does the only thing he knows how: Be a cop. But times are changing and the wheels in his mind are in motion. And now, John and his partner, a six foot six, smart-ass skunk, must solve a double homicide and bring the killer to justice before a gang war between the Gorillas of the Devil's Backbone and the Dragons of the Midnight Syndicate destroy Slow City.

In a world of pure imagination, what could possibly go wrong?
More importantly, here's the cover.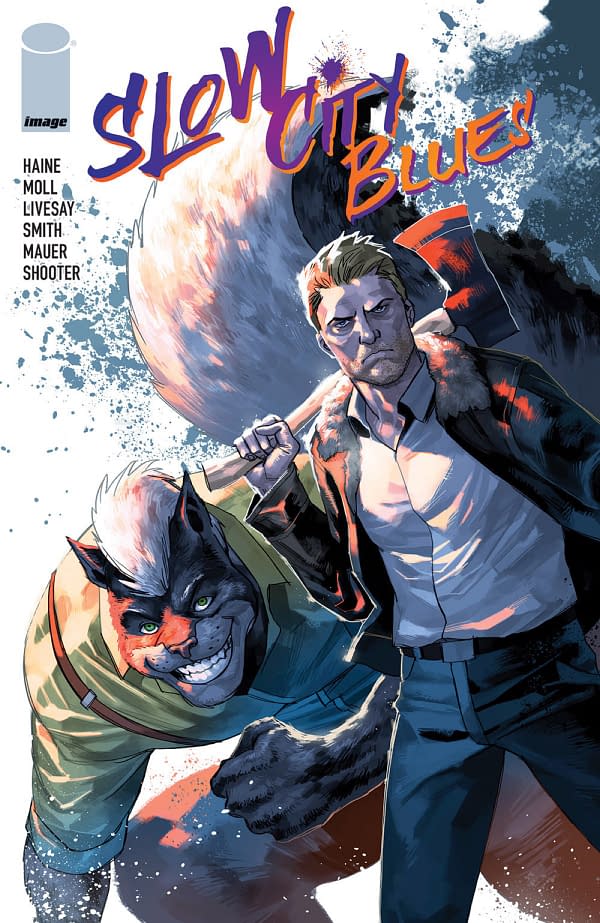 Spencer & Locke is an Action Lab comic by David Pepose and Jorge Santiago Jr., a neo-noir parody combining Calvin and Hobbes with Sin City.
When his grade-school sweetheart is found dead, there's only one friend Detective Locke can trust to help solve her murder — his childhood imaginary panther, Spencer. But when they face a vicious crime syndicate and memories from Locke's traumatic youth, can this unlikely pair survive long enough to find the truth?
Journalist and comic creator Troy Brownfield pointed out the following on Twitter, prompting a response from both creators.
Pepose followed up:
We reached out to Image Comics for comment, but they could not be reached as of press time.