Thanks to the preview earlier this week, we already know that Spider-Man learns of Aunt May's cancer in Friendly Neighborhood Spider-Man #5, and that he doesn't take it very well, telling May he's too busy to go with her to chemotherapy. But that's just the beginning of Spider-Man's unruly behavior, as while out on patrol in this issue by Tom Taylor and Jorge Molina, he comes across a car thief on a high-speed chase, and while pulling him out of the car…
Spidey feels bad about the broken arm when he realizes he knows Miguel from the neighborhood, and his behavior wasn't exactly friendly. Especially when Miguel was running from an abusive stepfather. So he does the only thing he can… Spider-Man steals the car to help Miguel escape the police!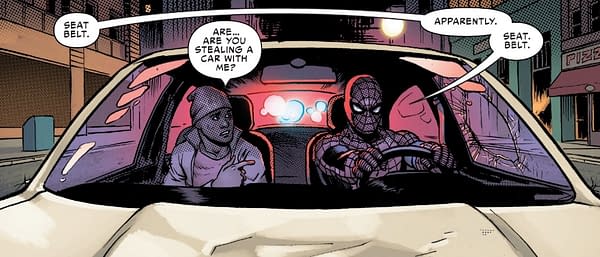 So it's clear that Spidey is going through a personal crisis, willing to do things he normally might not, which isn't surprising. We saw Spidey make some bad choices the last time Aunt May was in danger of dying, in 2007's One More Day, one of the most reviled crossovers of all time. In that comic, Spider-Man sought advice from Doctor Strange, who told him: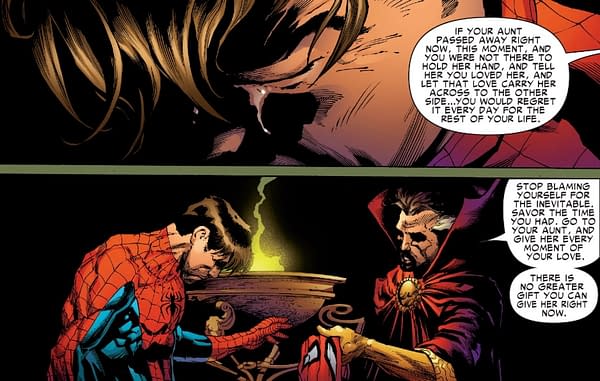 But Spidey didn't take Strange's advice, and instead he made a deal with Mephisto to save May's life… at the cost of ending his marriage.
Thanks to the heroic efforts of… and we can't believe we're saying this… Nick Spencer, Spidey and Mary Jane are once more reunited in the pages of Amazing Spider-Man. But with Aunt May's life on the line once more, will Spider-Man make the same mistake twice?
This time, when Spidey visits Doctor Strange for help healing Miguel's arm, Strange's advice is more direct and to the point.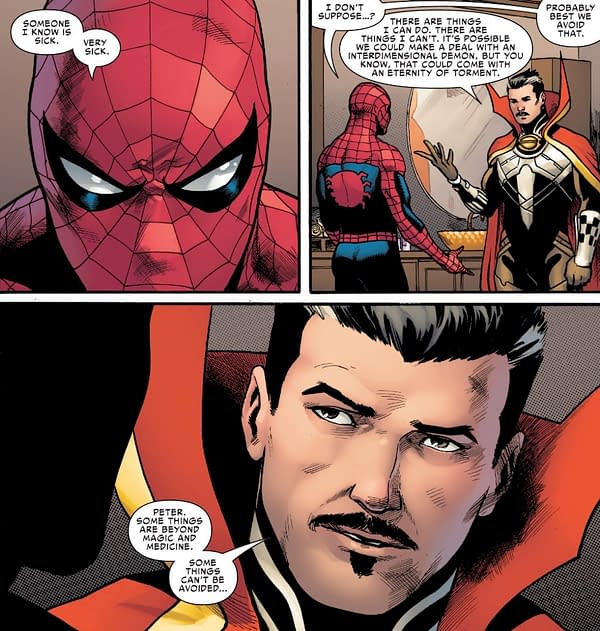 Please listen to him, Spidey. The Doctor knows best.
Friendly Neighborhood Spider-Man #5 is in stores now.
Friendly Neighborhood Spider-Man #5
(W) Tom Taylor (A) Jorge Molina (CA) Andrew Robinson
• A bomb drops on Peter's world when Aunt May finally fesses up to Peter about what's happening.
• Don't miss this special issue!
Rated T
In Shops: Apr 10, 2019
SRP: $3.99
Enjoyed this article? Share it!