He comes from the X-Istence. A different reality (yes another one), but a world where mutants won the peace, where humans and mutants live together, but one that is being destroyed, by traitors, and who leaps to our world in order to help save his own.
This is Major X, the new character from Rob Liefeld and one who he would have introduced thirty years ago if he hadn't left Marvel for Youngblood. The connection is underlined as this comic book rewrites and redraws the events of New Mutants #98, best known for the first appearances of Deadpool and Domino.
And in Major X #1, written, pencilled, inked by Rob Liefeld, co-inked by Dan Fraga, Adelso Corona, coloured by Romulo Fajardo Jr, lettered by Joe Sabino and edited by Annalise Bissa and Jordan D. White, (with uncredited rewrites of Fabian Nicieza) we genuinely get to see how he has evolved as a creator in one way – and utterly stayed the same others. And Rob goes out of his way to show it.
So what do we learn of the X-Istence reality? Well, just as Age Of Alpha has a dead Wolverine, so does X-Istence (also I admire Rob's restraint in not spelling that with a z). And Wolverine's death is part of the Major's power set.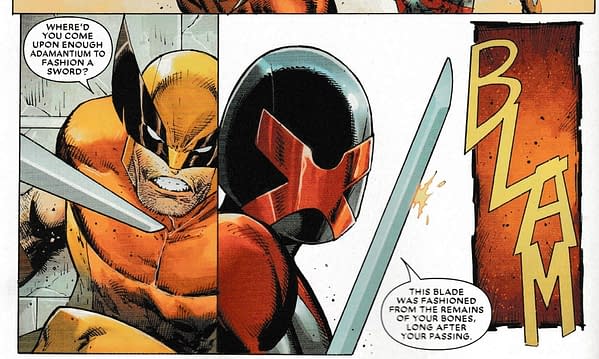 Yup, his sword is made of Wolverine's bones. It establishes that this is a future world as well as a parallel dimension. And, well, it's also pretty cool. Sorry, but it really is. So who else came with the Major in his journey?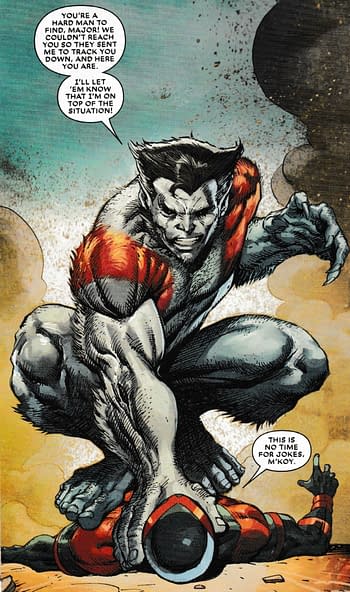 It's a greyed out Beast, Hank McCoy – sorry, spelt M'Koy in the X-Istence. You know, maybe any iteration of Hank McCoy should just stop with the time and dimension travelling., Whether that's the Original 5 or the Dark Beast, it always ends up making trouble. So anyone follow the two of them in their journey across? Why yes…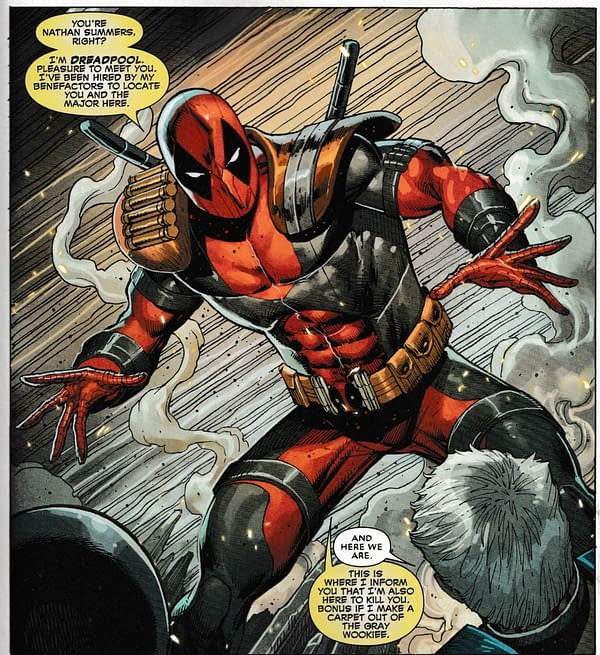 Dreadpool, a shoulder-padded Deadpool, and taking the place of Deadpool in this New Mutants #88 rewrite and redraw – for a while anyway. Sadly he looks a bit like Judge Dredd rather than sports dreadlocks. That we can tell anyway. And it's possible it's not Wade Wilson under the mask anyway.
But we do get to see who is under the mask. Marvel released the final page spoiler as the cover to the second printing to Major X #1, revealing that under the helmet, he is not a white man.
And in the final page we learn just who he is. Yes, you do need one of these, even though the speculation has been pretty bang on.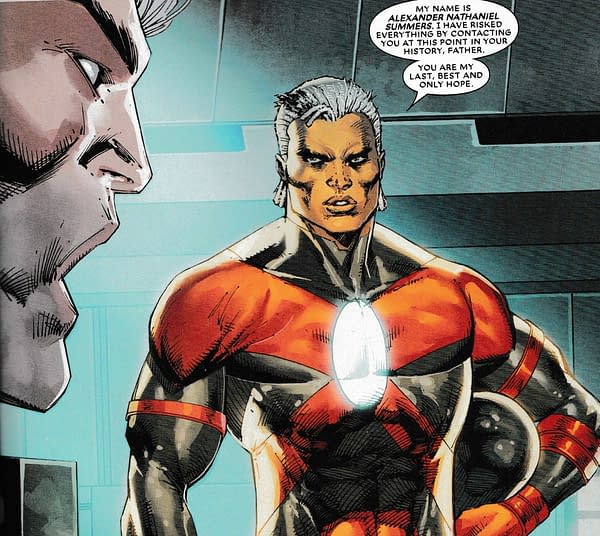 He is Cable's son. Alexander Nathaniel Summers. Taking the name of his uncle, there.
Now, given that in the Marvel Universe present, Cable is dead, killed by his own younger time-travelling self dubbed Kid Cable… well that's a meeting just waiting to happen. Mindless speculation – the Domino from Major X's world is more like the Domino from Deadpool 2? Just a thought…
Major X #1 is published on Wednesday.
MAJOR X #1 (OF 6)
(W) Rob Liefeld (A/CA) Rob Liefeld
WHO IS MAJOR X?
• A mysterious new player enters the Marvel Universe and the X-Men are in his crosshairs!
• What is his mission and how can the man known as Cable hope to stop him?
• Writer/artist Rob Liefeld introduces a new wrinkle in the saga of Marvel's Mightiest Mutants!
• The Mystery of MAJOR X continues in issue #2 as he forges a union with Cable – and races against time to save mutantkind from certain devastation!
Rated T+In Shops: Apr 03, 2019
SRP: $4.99
Enjoyed this article? Share it!