Appearing in Marvel comics in April's titles, one of Stan Lee's Soapbox columns from October 1967. These columns are not only intended to be memorials for Stan Lee's passing but are also meant to be an underlining of Marvel Comics' attitudes and values today.
This one reinforces the idea that Marvel Comics editors and creators are committed to the ideas and values embodied by their characters, rather than knocking off the stories to meet a deadline or pay the mortgage…
That they are all True Believers.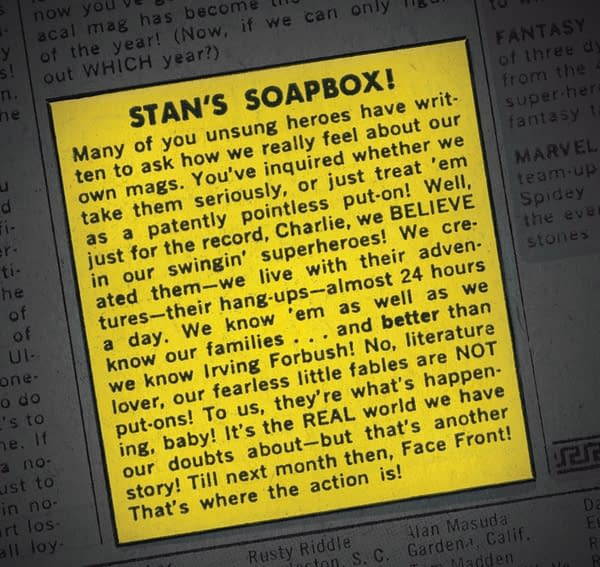 Or is this as much propoganda as it was the original time it was published? Stan Lee knew the value of this, he signed on to fight in World War II, assigned to the Signal Corps where he repaired telegraph wires and communications but was transferred to Training Film Division where he one of only nine men given the military classification "playwright" writing manuals, training films, slogans, and cartooning. That division also Frank Capra, Charles Addams and Theodor Geise – better known as Dr Seuss. Must have been quite an office space.
Stan Lee knew all about getting the message across – in war, and in peace.
Enjoyed this article? Share it!