[rwp_box_recap id="0"]
We've been pretty hard on The Witcher: of Flesh and Flame, Dark Horse Comics' latest offering from the venerable fantasy franchise in conjunction with CD Projekt Red.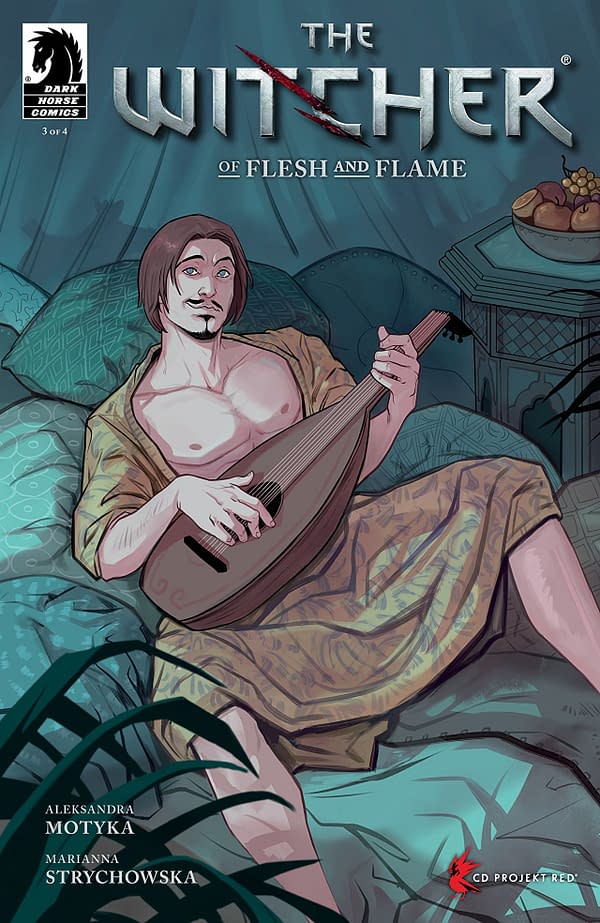 Our harsh criticism was duly earned, and we'll stand by that. It would be easy to cash in on a property as popular as The Witcher series without putting in much effort, and the first two issues of The Witcher: of Flesh and Flame felt more like a cash grab than a labor of love.
We're happy to say that the third issue has a lot of good going for it, with some fiercely fun monster fights, lots of spell-slinging, and a bit of courtly intrigue to keep Dandelion relevant. It's a definite move in the right direction.
Sadly, that means we can only recommend 33% of this series to our readers so far, and that's a shame- The Witcher is one of those properties that deserves a comic adaptation as rich as the source material. And that's not a strong recommendation, either; this should be the baseline of quality for a Witcher series. We want to see wonder, spectacle, and grandeur.
Aleksandra Motyka's script still jumps around a little hap-hazardously, but it really feels like the promise of Big Fantasy Monster Fights injected some fire into the narrative. The pacing feels more organic, and there are fewer narrative dead-ends and sputters than in previous issues.
Marianna Strychowska's artwork also feels a little more vibrant, a little more inspired. You're not going to see anything more inspiring inside the book than that cover, so it's best to keep one's expectations in check.
Still, the battle scenes between Geralt and his monstrous adversaries are fun, and breath some refreshing life into what has been a pretty comatose book up to this point.
SUMMARY: Script: Aleksandra Motyka; Art: Marianna Strychowska; Colors: Lauren Affe; Letters: Steve Dutro; Editor: Megan Walker; Publisher: Dark Horse Comics; Release Date: February 20, 2019; Cover Price: $3.99; 26 pages.
[rwp-review-ratings id="0"]
[rwp-review-form id="0"]
Enjoyed this article? Share it!