How Thor #4 Rewrites The Marvel History Of Galactus – Again
The Black Winter, as introduced by Donny Cates to the Marvel Universe, is a multiversal cosmic entity that fulfils a similar purpose in the Marvel Universe to Galactus on a far larger scale – rather than simply devouring planets, it consumes entire universes. The Black Winter devoured the sixth iteration of the cosmos, leaving only a single survivor – Galan of Taa, revealed in Silver Surfer: Black #4.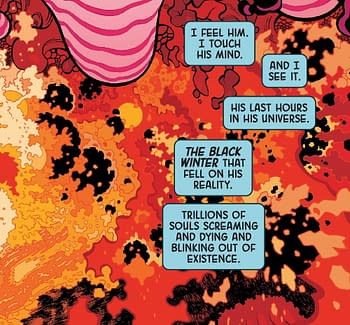 Though according to Donny Cates, this mention doesn't count as the first appearance of the Black Winter – and this hand is not its, no matter what the speculators may try to prove.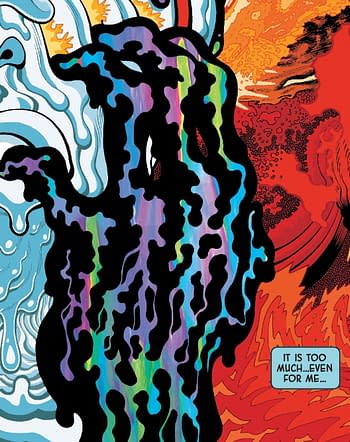 It is known to the Asgardians as the Fimbulwinter, its coming is prophecized to herald the beginning of Ragnarok. And in pre-lockdown world, Thor has started tie this all into the original of Galactus. Decades past, courtesy of Jack Kirby's Thor, we learned of the origin of Galactus from the previous iteration of reality. And that an unknown radiation plague wiped out all sentient life in the previous cosmos, as it headed towards The Big Crunch.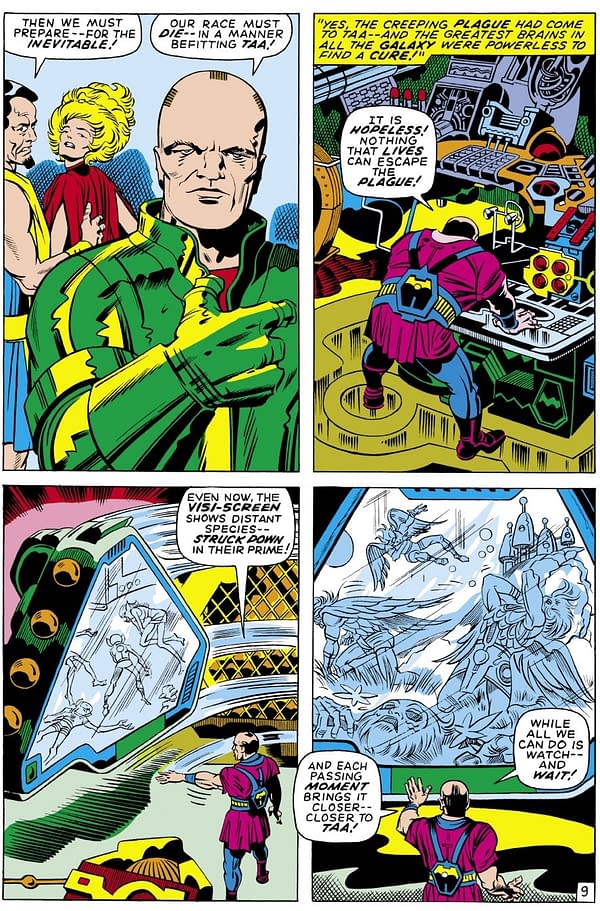 In the Donny Cates and Nic Klein Thor #1, it gets a name. Or a number of names.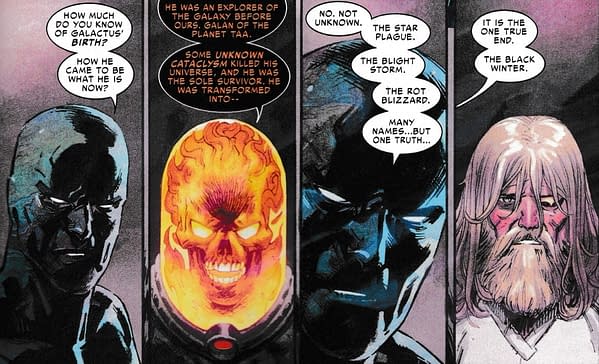 But we now go with the Black Winter.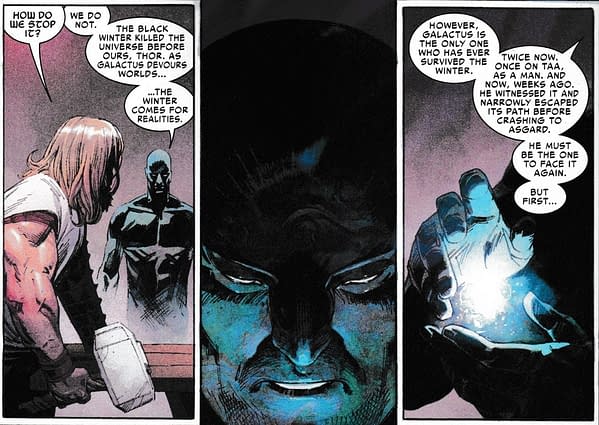 And as Bleeding Cool predicted, Thor is getting cosmic with Galactus, from the off.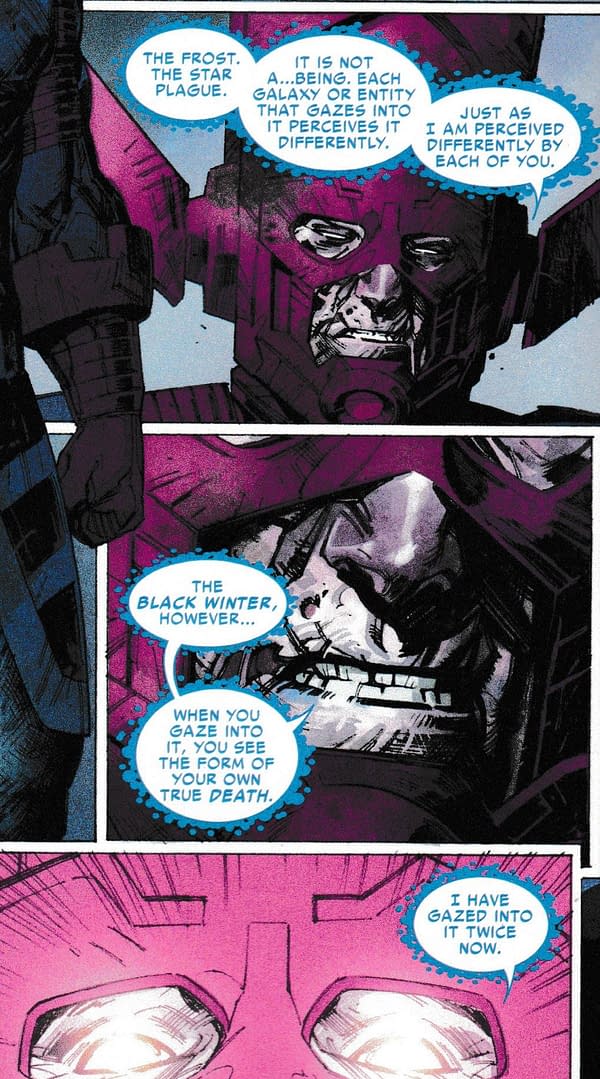 In the recent Thor #4, all was revealed. The Black Winter turns up to Thor, as a mirror image of Thor. Suggesting that Thor will die at his own hands.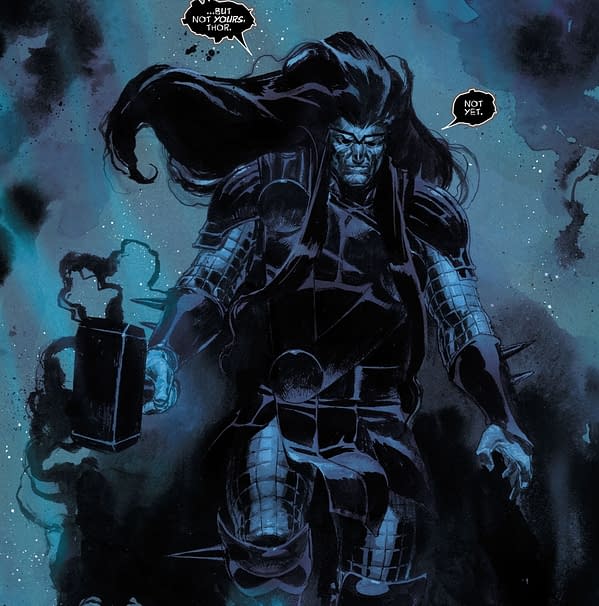 With a secret to share regarding Galactus.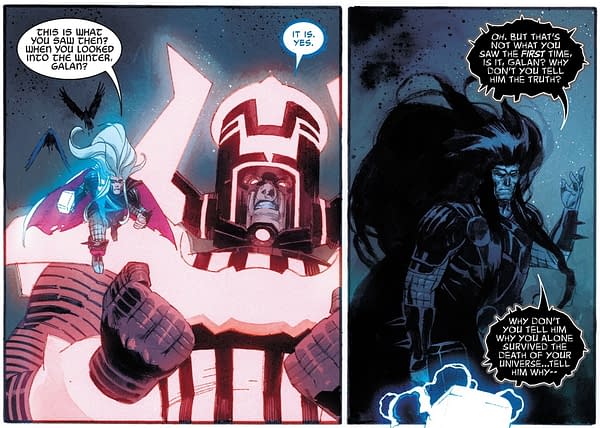 And reveals that, just as the Silver Surfer and many other creatures were heralds of Galactus…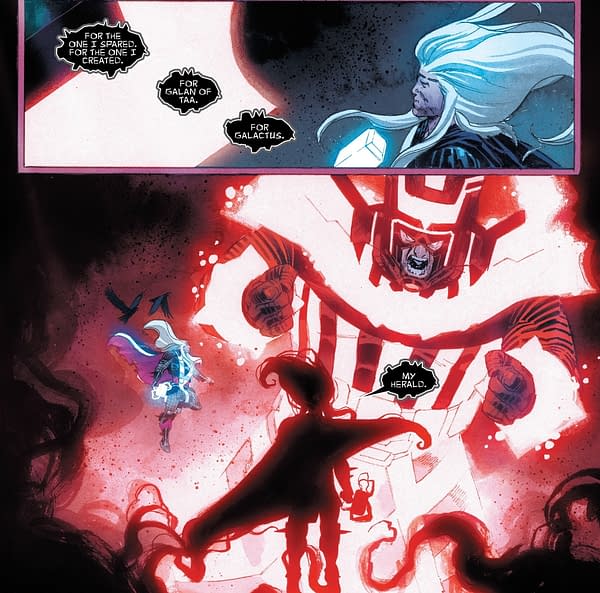 So Galactus was herald of The Black Winter. That new history of the Marvel Universe will need even more rewriting now. Bit hang on, haven't we been here before? A couple of years ago, Moon Girl And Devil Dinosaur, a golden Galactus turned up talking of another being that Galactus was herald to…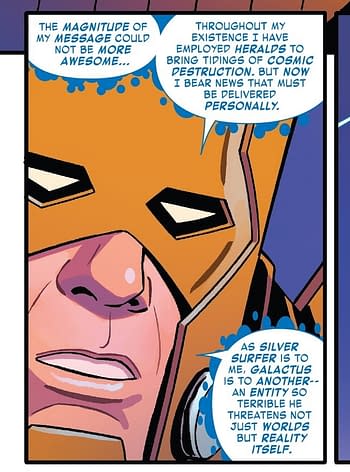 Omnipotentis, a being who eats universes too…

Even if he misgendered her a little.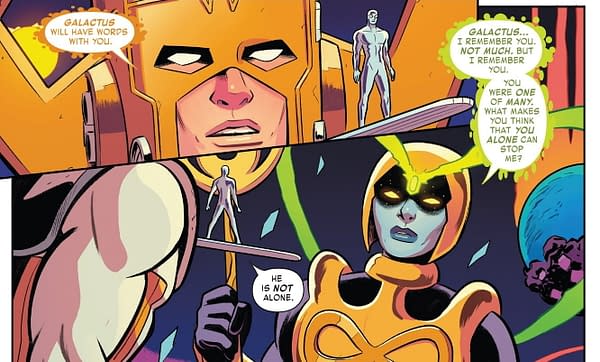 Could we have an Omnipotentis Vs Black Winter fight sometime?
THOR #5
MARVEL COMICS
FEB200961
(W) Donny Cates (A) Nic Klein (CA) Olivier Coipel
THE BLACK WINTER IS HERE.
A god. A king. A herald. Every title Thor has worn has come with its own powers, its own terrible responsibilities.
But none of them will be enough to stop the Black Winter. To save the Ten Realms – the entirety of the Multiverse – the Odinson must become…something else…
Parental Advisory In Shops: Jun 24, 2020 SRP: $3.99