Thought Bubble Moves to November… and Harrogate
Thought Bubble Comics Arts Festival is Britain's best comic convention, There, I've said it. Because it is. Held in Leeds for over a decade – until 2019. When it is upsticking and moving to Harrogate, within the central Harrogate Convention Centre, and from September back to November – Saturday 9th November and Sunday 10th November to be precise.
Harrogate is to the north-west of Leeds – and that's basically what you do to get there. Get the train to Leeds, get another train to Harrowgate.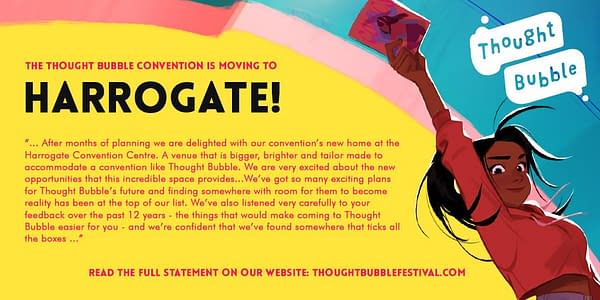 Basically, what you save in hotel and airBNB rates, you gain in the added travel costs. Unless, of course, you live in and around Harrogate, in which case it's bonza. The convention gave their reasons.
Our heart is always going to be in Leeds and we've loved having our convention there for the past 11 years, but we've grown out of every space we're able to occupy in the city. Our new convention venue at Harrogate Convention Centre has plenty of space to house the convention and – excitingly – so much more space for us to grow into over the coming years. We're also not at the mercy of the weather at this new location, which is a blessing for a convention held in November!

However, apart from the convention moving to Harrogate, not much has changed for us and Leeds. The majority of our festival events are still taking place in the city (although we're expanding more across Bradford and beyond as we become The Yorkshire Comic Art Festival!) and our base of operations is still here, so we really don't feel like we're leaving Leeds at all. Just expanding our home a bit!
Here's some initial reactions…