Thought Bubble Comics Arts Festival is Britain's best comic convention, There, I've said it. Because it is. Held in Leeds for over a decade – until 2019. When it is upsticking and moving to Harrogate, within the central Harrogate Convention Centre, and from September back to November – Saturday 9th November and Sunday 10th November to be precise.
Harrogate is to the north-west of Leeds – and that's basically what you do to get there. Get the train to Leeds, get another train to Harrowgate.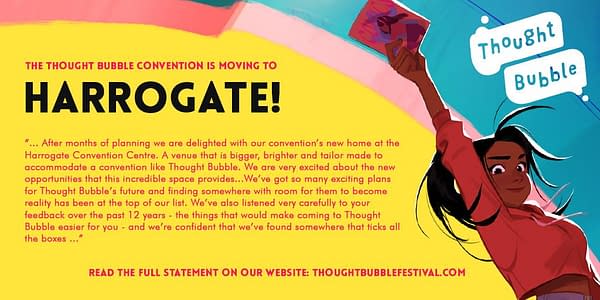 Basically, what you save in hotel and airBNB rates, you gain in the added travel costs. Unless, of course, you live in and around Harrogate, in which case it's bonza. The convention gave their reasons.
Our heart is always going to be in Leeds and we've loved having our convention there for the past 11 years, but we've grown out of every space we're able to occupy in the city. Our new convention venue at Harrogate Convention Centre has plenty of space to house the convention and – excitingly – so much more space for us to grow into over the coming years. We're also not at the mercy of the weather at this new location, which is a blessing for a convention held in November!

However, apart from the convention moving to Harrogate, not much has changed for us and Leeds. The majority of our festival events are still taking place in the city (although we're expanding more across Bradford and beyond as we become The Yorkshire Comic Art Festival!) and our base of operations is still here, so we really don't feel like we're leaving Leeds at all. Just expanding our home a bit!
Here's some initial reactions…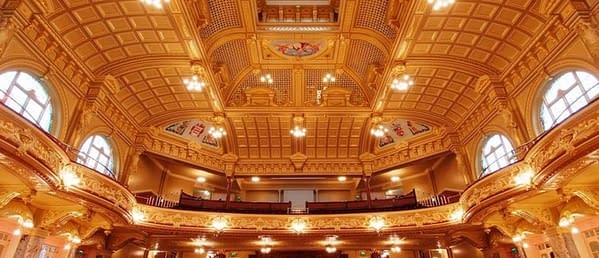 So…I now have to decide if I'm applying for a table or just going as a punter for Thought Bubble this year and also how exactly one gets to Harrogate from South Wales (I'm assuming it's just a little longer in a car…though the Leeds journey was long enough)

— Joe Glass (@josephglass) February 21, 2019
Thought Bubble is moving to Harrogate. Big change on the face of it, but the town is extremely well-set up for cons and festivals and the facilities are great. It's very accessible as well, and easier to drive around than Leeds. https://t.co/Ih4VHCel5Z

— David M Barnett (@davidmbarnett) February 21, 2019
@MingjueChen it's lovely to see your art on the Thought Bubble poster. Hopefully we will get to finally meet in Harrogate.

— Alison Sampson (@alis_samp) February 21, 2019
Harrogate! What a lovely new home for Thought Bubble! The Turkish Baths are particularly amazing if you get the chance for a post-con relax ✨✨ #TBF19 https://t.co/fHXs2GYlxo

— Emmeline Pidgen (@emmelinedraws) February 21, 2019
Thought Bubble attendees, don't panic. Harrogate is a reasonable commuting distance from Leeds with the added bonus that Harrogate train station looks like the town hall from Back to the Future.

— Dave Probert (@DaveJProbert) February 21, 2019
Don't think I'll bother with Thought Bubble now it's moving to Harrogate. Might just squeeze in 2 MCM visits instead this year. Maybe Manchester and Glasgow.

— 🌈Kyle (@thegaycomicsguy) February 21, 2019
Reason 7,213,619 why my wife rocks: Told her Thought Bubble was moving to Harrogate and she **immediately** booked a hotel for it

— Glen 'with one n' Newman (@glennewman) February 21, 2019
It's official! The outstanding Thought Bubble Sequential Art Festival is now held in our hometown of Harrogate!
THIS IS GONNA BE AWESOME!! https://t.co/I2reEk7iYh

— The Geek Pub Quiz (@GeekPubQuiz) February 21, 2019
Thought Bubble after party at the Harrogate Yacht Club.

— GONZO INDUSTRIAL (@thenickgonzo) February 21, 2019
Enjoyed this article? Share it!