Why Thursday at NYCC May Be the Biggest Day – Also the Only Day They Have Tickets Left For
There should be a Five Steps of New York Comic Con, when you look at the schedule of events and realise that no matter how hard you try, you are not going to be able to get to see every panel you want to see, go round every booth you want to, meet every creator you want to and get everything you want signed. The very limits of reality are against you.
Firstly, there's the denial that you can't see everything you want to, the anger when it starts to sink in, the bargaining with the very nature of said reality – and any of your friends to get them to go in line for you, depression and finally acceptance. Get them all in early, then you can have a great time. But this year, New York Comic Con seems to be doing their best to give you every chance.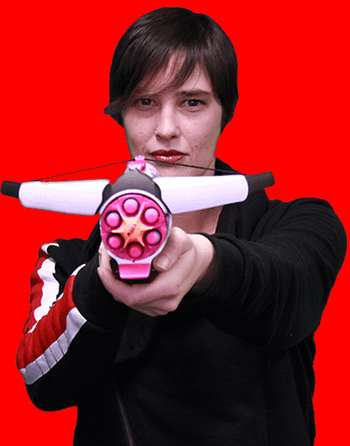 Last week I talked to Kristina Rogers, Event Manager of New York Comic Con for Reed POP Expo about the upcoming New York Comic Con, for its fourteenth year. It was true then as it is true now that all tickets have sold out for the show – apart from Thursday. Which makes sense, it's the day that more people are more likely to be working, you can't make it into part of a long weekend, and hey, doesn't all the cool stuff happen on the Fridays and Saturdays? And all the deals to be made on the show floor on Sundays? Is it worth getting a day off work and travelling to New York Comic Con just for the day? It seems so…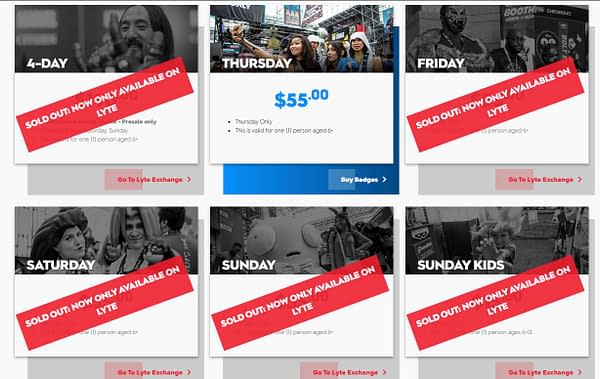 This year New York Comic Con is expanding into all available dimensions, including the fourth dimension. The show's panel programming will be going late, until 10pm. Kristina told me this "was all down to being able to fit all the content in. We sat down as a team and there's no way we want to cut this much stuff, so let's just start adding hours, and the fans have been pretty happy about staying later."
I asked what led to this move, which was clearly going to ass demand onto staff – and indeed attendees. "Both Marvel and DC have brought a slot of panels that are fantastic, alongside studios, forcing us to extend the main stage and Madison Square Gardens hours, we looked at what publishing was bringing in and the sheer volume – it's been a pretty good year for comics, and that's been reflected in what they want to bring to the shows here."
This year also saw the return of people being able to buy four-day badges rather than only being able to buy individual day tickets – which last year led to some, say, getting tickets for Thursday Friday and Sunday – but unable to get them for Saturday.
Kristian told me that this year they had been planning for a smaller attendance overall as they "brought back four-day badges for the first time since 2016. We removed them because of the Javits construction, but the fans have been asking for four-day badges, we brought them back, which lowered our daily allotment." So basically the same amount of visitors, but each attending for more days, so fewer attendees overall. No wonder tickets have sold well. Of course restricting supply, while demand remains the same, or rises can, as any economic student will tell you, raise prices. And the secondary market of ticket touts has been a bane of the show's existence – won't this make it worse?
Kristina told me "We brought Lyte on board for Emerald City and the PAC shows, happy to have that at New York, so you can return your ticket through Lyte, so you can purchase and its a good way to control their party, we've seen a dramatic rise in fake sales, lots of fans showing up having bought tickets for hundreds of dollars that are absolutely fake, this is a way for fans to buy safely."
There are other technological expansions to how attendees can enjoy the show. "Expanding hours, getting in front of fans and from the fans wanting to experience as much as they can, we have RFID on all of our badges, and so now we have been able to pre-show reservations for panels, not just the Main Stage but Hammerstein and Madison Square Gardens this year, lotteries are live now, and then on-site there are line reservations for our bigger studio activations. So instead of being trapped in line for an hour, you just tap your badge, and then you get a notification for when you can come back and join the line, which we've seen help a lot. So there's more you can do in a day. Nobody loves Line Con."
We also talked about a big change to Anime Fest @NYCC since last year. "We had it offsite at a completely different venue, Piers 84 and 86. After looking at feedback, it's too far, was too far to get from the Piers to the Javits all in a day, it didn't provide the best fan experience, and wasn't what fans were looking for. So we've pulled Anime Fest to Hudson Mercantile, just over the street from the Javits. The first floor going to have cool activations for anyone with an NYCC badge, and then on the second floor, we'll be hosting private meet-and-greet and panels all weekend, separately ticketed. Ultimately it's all about capturing that experience with some of the forerunners of anime that people love so much Charlet Chung, Veronica Taylor, Adam Savage is a massive Miyasaki fan, he's doing an event as well."
I asked Kristina what she was looking forward to most. "I'm a huge fan of booths, love to see what everyone's bringing, Marvel booth is going to be really cool. Bandai has a massive spread on the show floor, which I encourage all fans to head to. The panel I'm most excited about, which may seem odd is Castlevania because Warren Ellis is on the panel, and he's very difficult to get to shows. I'm a huge fan but he traditionally doesn't really go to shows."
And while, as she pointed out, no one loves a Line Con, they are sometimes part and parcel – where will we be expecting the biggest lines?
"Anything happening on the Main Stage, Hammerstein, MSG and 1AO6 – that's on the first floor of the Javits, we've turned that into a predominantly large studio and large publisher secondary panel. That's another of the changes we made this year, so that the quality of whats on the stages is higher, and we can adjust to fill more slots. Those are the four biggest, as always my recommendation is, show up early, pack your snacks, grab some water, hang out with a friend, we don't clear anything but the Main Stage. "
I can't make it to the show this year (though will have plenty of Bleeding Coolers in my stead) and so asked if we'd be getting any streaming from the show. "We're working with Syfy Wire to be streaming all weekend out of our biggest stages and the Live Stage as well, one of my favourites, we bring creators in, get funky conversations, it's not your traditional Q&A, we get to see what they're working on. "
I also wanted to ask about Bill Jemas and Axel Alonso's new comics publisher, Artists Writers & Artisans, launching at the show. "They're running very interesting programming through the weekend, we're really excited to provide a platform, I've gotten my hands on an ashcan and a couple of things I cant talk about, but I strongly urge fans to get to their panel, that's courtesy of Gabe Yocum."
Gabe Yocum, friend of Bleeding Cool and formerly of Midtown Comics and Double Take Comics, was working at Reed POP, was all set to work at AWA, but then suddenly wasn't and returned to the Reed POP fold…
Kristina recommended comic fans "head to every one of the industry panels, all of the big publishers are bringing in cool announcements and really cool stuff, AWA, Image, Oni, Lion Forge, lots of cool stuff to talk about heading into 2020… The FOMO is real."
Alright, I was feeling it. So what was all this about Thursdays? "One of our focuses is really emphasising Thursdays. The first day of any show that I go to is my favourite. The best day for Artists' Alley, get your commissions, get things before they sell out, its a great day to hit the show floor and buy all the exclusives you want. But on the content side, Thursday is looking massive, we have an unannounced panel from a pretty big studio that will be taking over the Main Stage on the morning, that I recommend everyone to keep their eyes out for, USA is coming in and bringing cool stuff, Sony's coming in, we have Ruby on Thursday. We pitched the challenge to the team last year, let's really showcase why Thursday is just the best day to go to the show, cos its one of the easiest to get around, and bring the content to match it. We have a Spider-Man Spectacular from Marvel heading out, it's a very robust day programming-wise, more so than in years past."
And, yes, as we pointed out, Thursday tickets are still available – and that's it. If you're going to the show, do let Bleeding Cool know, we'd love to hear your take on it.